LG has started rolling-out a software update for the G Watch to prevent the corrosion problem seen on the smartwatch's backside-charging pins.
Revealed at the Google I/O event, the LG G Watch continuously streams current to the backside-located charging pins, even when the device is not charging. These current-filled pins, when exposed to sweat-covered skin, get corroded. The new update however, will stop the continuous streaming of the current to the G Watch's charging pins when not charging.
"Recently it has come to our attention that a small number of G Watch devices have been reported to have developed discoloration and residue buildup on the terminal pins located on the back. While completely safe and unlikely to affect charging, LG will be rolling out a maintenance release over the next few days that will disable the current when the G Watch is not in the charging dock. The maintenance release will be rolled out automatically over-the-air to all G Watch owners. We thank G Watch users for their patience and apologize for any inconvenience this may have caused," LG support told an affected user, and explanation corroborated by Google to Android Police.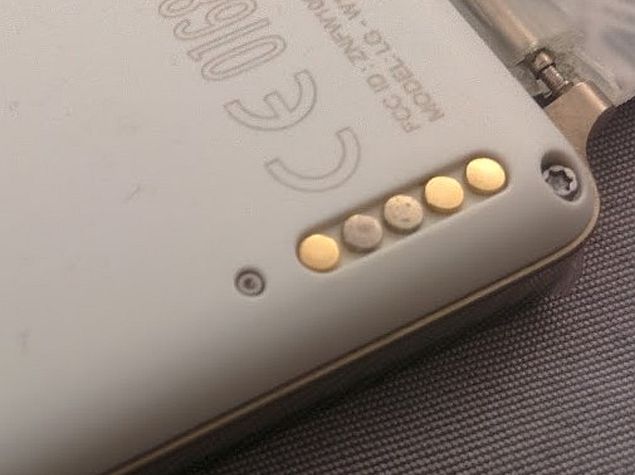 In addition, some of G Watch users who have been experiencing this galvanic corrosion claim to feel discomfort while wearing the watch. A couple of reports also include cases of skin burns. Galvanic corrosion happens when an electrical current is passed through two metals and an electrolyte (the sweat on the skin).
The LG G Watch update has started rolling-out over-the-air, and will cover all smartwatch units soon. The update also brings the build number from KMV78V to KMV78Y.
The Android Wear-based LG G Watch went on worldwide sale last month via online and physical retail stores for Rs. 14,999 (in India).
Detailed specifications of the LG G Watch include a 1.2GHz Qualcomm Snapdragon 400 processor; an always-on 1.65-inch IPS (280x280 pixels) display; an IP67 rating with dust and water resistance; 4GB built-in storage, 512MB of RAM, a 400mAh battery, Bluetooth 4.0 connectivity, and a 9-axis sensor. It has dimensions of 37.9x46.5x9.95mm, and weighs in at 63 grams. It is available in Black Titan and White Gold, and can be personalised with any standard 22mm strap available in the market.
For the latest tech news and reviews, follow Gadgets 360 on Twitter, Facebook, and Google News. For the latest videos on gadgets and tech, subscribe to our YouTube channel.