There's something ironical about being late to your meeting with the CEO and founder of a company that makes smartwatches. Or maybe it's just a coincidence, since ironical is probably the most misused word in the English language. But we digress. It'd been a busy time for Eric Migicovsky, when we met him at Pebble's office in Redwood City, California last week, as the company revealed three new products to the world just a couple of days before we met.
Gadgets 360 got an exclusive look the new products - or at least models in various stages of development - that will eventually ship to the consumers. We'd barely started talking when Migicovsky took a Pebble Core out of his pocket, and kept the mini computer in front of us. We played with it for a bit and pointed out the lack of travel in the two buttons. Migicovsky said that the Core was very much a work in progress, and the Kickstarter backers will not getting their hands on their units until January next year.
We asked what's new in the watches other than the heart rate monitors at the back and the bump that comes with it. Migicovsky pointed out the bigger display on the Pebble Time 2 and we also noticed the slightly smaller bezels. As we checked out the watches running demo software, we quizzed Migicovsky on the recent launch of Pebble range in India, the new products, and a whole lot more. Here are edited excerpts from our conversation.
Gadgets 360: What will Pebble Core be used for?
Eric Migicovsky: There's a bunch of applications [for Core]. The primary one that we built it for is runners. We think there are a ton of people who currently run with their phone strapped on the side of their arm, and they are big, they are clunky. Most of the time people go for a run, they need music and they need GPS, and this is exactly what this is built for. It's got Bluetooth, so you can pair it with Bluetooth headphones, or you can plug in 1/8th jack for a set of regular, wired headphones. It will last for up to 9 hours in running mode while tracking your pace and listening to music. You can charge it wirelessly, or via the headphone jack, similar to the iPod Shuffle.
What's the difference between Pebble Core for consumers and hackers?
It's the same [product]. That was a mistake [that led to] a bit of confusion. They are literally the same. But for hackers, that's where the door opens up to the Pebble developer community.
I think people are going to write apps for the Pebble Core that turn it into a kid tracker, so you can track where your kids are or your pets. I think they will turn it into a secure system so if you have a loved one in your family and you want to make sure they have the ability to send you a quick message if they hurt themselves. I think people will use it on drones, they will put Core on their drones, and basically connect the drone to the Internet over 3G.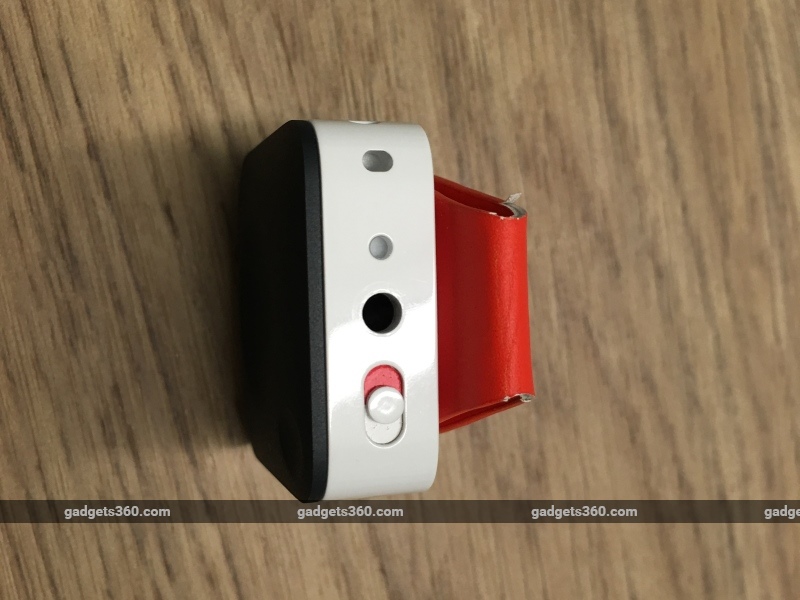 The Pebble Core will have cellular connectivity?This is a prototype, but in the final model will twist off the back and slide the [Micro] SIM in.
We are doing our best to figure out how we can get enough carrier coverage around the world. We expect that there will only be one model of Core, but there might be two depending upon if we can cram all the antennas into it.
Why announce it so far in advance?
We are on track, we will be shipping this in January. It's a completely new device, we've never done this before, and we really want to give developers the chance to get some of these and start developing apps for it before it [enters the market]. The SDK will probably be available in the Fall, which will enable people to write apps for the Core. It's going to be actually quite easy to write apps, because effectively it's an Android computer, so it runs APKs.
What are the Pebble Core specifications?
It's got a baseline Android chip, nothing special. It doesn't have a screen so you don't really need a lot of memory to store like the frame buffer. Four gigs of memory, Wi-Fi, Bluetooth, GPS, 3G, wireless charging, and you can actually ADB, so you can side load apps over USB or you could use the Pebble app store to browse the apps that are available for Core. For developers, for hackers, they could use VNC if they wanted to do. It's effectively a phone, it's a tiny, little phone, so I am sure there will be a lot of - for example, it doesn't come with Google Play services, obviously we won't be able to get approval from Google for that - but I am sure developers will figure out a way to side load that, and even hack on the Android release as well.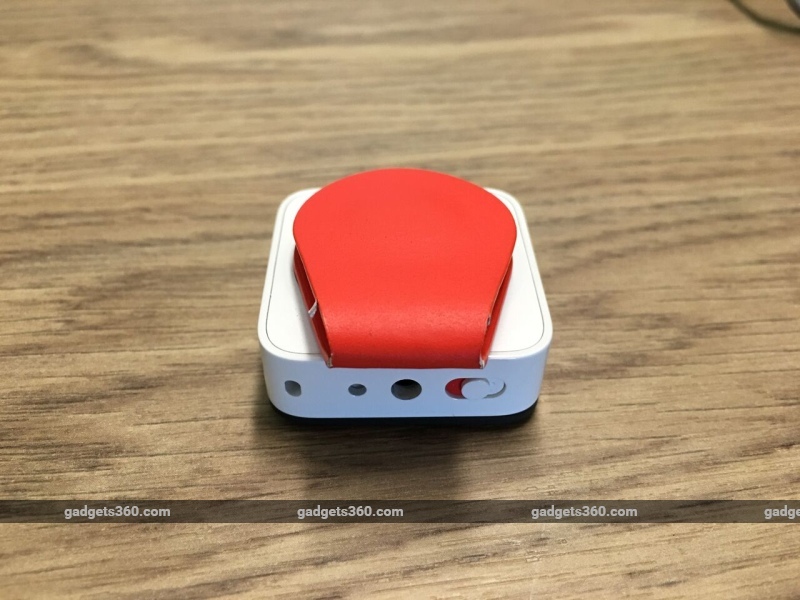 [The clock speed and RAM] we haven't published and to be honest from our testing [they] don't really matter because the main thing that pushes an Android phone to the max is the screen - how many pixels you are pushing to the screen - and since there's no screen, we could get away with having you know a Qualcomm 810 or something like that, we don't need that.
Pebble Core as a general purpose computer?
One of the really cool things about the Pebble Core is that it's kind of like a Raspberry Pi in a consumer ready package. Say for example you were writing software, maybe you want to write a custom piece of software that talks to a sensor. For example, people who suffer from diabetes they have to a wear a glucose monitor on their chest to monitor their glucose levels and right now the current state of the art is to have those sensors talk to a specialised Android phone that then uploads that information to the Web. I've been talking to a couple of them over the last two days and they are really excited about Pebble Core because that will basically eliminate the need to carry a dedicated phone just for that. And I'm sure there's a ton of other [uses].
We had some people who manage fleets of truck drivers. They currently have these expensive GPS systems installed in each truck and they are saying wow, we could just get this for 100 bucks and put this in the dashboard and it solves our problem. It is kind of like doing to IoT what the smartphone did to all these different [areas] - before the smartphone you had a phone, you had a camera, you had a mp3 player, you had a video camera, and all these different devices. It's kind of the same thing. Before this you maybe had a Kindle with a 3G connection and you had something in your car with a 3G connection, and all these things. One of the goals with this is to actually provide a central point of connection to the Internet in a package that's not a phone.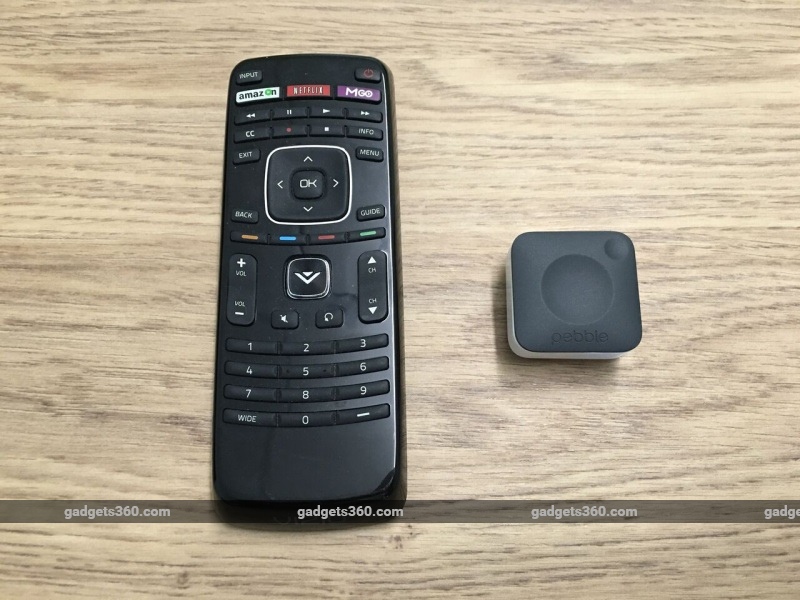 Will Pebble Core be a hotspot of sorts?
Yes, I think so. We had some people who fly drones and they said 'yeah, I will be using this as a hotspot that I put on my drone so I can fly it out Wi-Fi range.' Other people who have Go Pros, you could pair this wirelessly over Wi-Fi with your Go Pro and just kind of attach it on the back and you can turn your Go Pro into a 3G-enabled Go Pro with just a little Core.
Is Pebble Core a move beyond wearables?
I don't think this is [really a move beyond wearables]. Well, it could be kind of cool in the house, you could imagine putting this on the wall and pressing the button. I think [putting it on trucks or whoever you go] is much more likely - I think the price point and hackability lends itself very well for developers to use it as a new Raspberry Pi-like platform without having to plug it in.
The timing is right?
Why we did it now is because [now] you can buy a SIM for a dollar or two and add pay-as-you-go data. So if you want to use this maybe as a kid tracker, you are not going to pay 10 bucks a month, you want to pay maybe 5 bucks a months or something like that. If you want to maybe have this as a Amazon Dash button or call an Uber any time you press the button, maybe you will pay 2 dollars a month, or less.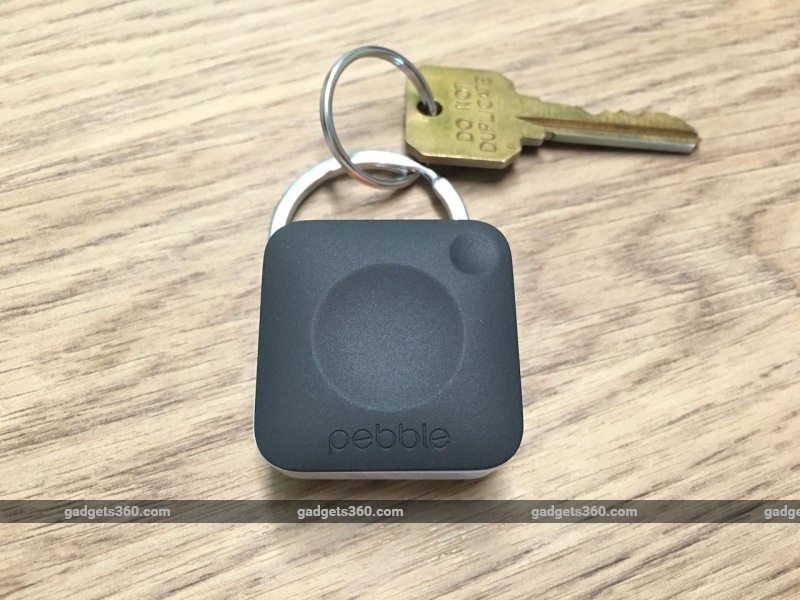 But the thing that I am most excited about is that most people will keep it on their keychain, this is smaller than a car key, and it has wireless charging, so when you go home you just leave it on the pad and it starts charging. It's this simple, hassle-free dongle.
What's the Pebble Core standby battery life
Five days of standby time, if you check GPS every hour and upload it to the Web. It has a buzzer as well.
Why does Pebble continue to use Kickstarter?
That's just what we do. Every year we launch a Kickstarter and see what people think. For us, it's a way to kind of talk directly to our community and it just so happens that the community was built along with the Kickstarter community and there's a large overlap that kind of buys things on Kickstarter and people who support Pebble. On top of that, we saw Tesla a month ago do their launch and they basically did a Kickstarter for Model 3 and we are thinking, well, if Elon Musk can do it we should be able to do it as well.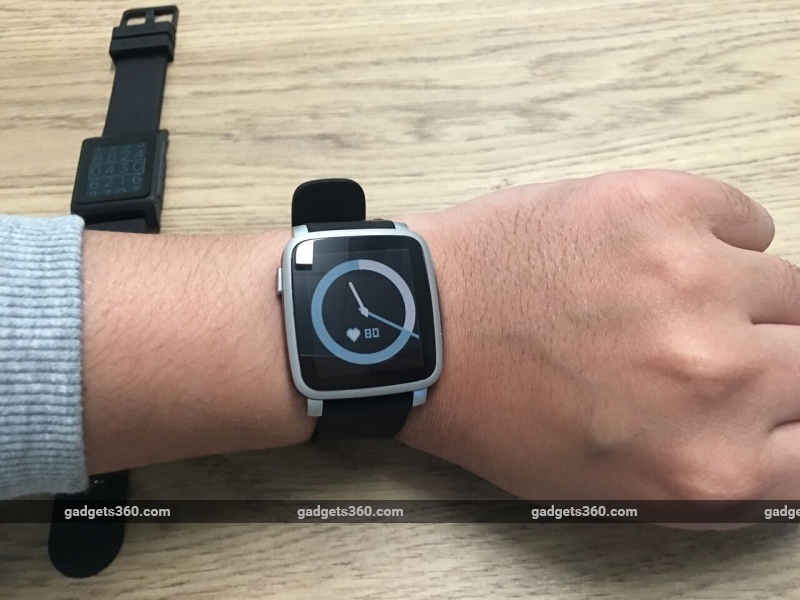 Should Apple and Samsung look at Kickstarter?
They have retail stores around the world. They are massive companies. We have a tiny band of people who are working hard and will use whatever tools are available to us. We don't have retail stores, we don't have massive hundred million dollar marketing budgets, so we use what we got.
How big is Pebble as a company?
We have 120 people - about half engineering (software), there's another 10 people in the hardware team, and the rest are split between marketing, sales, and general [support teams]. We have an office in Waterloo as well.
So is Kickstarter a marketing exercise?
Definitely. It's an amazing platform. The page has a great layout, the video, and the people understand how it works, especially Pebble works.
When will straps and other accessories launch in India?
We are working on it. We have a bit of a stock issue, we sold out in the US store as well so we are working on building more and we'll get them out. All of the bands that already exist, will work with [respective] new watches as well.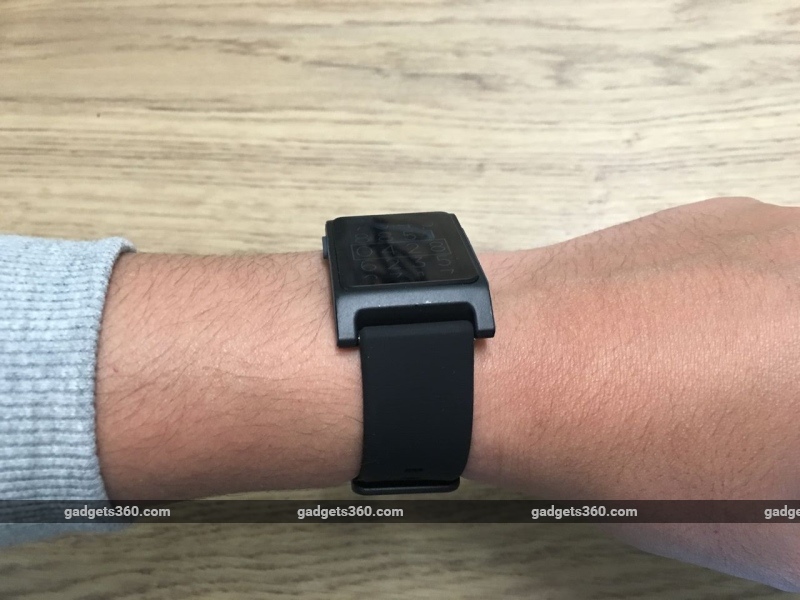 Currently, support for Pebble in India is via Amazon. Any plans to improve upon that?
We are testing it right now. Thousands of people have purchased it in India, month one. We expect that in the future we will be improving and localising much more of our support in India as well.
What about third-party smart straps for Pebble watches?
We don't build smart straps ourselves, we've chosen to kind of support the community. We are a small company. We are focused on building the hardware and the operating system, we want to enable to community. There's been about 10 or 15 companies that have announced and are starting to ship smart straps - Pal, Tylt Vu , Pagare - they are all pretty interesting, they will work with Pebble 2 and Time 2 as well.
We let them know that we are making these products, so they had a heads up that there will be a heart rate monitor bump on the back. I don't think all of them will 100 percent work with the new watches, but I believe they all will announce support for them. I am particularly interested in Pagare strap because [it has] NFC payments built into the strap. So it has a little NFC antenna and you can swipe the strap, it works with your Pebble so you can choose which card you want to pay with on your watch. And you just swipe it.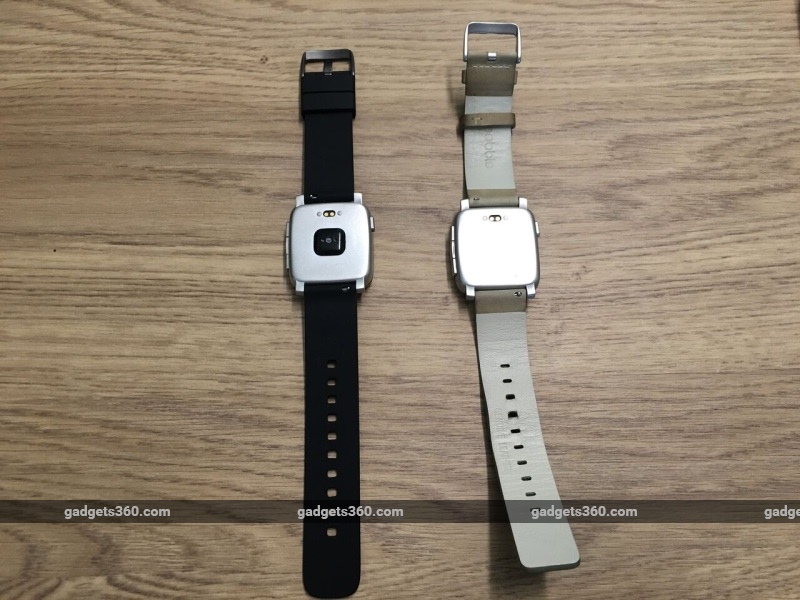 Will there be a smart band from Pebble?
We got some ideas [on building regular bands] but we are letting the community do the [smart bands that add functionality]. We were focussing on things like Core, new watches, and enabling people to build on top of it - kind of like the PCMCIA slot from laptops in the 90s.
How are you making Pebble watches more useful with new actions?
That's kind of the new framework. So instead of running an app that takes a lot of time to interact with. [For example], this is the Uber app, you just press the button, finds a car right away, and it's coming. You don't have to fiddle around with your watch, you don't have to open the app, you do just the one action. [With the new watches], instead of the menu list, you will have the actions. It will come back to the current watches as well with the new 4.0 operating system.
Simpler framework for smarter actions is coming
I have a Nest at home and there's an app for Pebble that will let you control your Nest. But you have to click in, you have to open it up, and then change your temperature. I would much rather have an action for, 'I will be home in an hour, start heating the home up.' Click, click boom.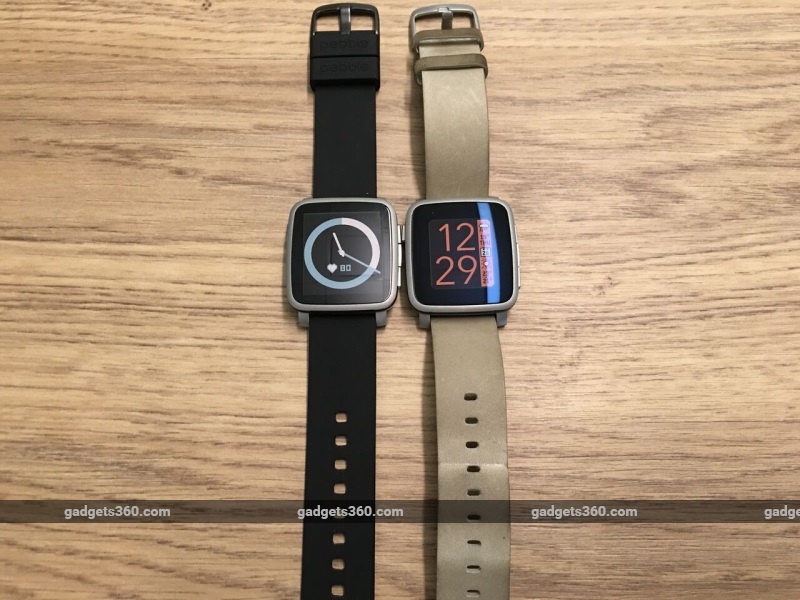 These are apps that can show a little bit of information, but also focus on one action. So in the Uber case, you don't have to open the app to call a car, you could literally just click it and it calls one. Same for the Nest app. You could imagine that at 4pm you will have an action in your Action menu, I am going to be home, get the home ready. That you can configure using Javascript, so expect that a lot of Web developers will starting writing actions because you can now write them in Javascript, and you don't have to write an entire app in C and load it through the app store. It's much simpler, it's more like IFTT rather than building an app.