Sony had several announcements to make at CES 2015, the largest consumer electronics show in the world. These included everything from a new high-end Walkman, to Android TV-based 4K and full-HD televisions, 4K video cameras, the timeline for the rollout of the Android 5.0 Lollipop update for Xperia Z devices, and even, how many PlayStation 4 consoles it has sold since it launched.
Apart from these, Sony had some audio-related announcements as well at CES 2015. The Japanese consumer electronics giant announced it will soon be launching a range of home audio products with support for Google Cast for audio, and Spotify Connect. The Google Cast-Ready home audio products will have the ability to stream compatible Google Cast apps like Pandora, Google Play Music, and Deezer.
The company also announced the updated Sony SongPal app, which now allows users to synchronise multiple Sony audio products while controlling and navigating content from sources such as Google Cast, Spotify Connect and 4K content from major studios.
The new Sony home audio products will feature Sony's LDAC circuitry that supposedly enables high quality wireless audio via Bluetooth with three times the data transmission rate of standard Bluetooth. Sony says new wireless speakers also support built-in echo cancellation and noise suppression.
Sony's new home audio products include a new premium sound bar - the 7.1-channel Sony HT-ST9 (seen above) with wireless subwoofer. It incorporates 9 independent speakers and 7 discrete amplifiers, and also supports Hi-Res audio. It is a networked multi-room capable sound bar with the ability to stream Google Cast ready music and audio apps and Spotify Connect to multiple speakers throughout the house via the Sony SongPal Link app. It also features HDMI with HDCP 2.2 capabilities, apart from Bluetooth streaming via LDAC and NFC one- touch connectivity.
Similar to the HT-ST9, the 2.1-channel HT-NT3 sound bar also supports 4K content via HDCP 2.2, Google Cast, Spotify Connect and Multi-room capability via the SongPal link app. Both products will be available in spring 2015. Also introduced were the HT-CT770 and HT-CT370 sound bars, and the HT-XT1 TV Base Speaker. While not many details were released about the two sound bars, the HT-XT1 TV Base Speaker is meant for Bravia TV models less than 50-inches. It hooks up via HDMI and provides 2.1-channel sound with a 170-watt output.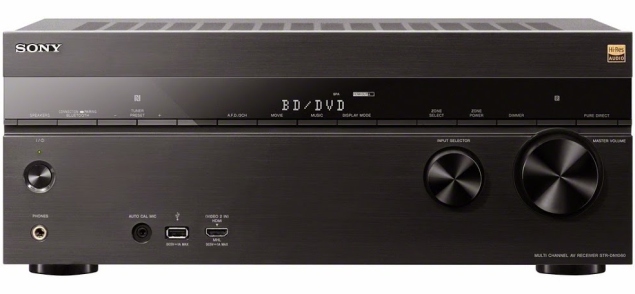 Sony also unveiled two new A/V receivers, the STR-DN1060 (seen above) and STR-DN860, which bring 4K content support with HDMI with HDCP 2.2. They also have multi-room audio connectivity, and support for Hi-Res audio, including DSD. Other features include built-in Wi-Fi connectivity, AirPlay, Bluetooth, Google Cast and Spotify Connect. Both models will be available in spring 2015.
Next up, are the six new portable wireless speakers from Sony. The new Sony SRS-X99 wireless speaker (seen below) is claimed to feature Hi-Res audio support at 24bit/192kHz, and offer a 154-watt and 2.1 channel output. It comes with 4 super tweeters, a dual passive radiator, DSEE-HX, and Clear Audio+. The SRS-X99 also supports Google Cast, Spotify Connect and multi-room capability via Sony SongPal link. Additionally, the SRS-X99 supports Bluetooth with LDAC and NFC.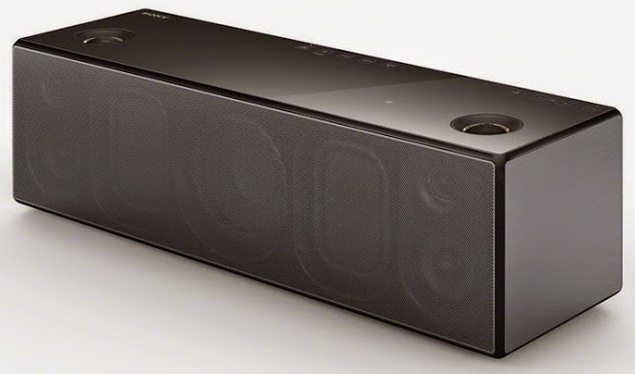 The new SRS-X88 provides the same Hi-res capability as the SRS-X99 in a slightly smaller form factor. Both the SRS-X99 and the SRS-X88 will be available in spring 2015.
Sony at CES 2015 also launched its new range of Blu-ray Disc Players touting integrated online streaming services like YouTube, Netflix and Amazon Prime; video-on-demand from the Sony Entertainment Network; faster Wi-Fi with MIMO technology; a Super Quick Start mode; a new customisable user interface; support for a wider range of codecs; 3D upscaling for 2D content from regular DVDs; and support for screen-mirroring from mobile. The company is touting its SideView app for Android and iOS smartphones that allow viewers to see details about the video they are watching on the Blu-ray Disc Player.

The Japanese consumer electronics giant said the new range (BDP-S1500 Smart Blu-ray Disc Player, BDP-S4500 Smart 3D Blu-ray Disc Player, and the BDP-S5500 Smart 3D Blu-ray Disc Player with advanced super Wi-Fi that's also seen above) of players will go on sale in Europe from February.
Finally, Sony at CES also unveiled its new full 4K VPL-VW350ES projector (seen below), with a 4K native resolution of 4096x2160 pixels. The projector uses Sony's 4K SXRDTM panel and Motionflow technology, which the company claims delivers high resolution images without compromising on contrast and fast motion capabilities. It also incorporates Sony's Triluminos tech for better colour reproduction.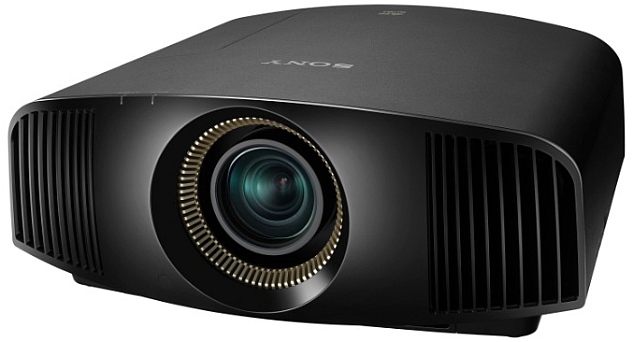 The Sony VPL-VW350ES projector is rated to deliver 1,500 lumens of brightness. The projector also comes with a low latency mode for gamers, and supports HDMI 2.0 and HDCP 2.2. Sony says it is installation friendly, with its compact size and front air exhaust cooling system. It uses a powered 2.06x zoom lens with a wide shift range. Also onboard is an RF 3D transmitter. The VPL-VW350ES will be available starting January 2015 for under $10,000 (roughly Rs. 6,33,000) in the US.