Kitchen gadgets can be a lot of fun - have you seen the automatic roti maker yet? Things like the Philips Airfryer use technology to make cooking simple. But while these products are great for the hobbyist chefs, they're just toys for fun compared to the way professional chefs work.
For a professional chef, cooking is a scientific process, and technology has a big impact. Chef Kunal Kapur, the Executive Sous Chef at the Leela Kempinski hotel in Gurgaon, has been working in kitchens for over a decade and a half now. He has seen the transition from the old guard to the new ranks, and even heralded in some of the changes.
Kapur talks us through the ways in which a professional kitchen has changed over the years.
NDTV Gadgets: What kind of appliances do you work with? Is technology a part of your kitchen?
Kunal Kapur: Gadgets and technology has invaded pretty much every sphere of our lives, and that is not at all a bad thing. We have moved on from mud-baked stoves to kitchens that are Wi-Fi-enabled. [For example] the staff which takes the orders does so using a handheld tablet. Once the order is punched, it goes to the kitchen directly. The kitchen tickets [of what needs to be cooked next] are printed immediately.
One of the main uses of Wi-Fi is for food research. If we have a customer who is allergic to peanuts and if the dish makes use of the same, then we can use the Internet to search for alternatives. Sometimes we use the net for researching about a particular cuisine.
My kitchen is a mix of the old and the new. [I used] old fashioned knife sharpeners and meat cleavers, [but] I use vacuum packing machines to cook food. While cooking carrots we boil them in slow heat. We vacuum pack them, and dip it in warm water to cook. It retains the nutrients and the colour of the vegetable. The same applies for meats too. In addition there are multi-purpose ovens that help me cook items like dum biryani, chapati makers, [and] stand and multi-function mixers.
Another thing is the multi-function ovens. They are also called combi-ovens because they can steam, bake and roast all in one. A fan that rotates over the food spreads the hot air evenly so the food can be cooked or steamed very quickly. Also they have preset features set in them. So if I want to cook a turkey with a brown skin I feed the same into the oven and it takes care of the temperature and cooking the turkey.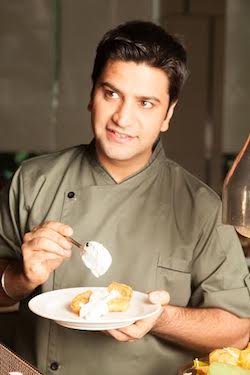 Could you tell us about the cooking techniques which have been influenced by technology?
Essentially, the basics have become more technical. Cooking styles have changed. Slow cooking has branched out of molecular gastronomy, which I think was an important thing to come into the arena of food cooking styles.
Let me give an example: If we grill meat for 15 minutes at a temperature of 180 degrees, it will be cooked quickly, but what happens when the same meat is cooked for 13 minutes at a temperature of 70 degrees? The meat fibres are broken down very slowly and it is cooked accordingly. Even though the meat is cooked and very tender the colour doesn't change at all. Unlike a grilled piece of meat which gets burnt this one is not burnt. Slow cooking preserves the colour of the food and plays on the texture and gives the food a juicy taste. Slow cooked meat is more tender and juicy and it has a very glossy texture as compared to meat grilled or roasted quickly.
Another technique that is used is gelatinisation. The paani that is used in making golgappas is jaljeera. Now what if you want to eat that water? That sounds stupid but it is possible. We use chemicals to gel the water. What happens is it creates an outer membrane around the water. So it is still filled with liquid but has a gelatinous external membrane that holds it all in.
Aside from cooking, what other aspects of the kitchen have changed with new technology?
Oh there are a lot of things. I mentioned about research coming into cooking, and it has not just come to cooking, but also into buying the food and preparing it for cooking, storing and even monitoring it.
So for instance the raw food that comes into a hotel is first tested. The testing comes into the picture right from the suppliers. We have a certain specific set of instructions for our suppliers - this includes the quality of the meats coming in, the freshness of the vegetables coming in and a lot more. Also during the storage random batches of vegetables and foods are tested for harmful bacteria. This is all done scientifically - once the raw foods are in, they are tested by micro-biologists.
There is also a team of engineers that monitors the cooling and storage systems on an hourly basis to ensure that the temperatures don't go of the optimal requirements. There are blast chillers that help to minimise the bacterial changes in the food, the vegetables are cleaned with chlorine, which is measured. Even the water used for washing the vegetables is different from the one used for drinking. The vegetables aren't cleaned with tap water but with RO water.
Do you feel anything amiss while cooking in an ordinary kitchen? How was it for you when you were growing up eating in the family kitchen?
I remember my grandmother grinding food on a grinding stone, and crushing spices in a mortar with a pestle. Of course there was a different charm to that but that was then. I also remember I would fall ill frequently owing to a change in the water that was used for cooking or even drinking back then. I now realise that these are things that have to be paid attention to and I am glad I am doing those now. As far as the ordinary kitchen is concerned I try and improvise to my best as to keep the cooking hygienic.