Deep in the bowels of the All England Club, an army of employees from one of the world's technology giants are teaching a computer named Watson to master tennis.
Seven-times Wimbledon champion Roger Federer can relax though. A silicon-chipped cyborg is not about to wreak havoc on his beloved Centre Court.
Watson is a cognitive computer designed by IBM that played Gary Kasparov at chess and beat the most successful contestant on hit U.S. game show Jeopardy in a $1 million (roughly Rs. 6 crores) challenge.
Its latest task is crunching tennis statistics and digging through Wimbledon's vast historical archives to help feed the tournament's ever expanding digital output and answer the queries of the world's media churning out stories.
Want to know how many left-handers were in the men's singles in 1979? How many aces Croatia's Ivo Karlovic has served on the Wimbledon lawns? Was Wednesday's heatwave a record?
Watson, says IBM, will be able to spit out the answer in around three seconds.
"What we are doing at Wimbledon is teaching Watson tennis," Sam Seddon, IBM's Wimbledon Client and Programme Executive who is at the heart of the operation, told Reuters.
"There is a data set at Wimbledon that sits in a huge structured database, then there is Wimbledon's huge historical archive. Watson can receive a question from Wimbledon's digital team in natural language, understand if it is a statistical question or a language question and then find the answer.
"It means Wimbledon can rapidly get access to the information with a simple search question and then they can start putting context around the content."
Wimbledon remains the most traditional of the grand slams, where players still wear all white, but staying ahead of the game in terms of digital media is vital for the brand in a world where people want stories on the go.
A glossy new website was launched this year.
"The next best thing to being here" is the mantra and IBM, partners for 25 years, help Wimbledon deliver it.
"Since IBM became involved, a little over 10 million have walked through the gates," Seddon said. "Last year alone, 63 million people visited the website.
"Some people, like my mum, just want the scores, others want to know exactly what Murray's success rate is on second serve. The website is like peeling away layers of the onion."
Touch pads
Away from the strawberries and cream-chomping crowds, analysts beaver away in darkened offices below Court 14.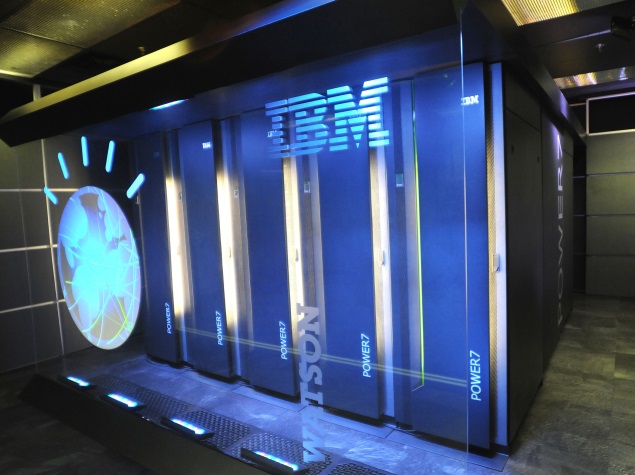 Nothing is missed.
A "notification solution" alerts Wimbledon's digital team as soon as anything of interest happens.
"Imagine Djokovic is losing a five-setter to a wildcard, the media eyes of the world will be on that, but at the same time on Court 18 we get the fastest ever serve," Seddon explained.
"Wimbledon would be notified of that straight away and it can be on social media in an instant."
Out on the 19 courts, data inputters many of them players peer into touch pads logging how every point of every match is won or lost.
That data is then processed in the command bunker and spewed out for use by commentators, players and fans alike.
One of the favourite tools is IBM's Slamtracker system which uses 41 million data points over eight years to identify three keys to any match. It then measures each players' performance in real time.
"The gladiatorial format of tennis lends itself to identifying specific factors that are key to matches, it's easier in that sense than football," Seddon said.
While matches are won and lost on court, not on paper, the analysis offered is popular with players and coaches.
Players often walk into news conferences scouring data printouts for break point conversions, serving placements and even how far they ran.
"It's little things that you can use. It's great to track down your opponent, see where they like to serve," former world number one Caroline Wozniacki told Reuters.
"Sometimes you feel one thing, but in reality it was something completely different. The statistics show you that, black and white."
Even if a match goes wrong, players can take heart from winning the Twitter battle with IBM tracking social media traffic to see who had the most positive "social sentiment".
Federer, it seems, has few rivals there either.
Of the 277,891 tweets about him when he played Australian Sam Groth, 89 percent were positive.
© Thomson Reuters 2015