Love and its many foibles rolled out on the Google homepage Thursday with an animated doodle celebrating Valentine's Day and also the 154th birth anniversary of George Ferris, who created the ferris wheel.
With two ferris wheels, representing Google's two Os set against a fun fair backdrop of blues and reds, and winding roller-coaster tracks as the 'cover page', the Google doodle also had some valuable life and love lessons for those who clicked on the heart at the centre.
In 10 carefully gender-neutral cartoon strips featuring animal characters - click once for each view - couples play out the many shades of love. If the horse and the tiger holding hands on a bench looking out a moonlit landscape of mountains and streams represent perhaps contentment and comfort, the octopus serenading the goose with its many arms is the reckless ardour of first love.
Then there is the tired rabbit waiting alone at a restaurant for the tortoise to arrive. It does, by the third panel, but too late when all the diners have gone and the place has shut down. Also, the bear and the octopus out on a date in town - but by the end, the octopus is staring wearily ahead while the bear is busy wolfing down its food.
But there's so much fun to be had as well - like the monkey and the elephant doing the cha-cha-cha perhaps on a dance floor or the little bird and the hippo having the time of their lives on snow slopes.
And then there's the understanding rabbit who pulls out flowers from its hat to give to the dolphin. It looks disappointed, and the rabbit, with an ok-I-get-it look, then brandishes a fish for the smiling dolphin.
But life is not all about being in love or living through your partner. Ask the lone wolf, who is seen happily spread out on the couch, remote in one hand, popcorn in the other and an open book.
Recognise somebody out there in the many characters in Google's doodle? You are sure to.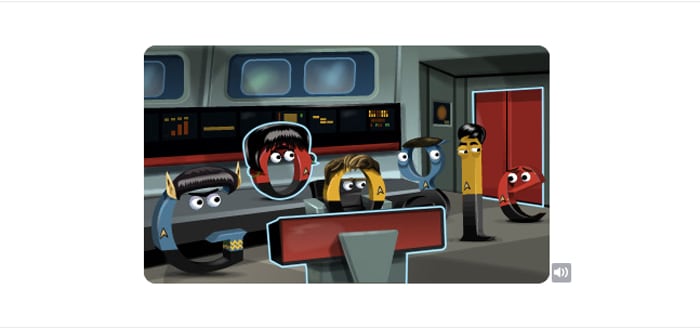 Best Google doodles of 2012
For more
Google doodles
, visit
this page
.
For the latest tech news and reviews, follow Gadgets 360 on Twitter, Facebook, and Google News. For the latest videos on gadgets and tech, subscribe to our YouTube channel.