The 25th anniversary of the fall of the Berlin Wall is on Sunday and Google is marking the occasion with a doodle. The video tribute on the historic day can be seen on Google's home page and search results in most countries across the world.
Google has written about how the doodle evolved, saying it enlisted the help of film crews and historical photographs by Klaus Lehnartz and Heiko Specht to set context for the video. The music for the video tribute to the fall of the Berlin Wall is by Nils Frahm, who grew up in Germany and has personal recollections of the event.
"I was 7 years old when thousands of East German signature cars arrived in my hometown Hamburg and filled the air with odd smelling blue smoke," Frahm told Google. "I saw strangers hugging strangers, tears in their eyes, their voices tired from singing. I was too young to understand, but I felt that life was different now and that different was better."
Germany is marking 25th anniversary of the fall of the Berlin Wall Sunday with more than a million people expected to join tributes, festivities and an open-air party with freedom icons and rock stars.
Chancellor Angela Merkel leads commemorations for those killed trying to flee communist East Germany, ahead of a giant festival to celebrate the peaceful revolution that ended Europe's Cold War division on November 9, 1989.
Merkel, 60, who grew up under the repressive eastern regime, said in her weekly podcast Saturday that the reunified capital of Berlin had become "almost a symbol of Europe's unification after the Cold War".
"This city has written history," she said later at an event held at Berlin's modern art museum, the Neue Nationalgalerie. "The human urge for freedom cannot be subdued in the long run."
A highlight of the celebrations on Sunday is expected to be the symbolic release of nearly 7,000 illuminated white balloons, pegged along a 15-kilometre (nine-mile) stretch of the Wall's former 155-kilometre path.
The glowing orbs will float into the night sky from the iconic Brandenburg Gate, the symbol of German unity.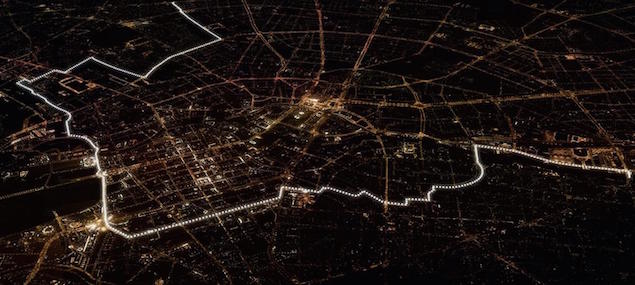 Image courtesy: German Foreign Office
Written with inputs from AFP