Douglas Adams, celebrated author and humorist, is the subject of Monday's Google doodle. Adams is best known around the world for his cult classic book The Hitchhiker's Guide to the Galaxy.
Douglas Adams was on born on 11 March 1952 in Cambridge England. He showed a flair for writing from an early age and went to graduate in English literature in 1974. After graduation, he moved to London with an aim of becoming a TV and radio writer. It was here that we met Monty Python's Graham Chapman, and the two went on to form a writing partnership, albeit for a brief time.
Adams was credited with writing one of the sketches in a Monty Python episode, becoming one of only two people outside the original Monty Python members to be given a writing credit. Adams and Chapman also attempted non-Python projects, but got nowhere and Adams was forced to series of non-writing-related jobs.
While Adams continued to do some writing, his career took off after he got an opportunity to work with the BBC as a radio producer. It was here that The Hitchhiker's Guide to the Galaxy was born as a science-fiction comedy series for the radio. The first series - consisting of six episodes - was broadcast on BBC Radio 4 in March and April 1978, and received an excellent response. A seventh episode was broadcast on 24 December 1978.
The first four episodes of the series were adapted into the book The Hitchhiker's Guide to the Galaxy. It was first published in 1979, initially in paperback, and reached number one on the book charts in only its second week. The book sold over 250,000 copies within three months of its release.
A second series of five episodes was broadcast one per night, during the week of 21-25 January 1980. Four more books followed, The Restaurant at the End of the Universe (1980), Life, the Universe and Everything (1982), So Long, and Thanks for All the Fish (1984) and Mostly Harmless (1992). Adams also wrote 3 episodes of popular TV series Doctor Who.
Douglas Adams was an avid technologist, and a Macintosh user from the time the original Mac came out in 1984 until his death in 2001. His very last post to his own forum was in praise of Mac OS X and the possibilities of its Cocoa programming framework.
Adams died of a heart attack on 11 May 2001, aged 49.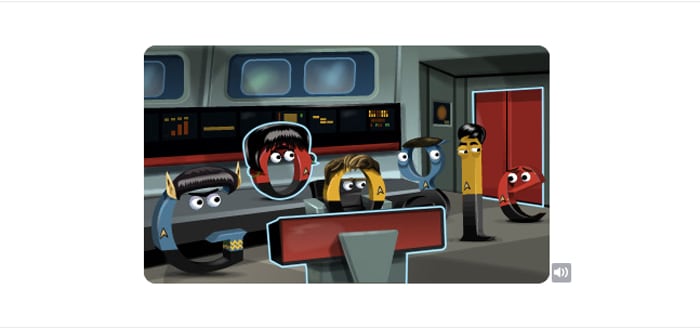 Best Google doodles of 2012

For more Google doodles, visit this page.