When Wall-E was released back in 2008, movie-makers around the world were keen to see the impact of an emotion-driven story with a machine as a protagonist. The movie earned critical acclaim as well as financial success; however, it did one more thing. It generated a desire to own a machine that had human-like emotions - or at least, emulate them.
Eight years since the movie released, Silicon Valley-based toymaker Anki on Monday launched a miniature robot for kids named Cozmo that is likely to fulfil this same desire, at least partly if not entirely. Anki's Cozmo, which comes to life with a tap on your Android or iOS device, emulates humans to a point that it snores while sleeping and shakes its head in anger when lifted up.
The $179.99 (roughly Rs. 12,200) miniature robot fits in the palm of your hand, comes with a CRT screen, and will start retailing from October in US but pre-orders have already started from Monday at $159.99 (roughly Rs. 10,800). The significant leap in artificial intelligence for this specific robot has been due to what the company calls an "emotion engine."
Cozmo can emulate hundreds of emotions like happiness, calmness, bravery, confidence, and excitement. The robot has the capability to recognise and remember a user, and also learn to adapt to the user over time, using machine learning and computer vision. Anki says the sophisticated software installed in Cozmo makes it stand out from rest of its competitors. The robot will be happy when you play with it, suggest a game if you've haven't played in a while, or sulk if you throw it around.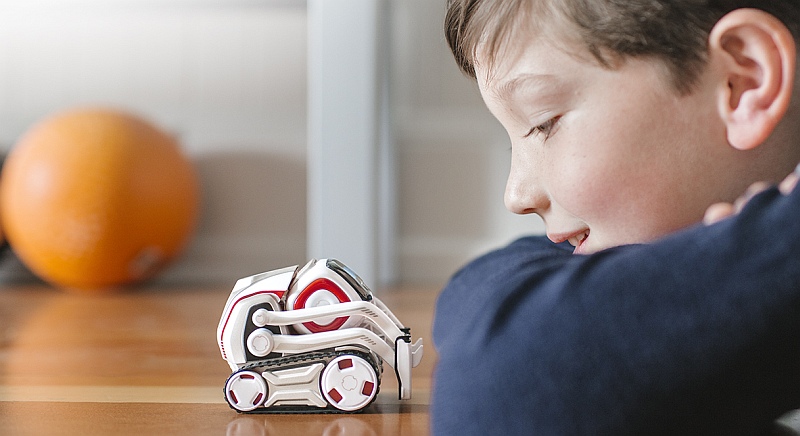 The robot even initiates a game of popular classic game Breakout when left idle in order to entertain itself. Even company's Co-Founder and President Hanns Tappeiner has admitted that there is no definite way to determine how the robot will react in any given situation as it is constantly learning. Cozmo ships with three interactive building blocks, which he can play various games with.
On its blog, Anki says Cozmo fits cutting edge hardware and software on board, and "processes more data per second than all the Mars Rovers combined." It adds, "Robots with comparable capabilities are found in labs for thousands of dollars and stand several feet tall. More than three-hundred parts make up this robot that fits in the palm of your hand."
Cozmo's resemblance to Wall-E (which may become a selling point) might partially be because of the involvement of former Pixar animator Carlos Baena, who was hired last year by the company to run character direction. Other creators of Cozmo are roboticists, game developers, and the lead designer of the Batmobile.
The company is utilising industry-standard animation tool Maya to render various actions for Cozmo. "We wrote a huge amount of software inside of Maya to allow our animators not to animate a movie, but an actual robot," Tappeiner told The Verge. Cozmo is capable of producing complex facial expressions on its display which are coupled with a dynamic soundtrack.
Much like Anki's small race cars, Cozmo will be controlled through a compatible Android or iOS device. Anki has released its a takes 8-10 minutes to charge fully and one battery cycle lasts for a total of around two hours according to the company. Any strenuous computing is shunted to the associated Android or iOS device, conserving battery life of the robot and space for additional components, as well as the cost.

The company is planning to release a software development kit (SDK) down the line in order to encourage innovative use of its device's AI. "We're going to give people unprecedented access to robotics with this," Tappeiner said.