Vivo has launched a brand new selfie-centric smartphone called the V7+, which succeeds the V5 Plus (Review). The company has done away with the secondary front camera in favour of a single one with a higher resolution. However, Vivo has gone beyond just the front camera, adding an 18:9 display to keep up with today's trends.
Rs. 21,990 is an interesting price point as there are only a few good options worth considering here, so there is plenty of opportunity for Vivo. Let's see if the company has done a compelling enough job with the V7+.
Vivo V7+ design and build quality
The phone is built well and is slim and light. With a depth of just 7.7mm, it's comfortable enough to carry around in your pocket and the ergonomics are good so it's easy to grip. It has a plastic back, although it does look like metal from afar. The fit and finish is nice and Vivo has added some chrome accents around the top and bottom edges of the phone to give it some aesthetic appeal.
The 3.5mm headphone socket, Micro-USB port and a speaker grille are all on the bottom. On the left, we have the SIM tray which can accommodate two Nano-SIM cards and a microSD card. MicroSD support goes up to 256GB and is a welcome feature since this phone's predecessor lacked expandable storage. The volume and power buttons are placed to the right and line up well with your fingers during regular usage. The only thing we're not too happy about is the older Micro-USB connector rather than a newer Type-C port.
The big departure from previous Vivo phones is the new 18:9 aspect ratio display. There are very slim borders on the top and bottom and even slimmer ones on either side. The display has a 2.5D curved-edge Gorilla Glass covering, which looks good. Sadly, Vivo has missed one major detail and that's the resolution. For a 5.99-inch screen, it only gets an HD resolution (720x1440), which is disappointing. The display surprisingly isn't as terrible as we had expected. Icons and text are obviously not as sharp as we would like but there's no visible colour banding in videos and still images. Colours are nicely saturated and the viewing angles of the IPS panel are decent too. We also have a notification LED above the screen.
The rear camera module creates a slight bump at the back. During our review period, we didn't see any scratches to the lens or scuffs to the finish. The fingerprint sensor sits in the middle of the rear, just above the Vivo logo, and is quick at authentication. You can also use it to lock apps and take a selfie.
In the box, you get a silicone case, SIM ejector tool, quick start guide, headset, data cable and 10W charger. The charger is unusually large for one that doesn't support fast charging.
Vivo V7+ specifications and features
The V7+ uses the top-end variant in Qualcomm's 400 series, the Snapdragon 450, which uses eight ARM Cortex-A53 CPU cores and Qualcomm's own Adreno 506 GPU. Performance is slightly better than the rest of the 400 series as the SoC handles multitasking and games pretty well. It's not as quick as say, Qualcomm's Snapdragon 625, which is often seen in phones at this price point, but it's no slouch either. We managed to get 56,637 points in AnTuTu and 33fps in GFXbench. The phone also gets 4GB of RAM and 64GB of onboard storage, which is good. Other specifications include dual-band Wi-Fi, Bluetooth 4.2, USB-OTG, and FM radio. NFC isn't present but you do get a gyroscope, along with the standard variety of sensors.
Vivo has updated its custom fork of Android, Funtouch OS, to version 3.2 and it is now based on Android 7.1.2. It continues to be heavily 'inspired' by iOS with icons and UI elements taken straight from Apple's mobile platform. In the new version, notifications are shown much like they are in iOS. Vivo's Control Centre is still present, and you have to you swipe up from the bottom of the screen to bring up quick settings toggles and recently used apps. Funtouch OS is a single layered UI so all your app icons are laid out on the homescreens. Due to the taller screen, it is difficult to reach all corners without shuffling your hands about. Vivo has incorporated a few features to help, like one-handed mode and gestures.
The UI also has something called Smart Split 3.0, which lets you use two apps at the same time. Incoming messages from compatible apps like WhatsApp and Facebook Messenger can be seen on one half of the display so you don't need to exit the application you're currently using. You can force split-screen mode with a three-finger swipe down. The trouble is that it's not very useful as there are only a handful of apps that support this, and Nougat's native split-screen feature isn't supported. App Clone lets you create two instances of a supported app, so it can be used with your second SIM.
Overall, the interface works smoothly but it's difficult to find what you're looking for at first, especially in the Settings app. It could also use some refinement as certain pop-up messages and menus don't have proper alignment or useful descriptions.
Vivo V7+ performance, camera and battery life
General performance is pretty good despite the low-ranking SoC, and we didn't face any performance issues with regular use. The interface operates smoothly and multitasking is also handled very well. We didn't have any trouble with overheating here, even when gaming. Speaking of which, we were pleasantly surprised to see that even heavy games ran pretty smoothly. We experienced some lag in the menus of the Asphalt 8: Airborne but got a steady framerate during actual gameplay. VoLTE works well too on the Jio network. The dialler app is pretty standard and there isn't a native video calling option, but it does have a built-in call recorder.
The taller display is a good canvas for watching videos on. You have the option to adjust scaling when you play a video so that it either sticks to the original aspect ratio or fills the display completely. The phone can handle 1080p files perfectly well but struggles with higher resolution files and doesn't play 4K at all. The speaker is fairly loud too. The bundled headset doesn't sound too good but the V7+ does have a decent DAC (AK4376A), which when paired with a good pair of headphones, offers a better listening experience.
The Vivo V series is all about that front camera, and the company has bumped it up with a 24-megapixel sensor. The aperture is f/2.0 and you get a bunch of beauty modes for selfies and even for video calls. Despite removing the secondary sensor for depth sensing, you still get a Portrait Mode, which adds a pseudo-bokeh effect to your selfies - however the depth can't be adjusted. The quality of selfies is pretty good in most lighting conditions. The sensor picks up a good amount of detail although skin tones aren't too accurate.
Tap for full-sized Vivo V7+ camera samples
Even in low light, the front camera picks up details and colours while keeping noise levels in control. There's the 'moonlight flash' fill light which helps illuminate your face without blinding you like a traditional LED flash would.
The rear 16-megapixel sensor supports PDAF. It manages to pick up good detail in daylight landscapes and macros. Colours are well represented too. In low light, or indoors without good lighting, objects in landscapes sharpness and the edges around finer details appear fuzzy, upon zooming in.
Video recording maxes out at 1080p and while the quality is good, the lack of any stabilisation introduces a lot of jerks if you move about. The camera app (unsurprisingly) resembles Apple's iPhone camera app, with a similar button layout and design. It even has a Live Photo mode, with an icon that is exactly the same as on the iPhone. Auto HDR comes in handy when shooting in brightly lit conditions and you get shooting modes such as professional, slow-motion, panorama, ultra-HD and timelapse.
Battery life is good, and the 3225mAh battery will last you a little over a day with regular use. This phone doesn't support fast charging, but he bundled adapter will charge the V7+ from zero to about 50 percent in an hour. In our video loop test, we managed to get about 12 hours and 4 minutes, which is good.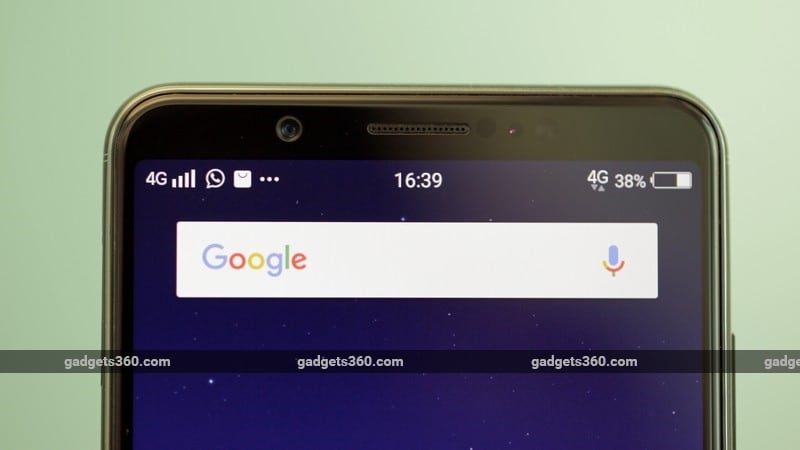 Vivo V7+ in pictures
Verdict
Vivo is introducing some notable new features with its smartphones and the V7+ is just the first of many such models to come. The shift to the new 18:9 aspect display is welcome, and we like the fact that the company has finally moved to Android Nougat. The front camera is does a good job in most lighting conditions. However, it still feels quite expensive considering it's plastic body, low-resolution screen and budget-class processor.
Today, we have better-built models with more features and more powerful specifications selling for a lot less, so it's reasonable to expect these things from a phone at this price. We're also not that impressed with the rear camera. With a screen this size, we expect it to have a full-HD resolution at the very least. Dual cameras at the front or back are another popular feature that other phones offer, and would have helped this phone stand up against its competition.
At around Rs. 22,000, the Samsung Galaxy A5 (2017) (Review) is a very good alternative since you get a better constructed device with useful features such as waterproofing and contactless payment support. Vivo's own V5 Plus (Review) is also still a decent choice, after its recent price cut. You get a more powerful SoC, although it's still stuck on Marshmallow and the storage can't be expanded. It's also worth noting that several phones which sell for Rs. 15,000 or so today offer features and performance that are competitive with Vivo's higher-priced V7+.