Samsung can take credit for sparking an interest in big phones. The original Galaxy Note (Review) with its 5.3-inch screen was met with scepticism and a bit of ridicule at first, but by today's standards, it would seem almost dainty. The trouble for Samsung is that with nearly all phones (including its own) pushing the limits of what a pocket can hold, what sets the Galaxy Note line apart?
With nearly identical hardware and software as the Galaxy S series, the new Galaxy Note 9 doesn't even serve as a half-yearly refresh, like so many other companies push out. The answer, then, is the S Pen, which Samsung is now leaning heavily on. Over the years, it has become slimmer and more sensitive, and now it has gained a whole new set of functions.
We're curious to see whether there's anything else to this phone that we haven't seen before, and whether the S Pen really elevates Android to a place that none of Samsung's competitors can reach. Read on.
Samsung Galaxy Note 9 design
Samsung is one of the few companies resisting the industry's current obsession with notched screens, which might come as a relief to some people. It is a little surprising, considering that Samsung was one of the first companies to kick off last year's shift towards tall screens with narrow borders. It even went as far as to come up with the name Infinity Display to boast of its screens' curved edges and narrow sides. While the overall look of this phone is still slick, it isn't anywhere near cutting-edge anymore.
The Galaxy Note 9 is a really big phone, and despite Samsung's best efforts, it's very unwieldy. It's more squared-off at the corners than its Galaxy S siblings. Thankfully, the glass back is not slippery at all, because you'll have to keep shifting your grip on it to reach all corners of the screen, even when using both hands. It weighs 201g and you'll definitely feel it, whether you're watching a video, typing a message, or just carrying the phone around in a pocket.
The front and rear are glass, and the frame is aluminium. This phone feels incredibly well crafted, and the materials seem to flow into each other perfectly. The cameras on the rear protrude by less than a millimetre, and there's a slightly raised border around the module for protection. The only real downside in terms of design is that there's nothing very new or interesting compared to the Galaxy Note 8 (Review), or for that matter, the Galaxy S9 series.
The screen has grown to 6.4 inches, from 6.3 on the Galaxy Note 8 (and 6.2 on the Galaxy S9 Plus (Review). It's hard to say that this is a huge improvement. As with the first time we tried an Infinity Display on the Galaxy S8 (Review), the curved edges are extremely reflective, which is distracting when watching videos and tends to obscure display elements such as the status bar in PlayerUnknown's Battlegrounds (PUBG). In all other respects though, this is an excellent panel. Samsung's own Super AMOLED production line has been serving its flagship phones well for years, and this one is no different. It's bright, crisp, and punchy.
The hallmark of the Galaxy Note series is the S Pen. This little stylus was meant to help position the original Galaxy Note as a smartphone for getting work done on, but the novelty and utility of it has had much wider appeal over the years. With the Galaxy Note 9, Samsung is turning it into a style statement as well. The Ocean Blue variant, which we're testing, has a bright yellow S Pen with a gold end cap, for no reason other than to draw attention. The other colour options for this phone have matching S Pens. We found that we had to use a fingernail to push the clasp that releases the stylus from its silo .
One big change compared to last year's Galaxy Note 8 is that the fingerprint sensor on the rear has thankfully been moved into a central position. The asymmetrical placement next to the camera lens was widely panned last year, and Samsung clearly took note. Because of the sheer size of this phone though, it's still somewhat out of reach. The heart rate and oxygen saturation sensors are still to one side of the cameras, and it would be easy to forget that they're even there. Another little annoyance is the Bixby button which is right where you'd expect the volume buttons to be. We wound up pressing it by accident all the time.
Most people will be very happy to note that Samsung has not dropped the 3.5mm headphones socket. There are times when it makes sense to reject trends, and this is one of them. The Galaxy Note 9 still has an IP68 rating for water and dust resistance.
Samsung Galaxy Note 9 specifications and software
With no new flagship SoC generation on the horizon, Samsung has had to make do with the same Exynos 9810 that powers the Galaxy S9 siblings, and that also means that there are no compelling new hardware features to boast of. The Exynos 9810 is still a very powerful SoC, but we have found in our tests of the Galaxy S9 and multiple Snapdragon 845-powered phones this year that Qualcomm's offering comes out on top in many benchmarks.
Most low-cost flagships don't go beyond full-HD for their displays, but the Galaxy Note 9's Super AMOLED screen has a resolution of 1440x2960. This makes for a pixel density of 516ppi and it is super crisp. You can choose to reduce the resolution in software to save power or improve game performance if needed. The panel is capable of HDR-10 video playback in apps that support it. There's also Samsung's trademark always-on feature that shows the time and notification icons dimly while the phone is in standby.
You can choose between two variants of this phone. The base variant now has 128GB of storage and 6GB of RAM, and there's also an option of 512GB of storage with 8GB of RAM. In India, the Galaxy Note 9 has a hybrid dual-SIM design so if you don't need a second SIM, you can use a microSD card for more storage. Samsung points out that its own 512GB microSD card is launching soon, and while it will no doubt be expensive, you can have up to 1TB of combined space.
A lot of this phone's weight can be attributed to its 4000mAh battery, which Samsung says will last all day. Wireless charging and quick charging are both available. You get high-speed Cat 18 LTE (1.2Gbps up, 200MBps down if networks support carrier aggregation) on both SIMs. Of course, there's also dual-band Wi-Fi 802.11ac and Bluetooth 5 with high-res aptX audio support.
The USB Type-C port actually works at USB 3.1 speed (5Gbps) and one of Samsung's neatest tricks is the ability to plug in a desktop monitor with a single USB Type-C to HDMI cable and essentially turn your phone into a desktop computer. You'll need a Bluetooth keyboard and mouse, but it's relatively simpler than last year's Samsung DeX docking station. Unfortunately, Samsung did not send us the accessory in time for our review, so we can't evaluate this functionality.
Above the screen is an iris scanner, which promises far more reliable biometric authentication than simple face recognition. You can also turn on Samsung's Intelligent Scan option which uses both iris and face recognition together. Registration took us barely a second, but recognition was a little slow in our experiences over several days, delaying each unlock by 1-2 seconds depending on available light. You'll also have to tap the power or home buttons; you can't just lift the phone to recognise your face when it's in standby.
Our review unit was running Android 8.1 Oreo with the July 2018 security patch. Samsung has not commented on when it will release an Android Pie update, but we'd expect that to take time considering Samsung's track record and the heavily customised nature of Samsung Experience 9.5 UI. Many of the value-adds concern the S Pen, which we'll talk about shortly, but there are also plenty of other usability tweaks. The Settings app is completely rearranged, the first-party apps are mostly useful, Samsung's Knox encryption gives you data security and privacy, and Samsung Pay is now widely accepted. You can run two instances of specific social networking and messaging apps. There is some bloatware, like a redundant Gallery app on top of Google Photos, and several Microsoft Office apps.
Samsung Galaxy Note 9 S Pen
The S Pen has had its biggest reinvention in many years, and now features Bluetooth LE connectivity which turns it into a remote control for the phone. There's only one button, so you're limited to single- and double-clicks. The most useful application of this is the ability to remotely set off the camera shutter. You can prop up your phone somewhere and frame shots, especially group selfies, without having to stretch your hand. You can also use the S Pen to advance slides in a PowerPoint presentation, scroll through photos in your gallery, and play/ pause media files. Third-party apps will soon be able to configure custom S Pen button actions.
The S Pen's miniscule battery (a supercapacitor, actually) won't last longer than 30 minutes on a single charge, so it makes little sense as a remote while watching a movie or giving a long talk. On the upside though, it takes just 40 seconds to recharge completely, so it's ready to go every time you pop it out of its silo. After running out of power, it actually takes less time to recharge than to re-establish the Bluetooth connection to the phone. Another advantage of Bluetooth connectivity is that you'll get an alert on screen if you've left your S Pen behind somewhere.
There's a lot to be said in favour of as well as against custom Android implementations vs stock Android, but in the case of the Galaxy Note series, the customisations were necessary to make the S Pen feel like a natural part of your workflow. Its functionality has been integrated very smoothly into the UI as well as native apps. For example, if you tap any text field with your finger, you'll see the usual Samsung keyboard, but if you tap it with the S Pen, you'll see a handwriting pad instead. You can just write naturally while the Note 9 converts your handwriting into text.
You can use it to jot down notes and scribble out sketches, and Samsung has added even more functionality over the years such as the ability to quickly capture selective-area screenshots or highlight text for translation. You can create a quick GIF of a message or sketch, with animation effects, and share it via any messaging app. The Samsung Notes app is easy to use, with separate text, scribble, and sketch modes. Surprisingly, handwriting recognition is missing here.
Physically, the S Pen is extremely thin and not as easy to hold as most styli, including the Apple Pencil and Microsoft Surface Pen. That's the tradeoff for being able to slot into a smartphone body. Writing and sketching just aren't very easy or comfortable with the phone in one hand and S Pen in another. The curved screen edges also really waste usable writing area.
Samsung Galaxy Note 9 performance, cameras, and battery life
The Samsung Experience UI might have a lot going on, but we found it to be highly responsive and easy to live with. Our review unit was the variant with 6GB of RAM, and we doubt that anyone will find this to be too little. There are a few shortcuts that make it easier to deal with a phone this size, but it's always going to be unwieldy. Simple things such as typing a message with one thumb require a bit of awkward manoeuvring.
The size of the screen makes this a great phone for gaming and videos, but that is with the caveat of reflections caused by the curved edges. Unless you're in a completely dark room, there's no way to find an angle that doesn't either cut off a little content or distract you with reflections.
The Galaxy Note 9 also has surprisingly loud and powerful stereo speakers. There's one on the bottom, and the earpiece doubles up as the second. The stereo effect isn't perfect, but all our music, games and videos sounded rich, and voices were crisp and clear without any distortion.
Samsung says it has used a unique water-carbon cooling system to diffuse heat. We found that playing games and recording videos did cause our review unit to get a bit warm, but we were able to get through two rounds of PUGB without feeling too uncomfortable.
Speaking of gaming, we were happy to report positive experiences with both PUGB and Fornite (the Android beta was officially released at the Galaxy Note 9 launch event, and Samsung Galaxy users have been promised priority access). We were able to run both games at high quality, and gameplay was completely smooth with no stuttering or lag at any point. The brand new Asphalt 9: Legends looked gorgeous, with buttery smooth graphics even using the High quality setting.
Is Samsung Galaxy Note 9 the Best Phone to Play Fortnite Mobile?
As for our standard benchmarks, the Galaxy Note 9's performance was consistent with its Galaxy S9 siblings. The AnTuTu score of 241,993 is considerably lower than what the increasing number of Snapdragon 845-powered phones have been achieving. We also got 3,756 and 8,997 points in Geekbench 4's single-core and multi-core tests respectively, and 5,213 points in PCMark's Work 2.0 test. Graphics scores were good, with GFXBench maxing out at 60fps in the T-Rex scene, and managing 25fps in the more demanding Manhattan scene.
The 4000mAh battery lives up to Samsung's all-day claim and then some. We took our review unit off its charger at 9am and went about our day. We spent some time surfing the Web, taking loads of photos, playing some games including a round of PUBG, and streaming a full-length movie, and we still had 25 percent left at midnight. Our HD video loop test ran for an incredible 17 hours, 50 minutes. With relatively conservative usage, we could see people only needing to charge this phone every other day.
The Galaxy Note 9 has exactly the same camera configuration as the Galaxy S9 Plus on paper, including Samsung's much-hyped variable aperture on the primary 12-megapixel rear camera. The idea is that by switching between f/2.4 and f/1.5 in different conditions, the camera can let in more light without having to leave the shutter open or use software tricks. You can toggle between the two values manually using the Pro mode, and. You'll actually see the physical aperture changing. We didn't notice a lot of difference in shots unless we were also overriding the camera app's shutter speed and ISO settings, because these three parameters usually compensate for each other automatically. In very low light, you should be able to get crisp shots with very low noise.
Other features of the primary rear camera include a 1.4um pixel size, dual-pixel PDAF, and optical image stabilisation. Interestingly, the secondary camera has a 2X zoom lens but also has a matching 12-megapixel sensor and OIS. Samsung deliberately did this so that portrait shots taken using both sensors don't need to be cropped. The secondary camera doesn't have a variable aperture, and makes do with smaller 1um pixels.
Samsung's camera app is thankfully restrained in terms of UI bloat. You still get dedicated top-level modes for Live Focus, Panoramas, AR Emojis, Hyperlapse video, and Super Slow-Mo video (960fps). Live Focus gives you background blur level and skin tone adjustments. Pro mode lets you change the usual ISO, shutter, exposure compensation, white balance, and focus, as well as metering and AF area settings. A Dual Capture toggle makes the camera grab shots from both sensors simultaneously, so you always have a close-up and a wide shot. If you dive into the settings, you'll be able to enable additional Food and Slow Motion modes. We also quite liked the ability to record bursts or GIF videos just by long-pressing the shutter button.
Manufacturers are racing to add AI enhancements into their camera apps, and Samsung's effort is called Bixby Vision. You'll need to have a Samsung account and agree to the terms and conditions to use it. Bixby Vision has modes for recognising landmarks, food, wine bottle labels, objects, and text. Most of the time it worked well, but sometimes object recognition in particular was hilariously wrong. Additional third-party tools include an Adobe-powered OCR and PDF creator, and shopping shortcuts for Amazon and AliExpress. The Galaxy Note 9 also lets you create an 'AR Emoji' character using a model of your face. You can then find a few dozen animated stickers featuring yourself in the Samsung keyboard's sticker chooser.
(Tap to see full-sized Samsung Galaxy Note 9 photo samples)
The Galaxy S9 and S9 Plus earned very high scores from us for their photo quality, and the Galaxy Note 9 is no different. We were able to take shots with extraordinary detail and vibrant colours. In the daytime, this phone was always quick to lock focus. Close-ups looked the best, but even in wide shots, distant objects were reproduced well. The shots we took at night came out looking very bright, with a surprising level of clarity. However, we did see signs of aggressive software sharpening and a loss of fine details when zooming in to 100 percent on a PC monitor.
You can record up to 10 minutes of 4K 30fps video at a stretch, or 5 minutes if you choose 60fps. This is a limit that we'd like to see lifted, but video quality is just as good as it is for photos. The Galaxy Note 9 had no trouble locking focus and following moving objects. Stabilisation also clearly worked well, because our test clips came out looking crisp and smooth. Hyperlapse video lets you record timelapses at 4x, 8x, 16x or 32x speed, and this could be used in fun, creative ways. The Super Slow-Mo mode lets you start recording at normal speed, and motion within a set area of the viewfinder will kick off about one second's worth of 960fps recording at 720p. Sadly, clips end abruptly very shortly after the burst. The quality is not great, and this mode requires a lot of light so it's nearly impossible to use at night. It's still more of a novelty than anything else.
The 8-megapixel front camera features autofocus, an f/1.7 aperture, and 1.22um pixels. Video recording can go up to 2560x1440. The quality of stills and video is very good. Beautification is on by default but thankfully it isn't too aggressive.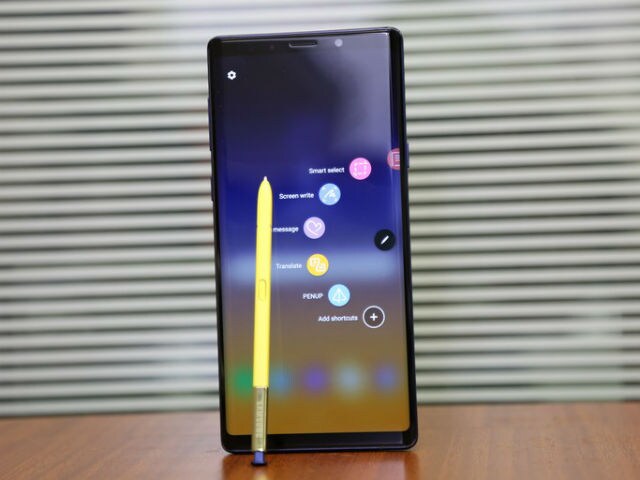 Samsung Galaxy Note 9 in pictures
Verdict
The Samsung Galaxy Note 9 is a brilliant smartphone with a lot of top-end features. It could easily be the number one choice for people who are willing to spend as much as it takes to have the latest and greatest features. However, it isn't very significantly differentiated from the Galaxy S series anymore, and in fact due to the vagaries of online pricing in India, all variants of the Galaxy S9, Galaxy S9 Plus and Galaxy Note 9 (except the 512GB Galaxy Note 9) are priced within roughly Rs. 10,000 of each other right now. The 128GB version of the Galaxy Note 9 costs almost exactly as much as the 128GB Galaxy S9 Plus. The experiences you get will be nearly identical, so the choice really comes down to having the S Pen versus having a slightly more portable device, or saving a bit of money. If you already own a Galaxy S8 or Galaxy Note 8, there's practically no reason at all to upgrade.
You might also not see any point in spending so much on a smartphone when the likes of OnePlus 6 (Review), Asus ZenFone 5Z (Review), and the newly announced Poco F1 deliver comparable performance and features. What none of them can offer are the S Pen and the accompanying Android integration. No wonder Samsung concentrated on this and gave the S Pen more functionality than ever this year.
The phenomenal battery life you'd get is another huge point in favour of the Galaxy Note 9. On the other hand, the size and weight will be a bit too much for a lot of people too. We aren't really considering this a phone for productivity because even Samsung isn't differentiating it as such anymore, but it definitely will serve a power user who wants to get work done. In a world full of nearly identical smartphones, the Galaxy Note 9 does stand out, and while it is expensive, you get what you pay for.