Nokia
announced
the Nokia 206, along with the Nokia Asha 205, in November, last year. While both phones offer a dual-SIM option, the 206 does not feature a QWERTY keyboard. The Nokia 206 is also one of the first phones from Nokia to feature Nokia's new Slam technology, that lets users share files over Bluetooth without first having to pair their devices. We try to find out how capable the 206 is when it comes to being a budget dual-SIM phone.
The Nokia 206 is a regular 'bar' style feature phone and sports a 2.4-inch display. It has chiclet style keys, and a plastic navigation key.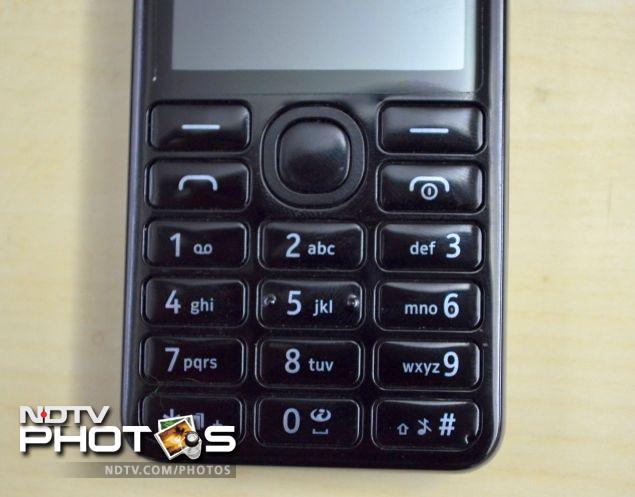 The phone has rounded corners, and a plastic back cover. The materials used in the phone feel durable, and there are no creaks if you apply pressure. The phone sports a 3.5mm headphone/headset jack and a 2.5mm charging port. It doesn't have a volume rocker or other physical buttons. There's a slot for the secondary SIM card on the left side of the phone that is protected by a plastic insert.
Although there's nothing that distinguishes the phone from other similar feature phones made by Nokia, physically, the phone looks compact and feels solid. The Nokia 206 is available in white, cyan, magenta and yellow colours, though we received a black coloured one.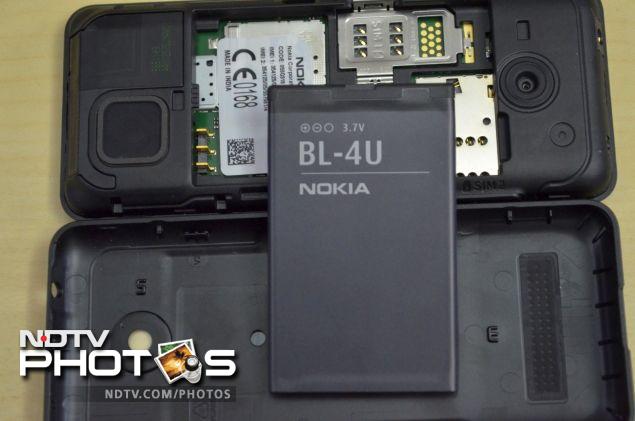 Removing the back-cover reveals a battery compartment that houses a 1110mAh battery. A SIM card slot sits behind the battery, while a microSD card is located at the left side, adjacent to the slot for the secondary SIM card (but is accessible only when one removes the back cover). Unfortunately, the phone doesn't feature a Micro-USB port.
A 1.3-megapixel camera is located at the back, and takes average quality photos and videos.
The phone offers easy Bluetooth file transfers through 'Slam' that allows users to share multimedia content like photos and videos without the need to pair devices, and without the recipient needing to also have Slam.
Update:
We tried sharing a file with an Android smartphone and found that even when one shares via Slam, the phone requires to be paired.
The Nokia 206 runs Nokia's Series 40 operating system, and comes with about 10MB of internal storage that can be expanded up to 32GB via a microSD card. The phone comes with the usual Nokia apps including Nokia Life (erstwhile Life Tools), Nokia Nearby, Facebook, Twitter, a chat app, eBuddy IM app and mobile messenger, Viber, among others. Nokia also offers gift pack of 10 free, premium content items that can be downloaded through the Nokia store, with the Nokia 206. We were not able to find a version of WhatsApp compatible with the phone.
Nokia 206 comes with the Nokia Xpress Browser that according to Nokia, reduces browsing costs by compressing data transferred by up to 90%. The phone doesn't offer Wi-Fi or 3G connectivity.
The phone features Nokia's EasySwap technology for dual-SIM models that enables the user to change SIM cards without having to turn off the device. However, if the user is busy on a call on one SIM, he won't be able to receive a call through the second one. Nokia offers a SIM manager app, which can also be invoked by long pressing the '*' key through which the user can select the default SIM for data, text messages, MMS and Mobile data, otherwise the phone comes up with a prompt each time he wants to use these features. The phone also has a 'Counters' app to track call duration, data and messaging use for each SIM card.
The Nokia 206 also features an FM radio tuner and comes with the ability to record FM broadcasts on the memory card. The user needs to plug in headphones to listen to FM radio, though, which is a bit of a disappointment as a lot of feature phones are now offering headset-free FM radio playback.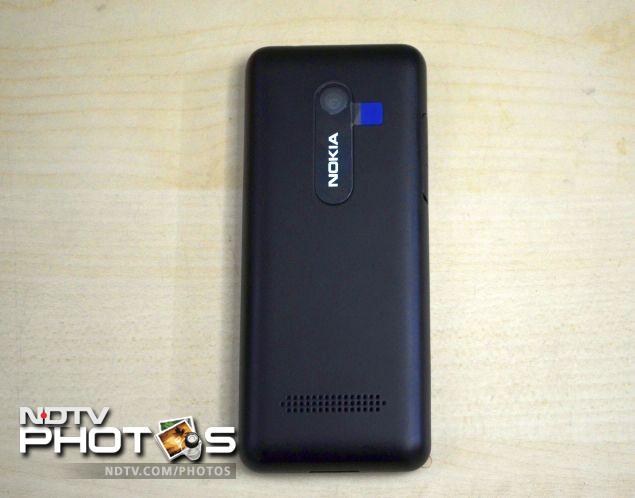 The screen's brightness is adequate and under-sun visibility is average. Users can control the brightness and backlight timeout of the phone through its Settings menu. Although the left shortcut key is assigned to a 'Go to' menu through which users can access frequently used apps and settings, we feel that the Nokia could have added separate Menu items for the Camera app (which hides under Photos), and Gallery (which is placed under Apps). Also, a lot of third party apps are Java apps, which means they can't be minimised. But after using Viber (a mobile messaging app), we observed that the phone was hooking on to Edge without any notification, even though we were not able to configure our account on the app.
Overall, not much has changed when it comes to the user interface and experience, and if you've used a Nokia feature phone before, you'll be totally at home.
The phone was not able to play medium quality video files and stuttered even while playing low quality (320x240) ones. However, we did manange to stream YouTube videos without much buffering even on an Edge connection. It did play .mp3 files well, and the sound delivered through the speaker grill was decent, and didn't get distorted at high volume levels. Call quality and network reception was good.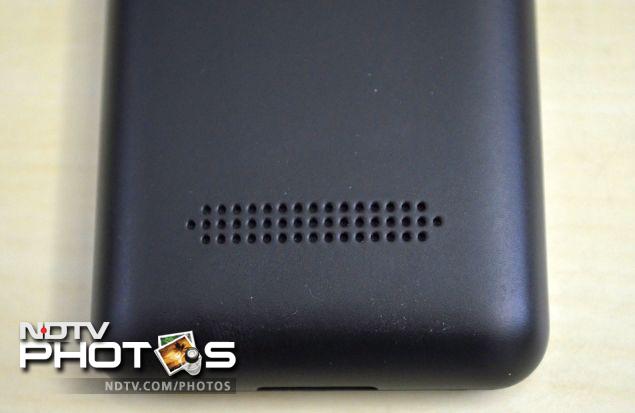 The phone has a 1110mAh battery and we were able to get 2 days of usage time with about 2 hours of voice calls, an hour of listening to music, and some casual Internet browsing.
The Nokia 206 is available from Nokia's online store for Rs. 3,728. While, you can choose a budget Android phone made by the likes of Micromax, Karbonn and Spice by paying a few hundred rupees more, we're not big fans of these phones as the user experience delivered by them is sub-par. Also, we're assuming that users exploring feature phones would majorly use them for voice calls and texting. You can also look at Samsung's recently
launched
REX series (
Review
) of phones, if you're willing to pay a thousand rupees more. The Nokia X2-02 and
Asha 202
are other decent options in the same price range.
Nokia 206 specifications
2.4-inch 65k colour QVGA TFT display
GSM 850/900/1800/1900
GPRS/EDGE, 2.0 mm charger connector
Bluetooth v2.1 with EDR, 3.5 mm AV connector
Up to 10MB internal storage; up to 32GB micro-SD card support
1.3-megapixel camera
Series 40
Nokia Slam
116mm x 49.4mm x 12.4mm
91.0g (including battery)
25 days standby / 20 hours talk-time (Dual-SIM)