Fitting smartphones with two camera sensors around back seems to be the go-to strategy for pretty much every smartphone manufacturer today. Adding oodles of RAM and CPU cores just doesn't seem attention-grabbing enough anymore. Either that or people are now wise enough to know that numbers aren't really everything. However, having a companion sensor to the primary one can have tangible benefits, whether it might be for zooming into your subject, gauging depth, getting a wider shot, or simply improving the quality of your photo.
The first ZenFone Zoom (Review) from Asus was quite an achievement as it managed to achieve 3x optical zoom from a single sensor while keeping the width of the phone under 12mm. While the camera was indeed pretty good, it was still a hefty phone, amongst its other limitations. Rather than trying to improve on that (which probably would have been a costly affair), Asus is taking the sensible route for its successor in simply adding two sensors, the way Apple did with the iPhone 7 Plus (Review). Asus has also revised the pricing, which makes the ZenFone Zoom S more accessible to a wider audience, compared to its predecessor. With an aggressive price tag of Rs. 26,999, Asus has managed to undercut most of its competitors like the Honor 8 Pro (Review) and Moto Z2 Play (Review). It's time to see if the Zoom S delivers well on its promise.
Asus ZenFone Zoom S design and build
Asus has gone with quality materials for the construction of the Zoom S. The all-metal body looks and feels rich in your hand and we especially like the Navy Black colour on our unit. There are rounded edges all around and even the display has a 2.5D curve, so you never feel any sharp edges no matter which way you hold it. While it looks great from the back, the front seems a bit old fashioned when you consider new mainstream entrants like the LG Q6 (Review) or the Micromax Canvas Infinity. Not to mention the non-backlit, painted-on navigation buttons from the early 2000s.
The display is really nice as the 5.5-inch, full-HD AMOLED panel produces rich, saturated colours and deep blacks. The panel also has a very good brightness level of 500nits, which makes sunlight legibility a non-issue. Finally, we also have Corning Gorilla Glass 5 for added scratch protection. In case the default colour saturation isn't to your liking, you can always swap the colour profile and adjust the colour temperature in the Settings app.
Button placement and tactile feedback are good and there's a single tray for either two Nano-SIM cards or one SIM and a microSD card (up to 2TB). The rest of the ports are placed at the bottom, which includes a headphone socket, USB Type-C port, and a single speaker grille. Taking a closer look at the back, we can see antenna bands running across the top and bottom portions of the phone. The dual-camera module sits nearly flush with the rest of the back and even though there is a slight bump, it hasn't gotten scuffed yet. Below, we have a dual-tone, dual LED flash, the laser autofocus system, and the fingerprint sensor.
The latter is blazingly quick at authentication and you can use it to answer incoming calls, launch the camera or capture a photo. Aside from some poor design choices, the ZenFone Zoom S is a well-built device. It's slim and quite light for one-handed use, with a very good display. In the box, you can expect the usual accessories like a charger, headset, data cable, SIM ejector and a guide booklet.
Asus ZenFone Zoom S specifications and software
The ZenFone Zoom S is pretty well equipped in terms of power. There's a Snapdragon 625 octa-core SoC, 4GB of RAM, and 64GB of storage that make up the core specifications. We got decent benchmark numbers like 63039 points in AnTuTu and 22fps in GFXbench. Looking at pure numbers, it still lags behind the Kirin 960 SoC in the Honor 8 Pro or the Snapdragon 821 in the OnePlus 3T. Other specifications include Wi-Fi b/g/n, Bluetooth 4.2, FM radio, GPS, and USB OTG. 4G support is present on either SIM slot but we couldn't get VoLTE to work for voice calls with a Jio SIM, although data works. There's no NFC here and no 5GHz band for Wi-Fi either. In terms of sensors, you get the usual suite, including a gyroscope.
The ZenFone Zoom S runs on Android 7.1.1 with the company's custom skin called ZenUI 3.0. It's very similar to previous Asus smartphones we've tested from a year ago, and now, it's starting to show its age. The sheer number of options can be overwhelming, even for some seasoned Android users. For instance, a simple long press on the home screen for changing the wallpaper brings up nine options, which lets you change the theme, lock apps, amongst other options. A swipe right on the home screen takes you to the Google Now screen, while a long press on the home button brings up Assistant.
The notification shade has plenty of customisable toggles and shortcuts for apps like the calculator. In the Settings app, we have motion and touch gestures and one-handed mode, for those with smaller hands. Asus lets you customise the function of the recent apps key but you can't change the long press functionality of the other keys if you want. The Go2Pay app is integrated into the Settings app, which lets you pay your phone and DTH bills. Bundled apps include BeautyLive, which beautifies your face when you live stream on any supported social app; Mobile Manager lets you monitor data usage, clean up junk files and free up system RAM; while ZenTalk lets is a forum for everything ZenFone. However, there are plenty of other apps like Do it Later, Laser Ruler, etc, which you may or may not find useful. Unfortunately, you can only disable these and not uninstall them.
Asus ZenFone Zoom S performance, camera, and battery life
We didn't have any issues with general performance as the ZenFone Zoom S handles the day-to-day tasks very well. It's also a fairly comfortable phone to carry around. The curvy body offers a reassuring grip and it doesn't overheat when recording video or gaming. Granted, the edges do get pretty warm after extended gaming sessions but we never felt the need to take a break to let it cool off nor did we face any performance issues from the running app. Gaming performance is decent as high-end titles run well, although multitasking between games does cause some stutter.
The phone has no trouble decoding 4K videos and the display makes for a vivid canvas for catching up on your TV shows or movies when on the move. There's a single speaker at the bottom, which is just about loud enough. According to Asus, the speaker has a 5-magnet setup with NXP Smart Amp. Alerts are exceptionally loud but that doesn't apply to all media files. The phone does have a good built-in DAC though, which supports 192KHz/24-bit quality audio files and DTS Headphone:X, for headphones. The bundled earphones offer good performance too.
The cameras are the main highlight here. Even though the two sensors around the back have the same resolution, they are quite different. The primary sensor has an f/1.7 aperture, a 25mm focal length and optical image stabilisation. The companion sensor has an f/2.6 aperture and a 59mm focal length, which is used for the 'optically' zooming into your subject. Naturally, the primary sensor is the better one which is why it's favoured in most shooting modes.
In the camera app, there's a zoom button just before the shutter, just like on the OnePlus 5. At 2.3x zoom, the second camera kicks in, but only if the lighting is good. In less than ideal light, it sticks to the main camera so what you get is essentially digital zoom. The maximum zoom level in still mode is 12x, while for video it's 5x. You can switch to the second sensor only in Auto, Manual, and HDR Pro shooting modes. For the rest, you'll have to use digital zoom if needed on the primary sensor.
Strangely, you can't switch sensors when shooting a video but if you've already zoomed in at 2.3x (or above) and then start recording, it will use the second sensor. There's also portrait mode, which uses the secondary 12-megapixel camera to shoot images. The depth effect is good and you can vary this by changing the aperture in real time. It takes a few tries to get your subject in proper focus but once you settle on a good angle, it works well.
Unfortunately, image quality isn't quite up to the mark. The camera struggles with getting the light metering right and even after setting the metering mode to Average, we still had plenty of overexposed areas in daylight shots. HDR is also very unimpressive as the final output doesn't always look pleasant. Colours are a bit oversaturated too and on the AMOLED panel, this is exaggerated even more. The main sensor does manage to capture good details, even in landscapes shots but the second sensor isn't great for this.
The camera app isn't very stable either, as the tap-to-focus stopped working a few times, and once, the app crashed and had to be restarted.
Low-light shots are rendered well, with barely any noise in the pictures but as a result of this, details aren't very good. The laser autofocus is still quick though and works well, even in low light. Asus uses Dual Pixel PDAF and its second generation laser autofocus to achieve quick results. The OIS also helps in getting a blur-free shot in low-light, which is good. Recorded videos look good and the resolution goes all the way up to 4K. You can enable or disable stabilisation and switch between performance and quality modes. The latter modes don't seem to have any visible impact on video quality but the electronic stabilisation does work well. It's nowhere near the level of the Google Pixel but it's still good. The front 13-megapixel sensor is good at selfies and you have a tonne of face customisations to choose from.
Despite the slim profile, the ZenFone Zoom S manages to pack in a massive 5000mAh battery. We easily managed to go a full day and little bit more, on a single charge. Fast charging isn't present but the 10W power adapter will give you around a 53 percent charge in an hour.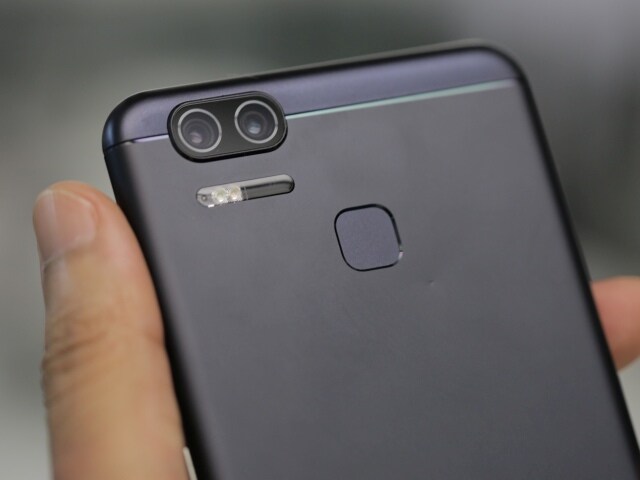 Asus ZenFone Zoom S in pictures
Verdict
The Asus ZenFone Zoom S is another good option in the sub-Rs. 30,000 price segment. It's also attractively priced at Rs. 26,999, making it a tiny bit cheaper than the Moto Z2 Play. However, its biggest selling feature - the cameras - aren't what they are hyped up to be. While the rear camera does perform well in most lighting scenarios, light metering isn't often a hit or miss affair, and HDR doesn't always deliver satisfying results. We didn't have many complaints about the other aspects of the phone though, as it's built well, offers decent performance, has a vivid display, and good battery life.
Asus's ZenUI can be a bit too much to handle, in which case, the Moto Z2 Play (Review) will serve you better thanks to the leaner version of Android. If you're looking at better camera performance then we recommend the OnePlus 3T (Review), Honor 8 Pro (Review), or for a little more, the LG V20 (Review).