After integrating its Bada OS into Tizen, Samsung has been in the works for creating significant devices for the OS for a while now. After its long lived commitment to Google, it might now finally be concentrating on the Tizen operating system based on Linux.
Tizen Greek Community recently leaked images of the GT-i8800 codenamed Redwood, a new smartphone running the Tizen version 2.1.0.
The device looks similar to existing Android phones from Samsung like the Samsung Galaxy S2. Samsung has also integrated other features from its Android devices including Wi-Fi Direct, S Beam and S Voice. Screenshots of the S Voice interface seem to be quite similar to that on Android, though the 'Hi Galaxy' is evidently replaced with a 'Hi Tizen'. Another screenshot also shows the AllShare icon with 'Screen Mirroring' so the device would most probably offer DLNA connectivity.
The smartphone will be given to around 500 developers participating in the on-going Tizen Developer Conference in San Francisco.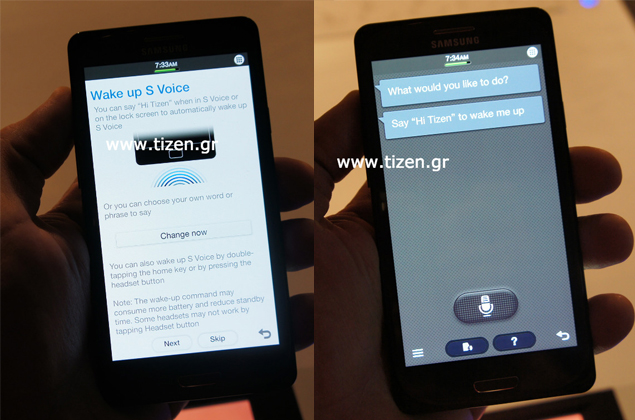 The conference also saw the announcement of the Tizen Application Store. Labeled the 'Tizen Store', the application UI is majorly based around sliding gestures and featured segmentation. The home page features editor picks on the left and has tabs such as new and trending, discounts, smart and events on the right.
Apart from the already existing paid, free and top grossing sections on other app stores, this store also has a discounts section where developers can feature their discounted applications. Settings enable you to receive push notifications and recommendations from the Tizen Store. It is already open for developers to submit their applications and Tizen has promised a turnaround time of 3 days between the submission and approval. In the demo, applications such as Vimeo and Cut the Rope were spotted.
Before the leak of Redwood, rumours of another Tizen device had surfaced. Accordingly to sources, a web code on Samsung's UAProf website suggested that the Tizen based GT-i8805 would support LTE and sport a 1280 x 720 pixels display with an ARM Cortex-A9 chip.
Whether or not emerging alternative platforms such as Tizen and Ubuntu can be game changers for current popular platforms like Android, iOS and Windows, is still unknown. But with a leading Android manufacturer like Samsung focusing on a platform like Tizen it will be interesting to see what other proprietary features from existing platforms (apart from S-Voice and S-Beam) might be part of the new OS.