If Nvidia came with the
Tegra 4
and Qualcomm brought its
Snapdragon 800 Series
to the CES stage in Nevada, then Samsung unveiled the next processor in its Exynos 5 lineup called the Exynos 5 Octa, an eight-core SoC dedicated to tablets and high-end smartphones.
That's right. Eight cores. These are divided into two separate groups with four-cores each. Any device that will feature the Exynos 5 Octa integration, is bound to have two quad-core processors powering it. This is one of the first chipsets to feature ARM's big.LITTLE architecture based on switching processor technology.
While four of them are Cortex-A15 cores as seen in the Exynos 5 Dual powering the Nexus 10 and Samsung's ARM Chromebook, the other four are Cortex-A7 CPU cores. The A7 cores have the same features and capabilities as the A15 cores, though they are more focussed on power efficiency than performance. The Korean manufacturer claims 70% power saving with this chip compared to its Exynos 5 Dual.
Both sets of cores are said to work in tandem together and offer great speeds without compromising on battery consumption.This differs from Nvidia's Tegra 3 and Tegra 4 SoCs, which include a low-power Cortex-A9 and a Cortex-A15 (respectively) "companion core" that can only be used when all of the SoC's other CPU cores are powered down
The new SoC will be manufactured using a 28nm process as opposed to the 32nm process used by the Exynos 5 Dual, hence claiming to be more power-efficient.
Earlier rumours were indicative of the
Samsung Galaxy S IV
being powered by a 2 GHz quad-core Exynos processor and an 8-core GPU, that will use ARM big.LITTLE architecture featuring a combination of an energy-efficient A7 processor and an A15 one for simple and heavy task processing.
Image Courtesy: Engadget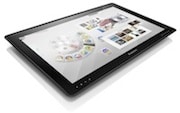 In pics: Best of CES 2013
For the latest tech news and reviews, follow Gadgets 360 on Twitter, Facebook, and Google News. For the latest videos on gadgets and tech, subscribe to our YouTube channel.