Apple launched two new iPhones, the
iPhone 5c
and
iPhone 5s
, at a special event on Tuesday. While the iPhone 5c sports almost the same internals as the iPhone 5, the iPhone 5s is Apple's new flagship that boasts of many "forward-looking" features as per Apple's claims, including a custom A7 chip (ARMv8 based), which boasts of 64-bit architecture, powering the phone, a first for a smartphone.
This means that the iPhone 5s would be the first mobile ARM chip with 64-bit support. According to Apple the chip has 64-bit desktop-class architecture, a modern instruction set, 2x general-purpose registers, 2x floating point registers, and over 1 billion transistors. While all this sounds too technical, it essentially implies that the architecture of the new chip should result in performance improvements.
In desktop computing, a 64-bit processor can perform certain tasks at double the speed of a 32-bit one as it can address more volatile memory or RAM. A 32-bit CPU is limited to only 4GB RAM, so a 64-bit CPU addresses that limit. However, Apple has not shed any light on the amount of RAM inside the iPhone 5s (it usually does not), though it's improbable that it comes with more than 4GB. Overall, whether the move to 64-bits has any real world benefits at the moment is questionable. While Apple has said that the processor is twice as fast as the iPhone 5 and up to 40 times faster than the first iPhone, the move to 64-bit is likely only a small component in that, and undoubtedly there are several other improvements underneath.
However, not all these gains are derived from the switch to 64-bit, as hardware gurus at Anandtech
pointed out
from the launch event: "So just to be clear, the 2X increase in performance is not from the move to 64-bit."
64-bit software will be needed to utilise the capabilities of the hardware, and Apple is shipping a 64-bit version of its mobile operating system, iOS 7 complete with 64-bit kernel, libraries and drivers along with optimised native apps with the iPhone 5s. So, all these apps will work much more efficiently. Even third party apps can be easily compiled for 64-bit architecture. As Donald Mustard from Epic games, the company behind the Infinity Blade games series said while demoing Infinity Blade III, it took them about two hours to compile the game for 64-bit.
Even if Apple doesn't ship the iPhone 5s with tons of RAM, it appears that it wants to prepare developers to make a transition to 64-bit apps making sure it's the first one to jump the gun, when smartphones make the switch. For now, because of the 64-bit kernel, one can expect a faster browser and app loading times, smoother video and audio playback, and faster calculations. Camera engine performance will also be improved, with faster autofocus and capture just some of the benefits implied.
The Apple A7's support for ARMv8 also implies goodies like full-virtualization support. It is also backward compatible with its 32-bit, therefore existing apps will face no real issues. The new custom chip also supports OpenGL ES version 3.0 graphics standard, which together with the 64-bit architecture, implies much improved graphical prowess, something that we can better hope to appreciate once Apple brings the A7 to the next-generation iPad and iPad mini, as expected.
Interestingly, with the inclusion of the M7 co-processor, which takes care of the sensor data processing on the device, allowing fitness, motion-sensing and voice-recognition based apps to function without draining the battery significantly, or decreasing total available processing power. This design, of offloading tasks to another processor for the sake of battery life and performance, is something we've been seeing other manufacturers attempt, such as Nvidia with its companion core on the Tegra 4, and Motorola's X8 computing system.
Just how the Apple A7 compares with its contemporaries, is something we'll have to wait and see, once the iPhone 5s gets launched and makes its way to the benchmarks.
Also read:
If you want to see how all three phones, the iPhone 5S, 5c and 5, stack up against each other, look at our
Apple iPhone 5s vs. iPhone 5c vs. iPhone 5 comparison
Abhinav Lal also contributed to this post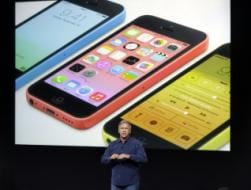 iPhone 5c and iPhone 5s launch in pictures