BlackBerry maker Research in Motion (RIM) has been in the news quite a bit off-late. Last Friday, it reported disappointing earnings, and as a response, the company said it is planning to cut 5000 jobs. RIM also announced that BlackBerry 10 phones, the ones everyone believed would be the company's saviour, will not be shipping in time for this holiday season, as initially expected. (See:
RIM to cut 5,000 jobs, delay BlackBerry 10 phones
)
Then news emerged that the board was under mounting pressure to consider options such as
selling its network business or forming an alliance with Microsoft
, in a bid to rescue the company. While all this was happening CEO Thorsten Heins came out with
rather strange remarks
saying, "There's nothing wrong with the company as it exists right now". Well why are you struggling then Mr. CEO? (See:
BlackBerry maker's Waterloo moment
)
Here's some more news, which can be considered either good or bad, depending upon your perspective. Popular BlackBerry focussed blog
BlackBerryOS.com
has stumbled upon the what appears to be a BlackBerry 10 Roadmap for 2013.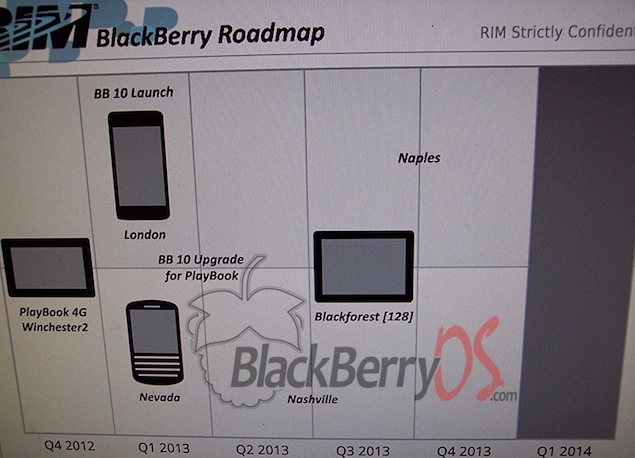 The roadmap kicks-off with a 4G PlayBook in Q4 2012, presumably the successor to RIM's not-so-popular PlayBook. The BlackBerry 10 show will kick-off in Europe in January 2013, with US following four weeks later. The BlackBerry 10 upgrade for PlayBook is scheduled to release in Q1/Q2 2013.
Q2/Q3 2013 will see the release of BlackBerry device codenamed "Nashville", with a 10-inch BlackBerry PlayBook "Blackforest" scheduled for Q3 2013. Lastly, "Naples" codenamed BlackBerry device will release in Q3/Q4 2013.
Will these devices rescue the struggling Canadian giant? While stranger things have happened, the smart money seems to suggest unless RIM can put something magical out of the proverbial hat, they might be too little, too late.