On a short visit to Delhi, Foxconn (the company that's most famous for manufacturing the iPhone) CEO Terry Gou met NDTV Gadgets as part of a tour of India that will see him travel to Mumbai and Bengaluru. Foxconn is one of the biggest hardware manufacturers in the world, with plans to set up new manufacturing units in India, - and Gou says that it wants to do this as quickly as possible. Gou tells us that Foxconn wants to open 10-12 manufacturing facilities in India by 2020, but this needs a push from the government to go forward.
"I am ready, ask your government," says Gou. "Which state will make India most friendly for manufacturing - that's where we will start. There will be at least 1 million jobs created by 2020, maybe more, and not just basic jobs but jobs for skilled workers and engineers. We want to set up our plant in rural areas, and transform the area, with jobs and infrastructure."
Foxconn already has manufacturing experience in India - it first opened a plant in Chennai a decade ago, but there were "complications," Gou says, adding, "[it was] not our fault, [but the] political situation."
Gou feels that the government at the time was not supporting manufacturing enough. This is something that he says has changed by now. "[Prime Minister Narendra] Modi has pushed for development, I like your Make in India, Skill India," says Gou. "You have software, you have content, you need hardware and now Modi has made it your goal."
(Also see: SoftBank, Foxconn, and Bharti Partner on Solar Power Projects in India)
"Indian local [state] government is also much more friendly now," he adds, saying, "I met with the Chief Ministers of three of your states, AP [Andhra Pradesh], Gujarat, and Maharashtra. [The CMs of] Gujarat and Maharashtra came to China, and saw my facilities, and they're keen that we set up in their states. Ten years ago, government was not friendly."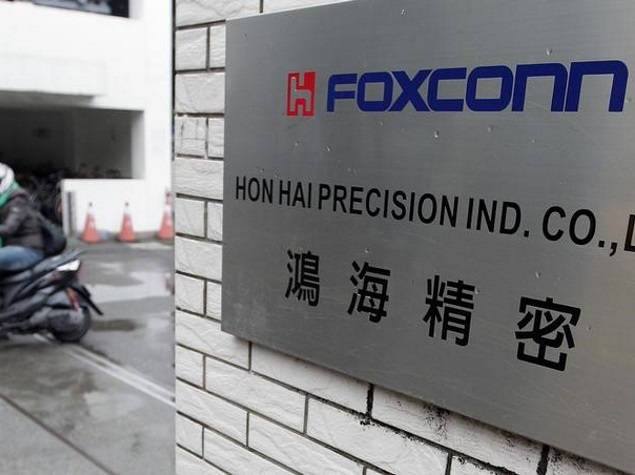 Another major development, which Gou says helped convince Foxconn to invest in India, is the growing online businesses. "Your Internet content has grown, and your entrepreneurs, they are very smart people," says Gou. "They have created lots of opportunity, but they need hardware support and we will give it to them."
At this point, Gou wouldn't reveal the names of the companies that Foxconn is working with in India, or even the products it will manufacture here, though he hinted that there would be a preference for local brands.
"I don't care what brands I make here; you ask about Apple, but we will make the products where it makes sense," he says, "we have to look at lot of different factors before deciding what to make. But we will work with local brands and help them with design, and manufacture components locally, so that Indian brands can also start to export, right now India does not export."
But there are some major bottlenecks that he says need to be solved first, if the Make in India goal is to be achieved.
"Your infrastructure will be a big limitation. Today I was told it will take 20 minutes to reach you, but it took 1 hour 20 minutes because it rained," he points out. "Power is a problem. If there is a power cut, the entire factory has to stop working. Power, water, skilled workers, all these problems need to be solved."
(Also see: Taiwan's Innolux Looks to Invest in India With Foxconn)
"Even your tax - every state has different tax regulations, so we need to work this out for every place we want to do business," he adds. That said, he's not focussing on any one state right now - some believe that PM Modi's home state of Gujarat is a likely candidate for Foxconn's first factory - and a team from the company is in that state right now - but Gou says that there have been no decisions yet.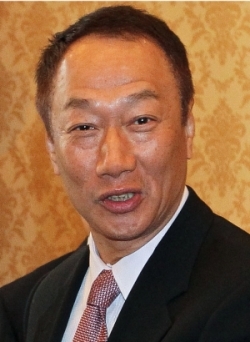 However, Gou also believes that the Indian government doesn't do enough to support local entrepreneurs. He says that while Indian entrepreneurs have been smart and have lots of good ideas, the government can do more to help startups.
"In China, we have BAT - Baidu, Ali, Tencent. That is like Google, Amazon, Facebook, in China," says Gou. "Why doesn't India have one? You have e-commerce, but you don't have any big cloud company like BAT. And the infrastructure - in China, in two years, we are 98 percent 4G. In India, your 4G is just 1 percent. And your 3G keeps switching to 2G."
"The spectrum is so expensive here, and the ARPUs are so low," he adds, "your companies spend all their money on spectrum when they need money to improve infrastructure also."
Gou says he also doesn't understand why India's market is so open. In China, for example, the likes of Google and Facebook are banned, which means local companies have found adoption amongst the 1.35 billion strong population.
"The young generation of India uses Facebook and WhatsApp, I had a meeting with Hike, and I asked them why?" he says. "I'm surprised, I asked Hike, 'your country doesn't support the young generations? Why do people use WhatsApp and not Hike?' You [India] have a huge market but you open it for anyone. But how do Western companies contribute to Make in India, or Skill India? How will India have a BAT?"
(Also see: Alibaba, Foxconn Reportedly in Talks to Jointly Invest $500 Million in Snapdeal)
Gou says that Foxconn will be following a strategy of partnerships, as part of its greater strategy of Internet Plus. "We are not a hardware manufacturing company only," he says. "We are Internet Plus, that means content, and hardware for information processing, and cloud, and bandwidth. We have expertise for all of this, and we will partner with Indian companies to deliver this."
As a part of this, Gou says Foxconn will also be setting up incubators in Delhi, Mumbai, Bengaluru, and Hyderabad. "We will work with Indian businesses and help them grow, but your government must also help them grow," he adds. "We want to come to India, but it is not a one way thing, your government has to help push this."