Is your HTPC too big? Does your small-form-factor PC take up too much desk space? Computers have become smaller, slicker and less obtrusive over the years, with fully capable ones such as Zotac's Zbox series and Intel's Next Unit of Computing (NUC) models fitting on the palm of one hand.
Intel clearly thinks there's room for improvement though, because its latest launch is an Atom-powered PC that's about half the size of a portable hard drive, and plugs directly into a TV or monitor's HDMI port. It's essentially the guts of a budget tablet, but without the screen and battery, at the tempting price of Rs. 9,999.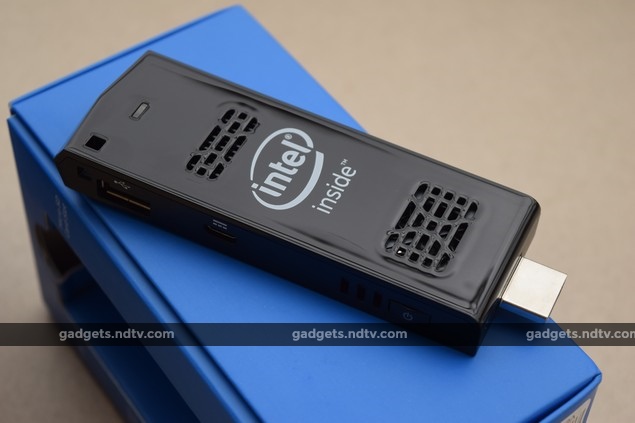 We'd love a product that could plug into a TV unobtrusively and turn it into a hub for apps, streaming media and entertainment. Given its price, it could also work out as a low-cost PC in any other situation. We've spent a fair bit of time with the Intel Compute Stick to figure out just what it can do, and whether it's the beginning of the end for tower PCs.
Look and feel
The Intel Compute stick is a bit bigger and bulkier than we'd expected it to be, based on what we've seen of other devices. It's made of glossy plastic has two large vents on the front, above and below an oversized Intel Inside logo. There's also a bright blue LED on the top front that lights up when the device is receiving power. On closer inspection, a miniscule fan is visible beneath the lower grille - Intel might be able to make laptops and tablets dissipate heat without fans these days, but there's no surface area to take advantage of here.The vents also mean dust will accumulate, especially behind a TV or monitor.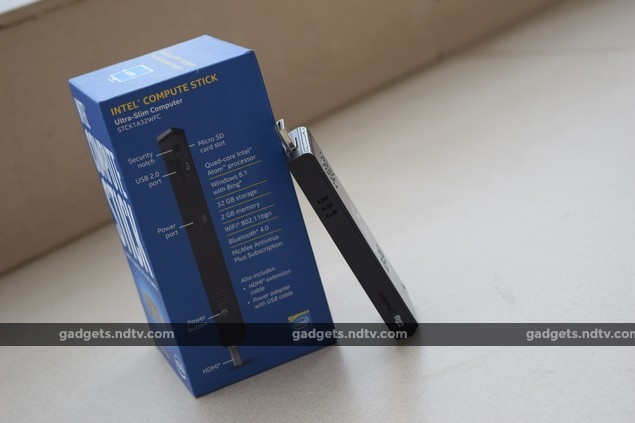 The HDMI plug is the only thing on the bottom, but the Compute Stick is so wide that you might not be able to plug it directly into a TV or monitor without obstructing other ports, which is why a short extension cable is provided in the box. You'll find an exposed microSD card slot and another vent on the right, while the sole USB port, microUSB power connector, power button and yet another vent are on the left. There's also an eyelet for a security tether, which makes a lot of sense. The back of the Compute Stick is taken up entirely by printed barcodes and regulatory information.
Build quality seemed alright but the overall fit and finish isn't what we've come to expect from Intel. The biggest problem with the Compute Stick is that it will stick out the side of most TVs. Depending on the HDMI port placement, either the bright blue LED will be shining in your face and distracting from the picture, or you'll have an eyeful of bar codes (and the LED casting a halo on your wall instead). You might be better off if you have a free HDMI port on the back of your TV, but you'll then need at least 15cm of clearance between your TV and wall.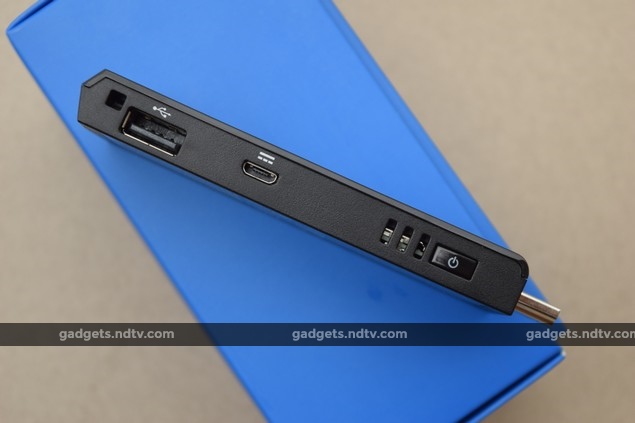 Apart from the Compute Stick itself being visible, you'll have to deal with the power cable and at the very least a small USB receiver for a wireless keyboard and mouse, or more likely a wire to a USB hub. Oh, and good luck reaching around your TV or monitor for the power button, which is the furthest thing from the device's exposed end. Intel doesn't usually neglect to think about how products will actually be used, which again makes us wonder whether the company sees the Compute Stick as a viable mass-market consumer product at all.
Specifications
The Intel Compute Stick is yet another incarnation of the Atom Z3735 processor that has been popping up in all kinds of devices this year, from large convertible 2-in-1s such as the Notion Ink Cain (Review) and Micromax Canvas Laptab LT666 (Review) to small, ridiculously inexpensive tablets such as the iBall Slide i701 (Review). The processor runs at a base speed of 1.33GHz and can burst up to 1.83GHz when needed.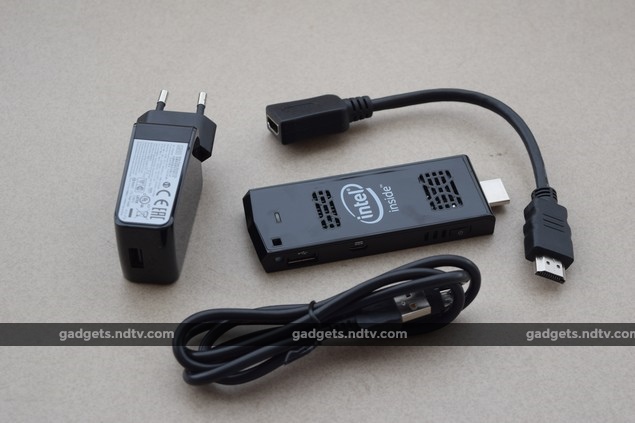 The version of the Compute Stick we received was preloaded with Windows 8.1 (32-bit) and had 2GB of RAM and 32GB of integrated storage. A less expensive version with Ubuntu Linux 14.04, 1GB of RAM and only 8GB of storage will be available later. Needless to say, neither the RAM nor the onboard storage can be upgraded or swapped. Both models have integrated Wi-Fi b/g/n and Bluetooth 4.0, and both support microSD cards of between 8GB and 128GB. The only way to get audio out is through the HDMI 1.4a port or using a USB audio device. The sole USB port runs at USB 2.0 speed.
Intel bundles a USB power adapter with four international plug headers, a USB cable, and the aforementioned HDMI extension. You'll definitely need a USB hub or a wireless keyboard and mouse set with a common receiver in order to set up the Compute Stick. It's unclear how you're meant to pair Bluetooth peripherals or set up Wi-Fi without going through the Windows interface - hardware buttons for these things would have been appreciated.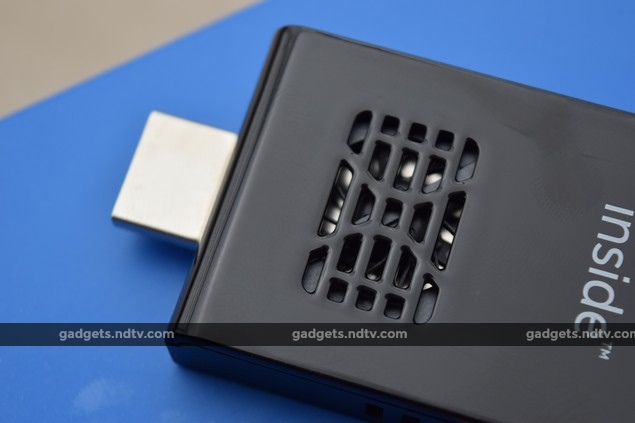 If used with a TV, you'll probably be happy with a wireless keyboard and mouse for the most part. As a desktop machine though, wireless peripherals would negate some of your cost savings and a USB hub would make more sense. Note that power-hungry USB devices such as hard disks might require a powered USB hub to function effectively.
Speaking of power, it might be possible to clear some clutter by plugging the Compute Stick's USB power cord into one of your TV's own USB ports. Recently launched models should be able to provide enough power, saving you some dangling wires, but don't count on it - we tried with two different TVs and while one didn't work at all, the other got as far as the Windows 8.1 boot screen but then just shut itself down. Interestingly, we were able to run it off a portable USB power bank.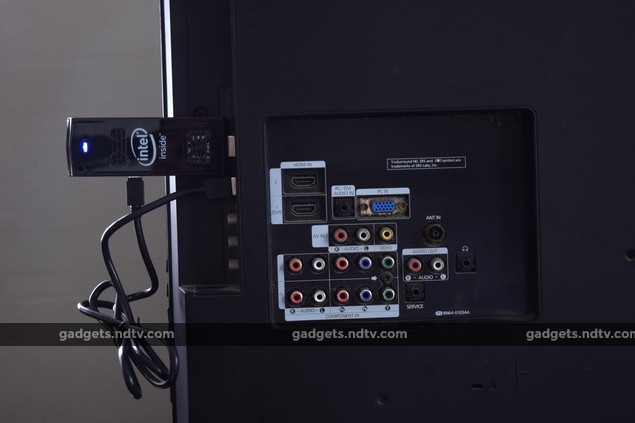 Usage and performance
Other than the unusually awkward setup process and the time spent hunting for suitable peripherals, we didn't have much trouble with the Intel Compute Stick. It booted flawlessly into Windows 8.1, but we immediately noticed something was off - everything on screen looked like it had been forced through some kind of filter. The Windows desktop and everything else we brought up on screen appeared grainy, dull, and lifeless. Text was difficult to focus on and smaller details such as toolbar icons in programs were hard to discern.
We also quickly established that the Compute Stick was limited to 1920x1080 output, even when used with high-end desktop monitors such as a 1440p Dell U2711 and a 4K Asus PB279Q. More significantly, the edges of the desktop stretched off screen on our test TVs, one Samsung and one LG, both roughly five years old. We didn't have that problem on our desktop monitors, but even assuming the cropping was due to the TVs and not the Compute Stick, there should have been some way to correct for it.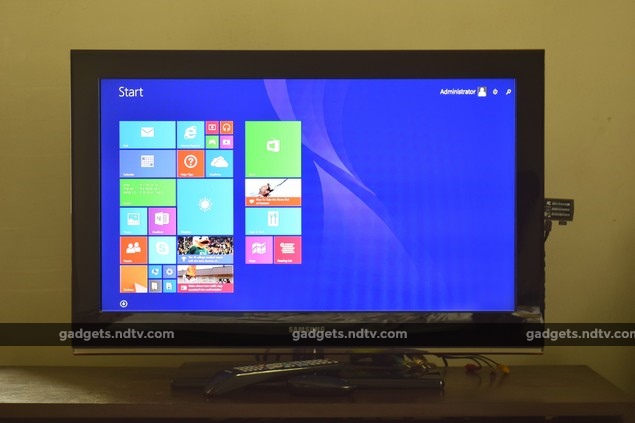 The grainy video output pretty much killed any hope we had for the Compute Stick as a tiny HTPC or "smart TV" converter. Our test HD video clips played, but not all were smooth, and didn't look good at all. We ran through our simpler benchmarks and noted that scores were pretty much identical to those of the other devices we've tested with Intel Atom Z3735 processors and 2GB of RAM. SiSoft SANDRA indicated reasonable scores for the processor, multimedia, storage, and memory subsystems. POV-Ray ran its internal benchmark in 24 minutes, 47 seconds, and SunSpider took 469.3ms to complete.
Light games from the Windows Store worked, but without the benefit of touch controls. We didn't run any high-end 3D tests, and modern games can safely be ruled out. The Compute Stick did get pretty hot when stressed, though thankfully the tiny fan didn't produce any noise.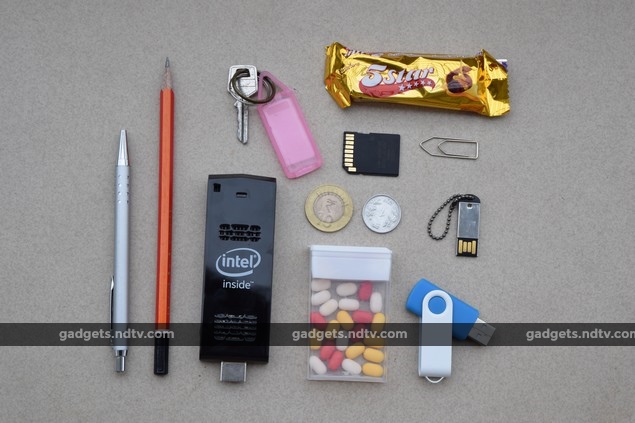 Verdict
The Intel Compute Stick is undoubtedly a marvellous technological achievement, but after spending time with it our thoughts have evolved. We have a bit of trouble imagining where it might find a place for itself in the world. The HDMI dongle form factor lends itself to use with a TV, but this device is clearly not suitable as a makeshift HTPC or even as an accessory to add streaming and other functionality to your non-smart TV.
As far as desktop PC usage goes, the device's low cost is the only thing really working in its favour. You'll need a monitor with an HDMI input, suitable peripherals, Wi-Fi, and a great deal of patience. It won't be the easiest thing to set up and it's won't be as unobtrusive as you might like a small stick to be, but it will work. We can see schools or offices rolling out large numbers of very basic desktops for students or staff who only need to surf the Web, check email, create documents, and use basic applications. We can also see the Compute Stick finding use in the embedded market, powering display signage or kiosks, and with students and enthusiasts as part of their mods and projects.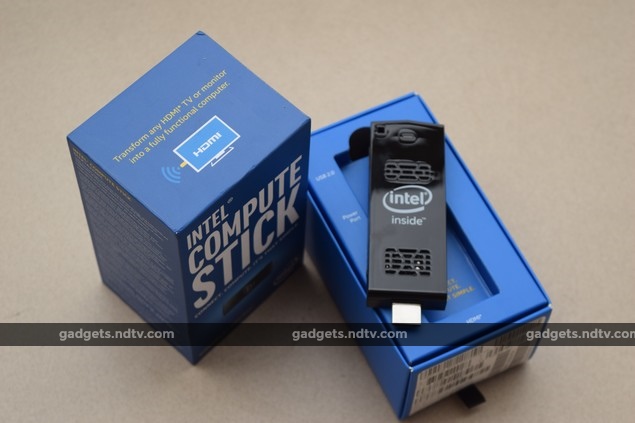 Had it not been for the reliance on HDMI, USB, Wi-Fi and Bluetooth, this would have been a fantastic way to replace old desktops and extend the lives of their peripherals. We hope to see Intel innovate in this regard with something sized between the Compute Stick and the NUC series, offering a balance of cost and the features that users need.
Home users would probably be happier with a product such as the Micromax Canvas Laptab LT666 which has its own screen, keyboard, trackpad and battery. The 2-in-1 is just as powerful, but is also portable, and would even work out cheaper, unless you already have a monitor and peripherals lying around.
Price (MRP): Rs. 9,999

Pros
Small and versatile
Inexpensive

Cons

Weak performance
Grainy video output
Requires vents and a fan
Insufficient connectivity

Ratings (Out of 5)
Design: 3

Performance: 3
Value for Money: 3
Overall: 3