Gigabyte, one of Taiwan's top IT companies, is best known for its motherboards and graphics cards. Much like Asus, it has tried to diversify beyond PC components into ready-built products such as laptops and even accessories. However, at least in India, Gigabyte hasn't had nearly as much success breaking out of its mould. The company's relatively low-key approach means that few people even know that it sells a line of mini PCs.
We have one of those products, the Brix S BXi3H-5010, in for review today. Building on Intel's NUC concept, it's just about palm-sized but has a surprising amount of flexibility and power. If you don't want or need a full-sized PC tower but still need more than a laptop can deliver, a mini PC like this might just be perfect for you.
Look and feel
The Brix S is a neat little palm-sized black box with a glossy top. It's subtle enough to not stand out, while still looking interesting. You could place one of these on your desk - it's small enough to fit on the pedestal of some LCD monitors - or mount it in a variety of ways including hanging it off the back of a monitor or TV. It's smaller and less obtrusive than many routers and desktop hard drives, and could easily be mistaken for an accessory.
However, it does require an external power brick which is around the same size as the ones which come with mainstream laptops. You'll also have to deal with wires when you need external devices such as hard drives. At least you can use Wi-Fi and Bluetooth input devices without any dongles, making the Brix S suitable for spaces where cable clutter would be a problem, such as a living room.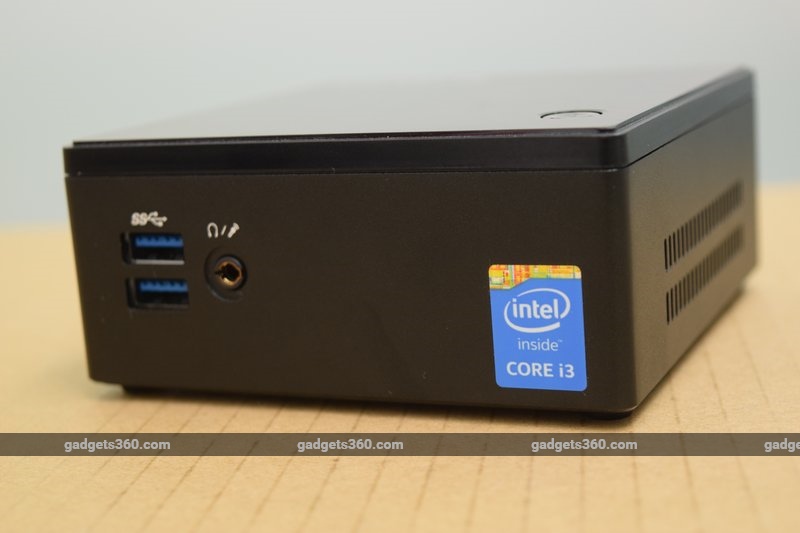 There's a Gigabyte logo towards the back of the top, and a power button nearer to the front which glows blue when the device is switched on. The front panel has two USB 3.0 ports and a 3.5mm audio socket so you don't have to reach around the back just to plug in a pair of earphones. There are two more USB 3.0 ports on the back, along with a Gigabit Ethernet port, a Mini-DisplayPort, an HDMI output, a DC power inlet, and a Kensington lock slot. That last touch is important, since a thief could just unplug one of these and slip it into a bag or jacket pocket.
We would have liked at least an SD card slot, and maybe USB Type-C keeping future devices in mind, but the Brix S does have a lot of flexibility the way it is, especially the ability to drive two displays simultaneously. You get a VESA mounting bracket and two bags of screws in the box, so you won't have trouble installing a hard drive and getting started. However, drivers are supplied on a CD which is pretty much useless - Gigabyte could easily have tossed in a small USB drive instead.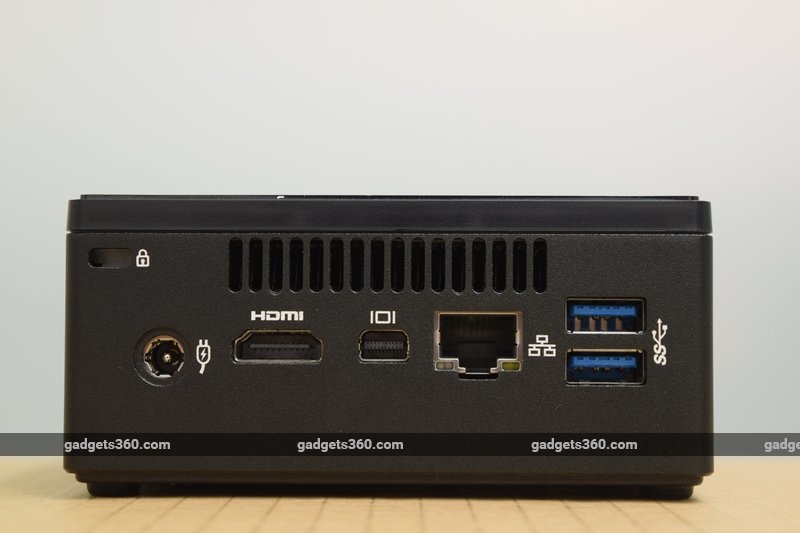 Specifications
Gigabyte sells multiple versions of the Brix S in India, with the most important difference being the CPU, which is soldered down and cannot be upgraded. You add your own RAM and storage, so you aren't limited on those fronts at the time of purchase or later on.
As its name suggests, the BXi3H-5010 is based on an Intel Core i3-5010U CPU, which is essentially a 15W laptop processor based on the 5th generation 14nm Broadwell architecture. It's soldered to the Brix's tiny motherboard and requires a cooling fan. The CPU has two physical cores with Hyper Threading, and runs at 2.1GHz but does not support Intel's Turbo Boost tech feature which pushes clock speeds up when possible.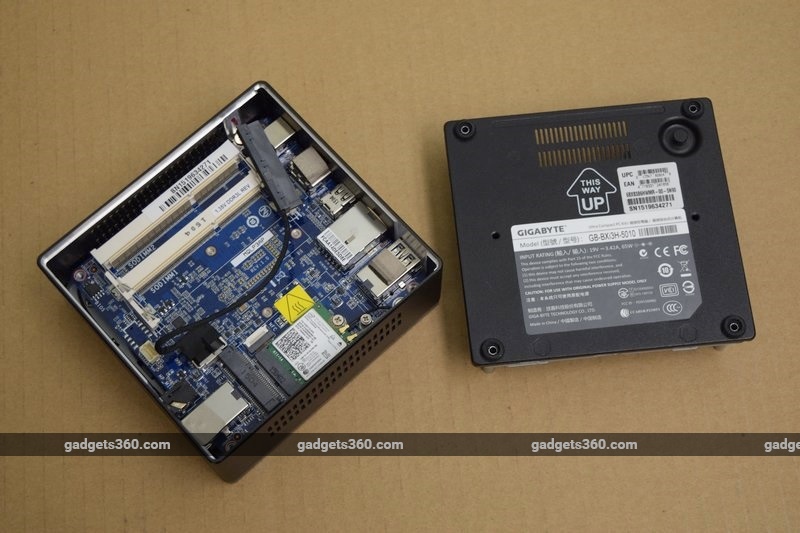 Intel's HD 5500 GPU is integrated, and should do well for basic needs. You can run two displays, but resolution support isn't the same across both outputs; only the mini-DisplayPort can handle 4K at 60Hz while the HDMI port tops out at 2560x1600 unless you don't mind the refresh rate dropping. Barebones PCs don't usually need to push such high-res displays, but it's worth noting if you're thinking of HTPC usage with a 4K TV.
You have to add your own RAM and storage - the Brix S has two laptop-style SO-DIMM DDR3L slots which lie flat against the motherboard, and each can handle low-power modules of up to 8GB. On the storage front, you can take advantage of a low-profile mSATA slot on the motherboard as well as a 2.5-inch SATA bay on the lid. This is a surprisingly flexible arrangement, and so you can have a speedy SSD to boot from as well as a high-capacity hard drive for storing lots of files.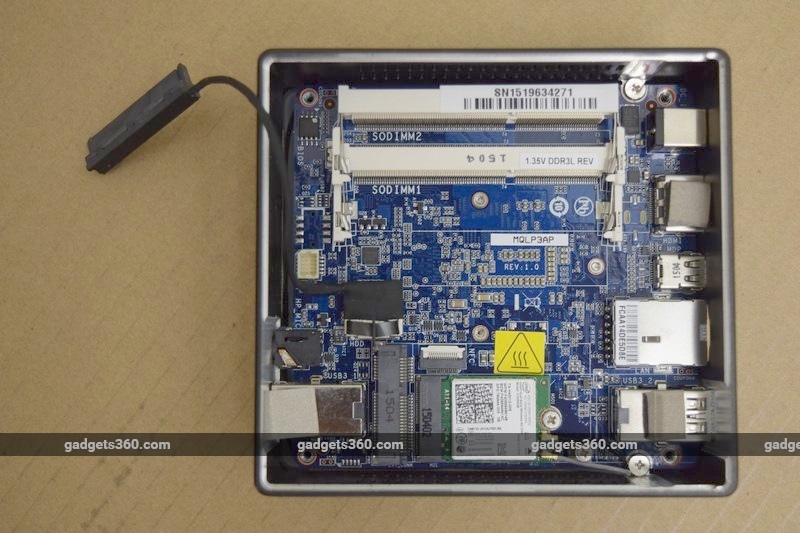 A very thin SATA cable comes already attached to the motherboard with a non-standard connector, and the 2.5-inch bay is on the removable base. You'll have to plug the drive in and stretch the wire from the motherboard to the base, and then carefully screw the two back together. We're a bit concerned about the long-term integrity of this cable, because replacements won't be easy to find.
Gigabyte also lists a few models, simply named Brix, which dispense with the 2.5-inch drive bay. These might be appealing if you're fine with mSATA storage only and want a smaller box that's easier to tuck away. There's also a PCIe-only M.2 slot which is pre-populated with the Brix's Wi-Fi ac/Bluetooth 4.0 module. The antennas are internal, and we would have liked at least the option of external ones to boost reception.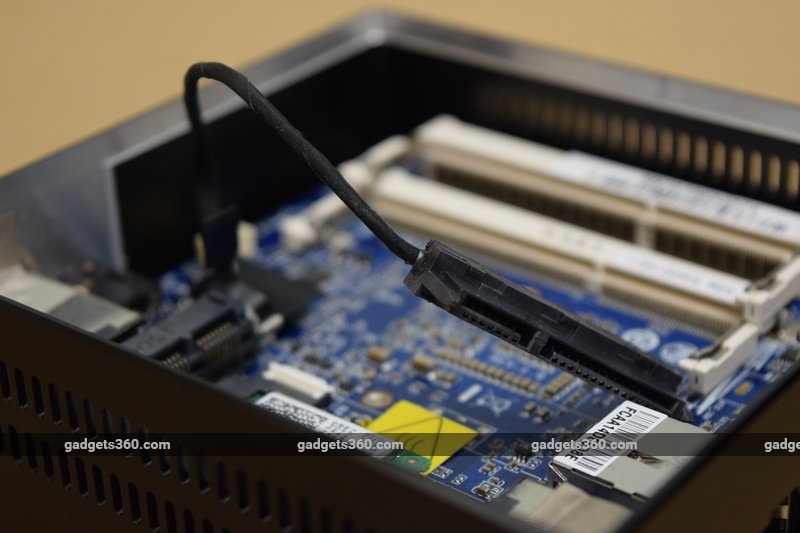 Setup and performance
It's really easy to pop the base off the Brix S; all you need is a medium-sized Philips-head screwdriver. You'll see the tiny four-inch-square motherboard mounted approximately two-thirds of the way inside - this arrangement leaves space on the other side for the CPU, cooling fan, and components which don't need to be accessed. All the slots on the bottom are easy to deal with, and you could have your RAM and SSD in place within seconds.
We used a single 4GB Kingston DDR3L module (supplied by Gigabyte for the purpose of this review) and a slightly aged 160GB Intel X25-M SATA SSD to reflect entry-level hardware choices. This particular drive is 7mm thick but it fit comfortably even with its 9mm shim attached, which means that 2.5-inch hard drives will fit just fine. Installing an SSD is a bit difficult thanks to the tiny screws provided and relatively awkward mount placement, but this is usually a one-time job.
The Brix S's BIOS is a surprisingly old-school text-only affair, and hopefully you won't have to deal with it much. Options include the ability to turn power on via a USB keyboard which is nice if you're planning to mount the Brix S out of reach behind a monitor or desk. Hopefully, you have a monitor or TV with built-in speakers or at least a 3.5mm passthrough for sound coming in over DisplayPort or HDMI. If not, you'll have to have an audio wire plugged into the front of the Brix S at all times.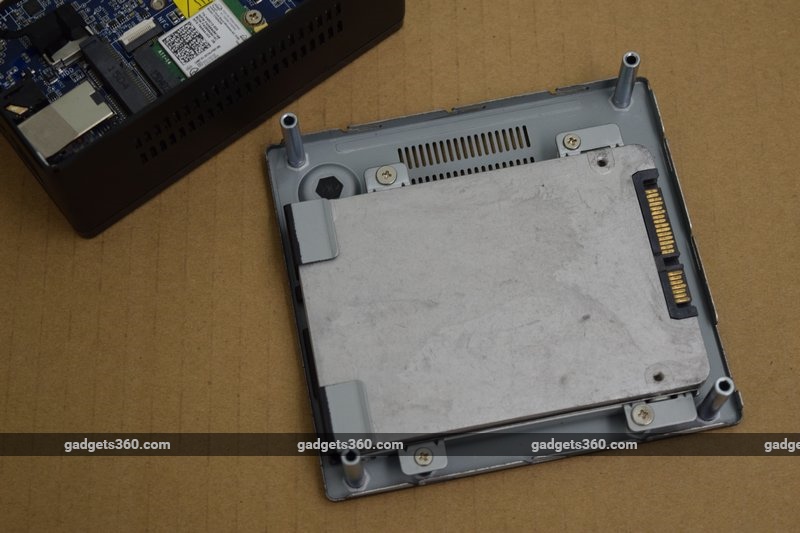 We installed Windows 10 off a USB drive and downloaded all the latest drivers from Gigabyte's website. The Brix S booted within seconds and had no trouble running day-to-day tasks. We were pleased to note that its fan was never loud enough to be noticeable. We felt a persistent sluggishness at first when launching apps and opening files, but soon discovered that this was down to our HDMI-connected 4K Asus PB279 monitor defaulting to a 29Hz refresh rate even at 1920x1080. Not many people would dig through four levels of Windows dialog boxes to identify this problem, but it is a big deal. When we manually raised the refresh rate to the standard 60Hz, the difference was like night and day, and responsiveness improved dramatically.
4K video plays smoothly with CPU usage barely ever exceeding 15 percent, but you won't be getting the full experience since you can't do 4K at 60fps over HDMI . This tells us that the Core i3 version of the Brix S mini PC isn't suitable for HTPC use with 4K TVs. If you have a more modest full-HD screen and don't mind 4K videos being downscaled, you should be fine.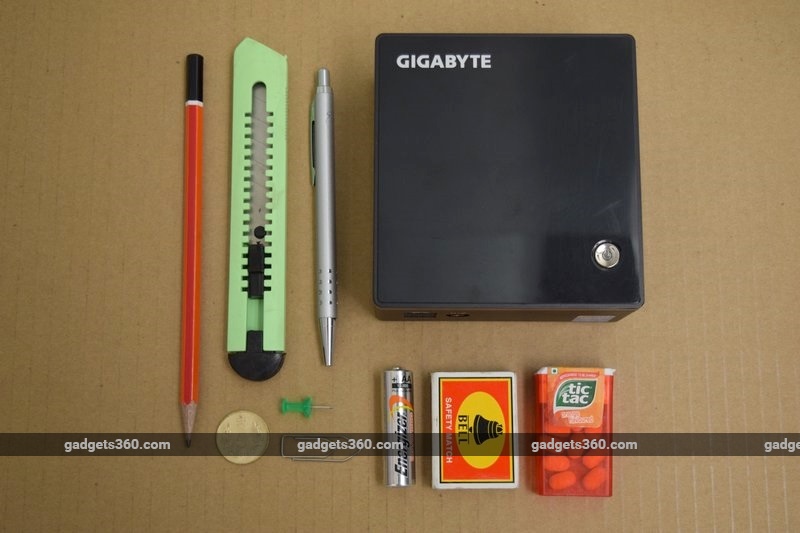 We ran a number of benchmark tests, although keep in mind that performance will vary greatly depending on what kind of RAM and storage each Brix S is outfitted with. PCMark 8 gave us 2,326, 2,295 and 2,954 points in the Home, Work and Creative tests respectively. POV-Ray ran its benchmark in 9 minutes, 43 seconds, and CineBench R15 cave us 209cb points in its CPU test. These numbers are on par with what we've seen from current-day thin-and-light laptops such as the Asus ZenBook UX303UB. We had no problems handling multiple heavy Web pages, Office documents, and media files in common formats.
Graphics scores were on the low side - 3DMark warned us that there might not be enough graphics memory to run the base Fire Strike test, but it did ultimately finish with a score of just 500. Unigine Valley was choppy at the Medium quality setting at 1080p, and we recorded an average of 7.8fps. We tried running the extremely light Tomb Raider (2013) but were disappointed with the averages of 11.5fps at 1920x1080 and 21.3fps at 1366x768, even with the quality turned down to Normal. If you want to play 3D games, you're going to need to step up to the higher configurations.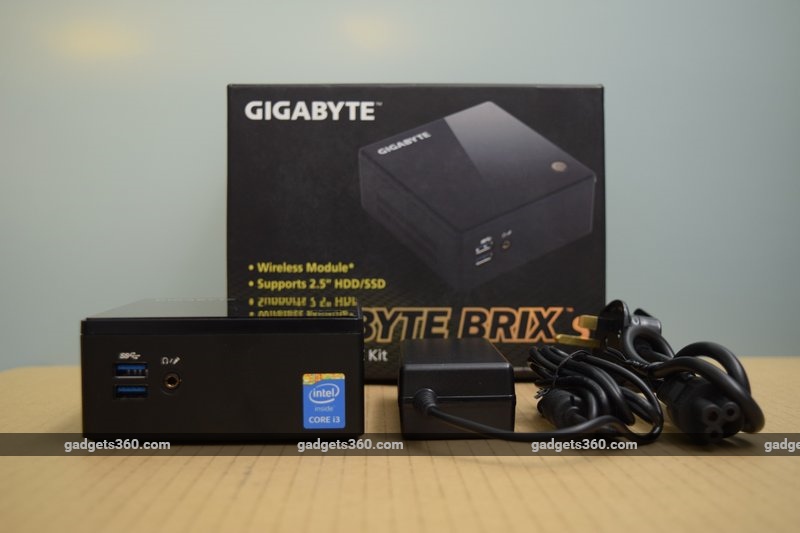 Verdict
We're very pleased with the Brix S overall, based on its price and its capabilities. This is no high-end compact gaming desktop or HTPC, but it is a solid machine for productivity. You could outfit a school's computer lab, provide desktops for office workers, or even come up with creative mods and projects using it. Home users can surf the Web, enjoy HD movies and music, and get all their work done without needing a hulking desktop tower.
The Brix S is more upgradeable than a similarly configured laptop, and you have the pleasure of using a large monitor and a regular desktop keyboard and mouse. It's also incredibly portable. You'll have to factor in at least another Rs. 5,000 for a reasonable amount of RAM and storage, plus the cost of a monitor, keyboard, mouse, and OS license if you don't already have them. You could also pay more for the models with a Core i5 or Core i7 processor. If you like what Gigabyte has to offer with the Brix S, keep in mind that Asus, Zotac and Intel itself have similar products on offer, so shop around and choose the one that's right for you.
Price:
Rs. 22,500 (Core i3)
Pros
Small and unobtrusive
Looks good

Flexible RAM, storage and connectivity

Easily upgradable

Cons
Slightly convoluted setup process

Ratings (Out of 5)
Design: 4.5

Performance: 3.5
Value for Money: 4
Overall: 4