RGB lighting has been showing up on all kinds of PC hardware, from keyboards and mice to fans and speakers. Not one to be left behind, Asus has decided that its PC components could use a bit of bling, and so we have the Aura series of motherboards, with programmable multi-coloured lighting effects. Exhibitionist touches like this are generally aimed at gamers and enthusiasts who love showing off their PCs, and fancy lights are useless without a windowed PC case to show them off.
It's no surprise that Asus has chosen to experiment with lights on a board aimed directly at gamers, but it is a bit unusual that the board in question is based on Intel's low-end B150 platform controller, which is intended for use on business desktops. That's as vanilla as current-day PC hardware gets, and enthusiasts don't usually consider anything less than the top-end Z170. This dichotomy is what gives the B150 Pro Gaming/Aura its biggest strengths and weaknesses. Read on to know more.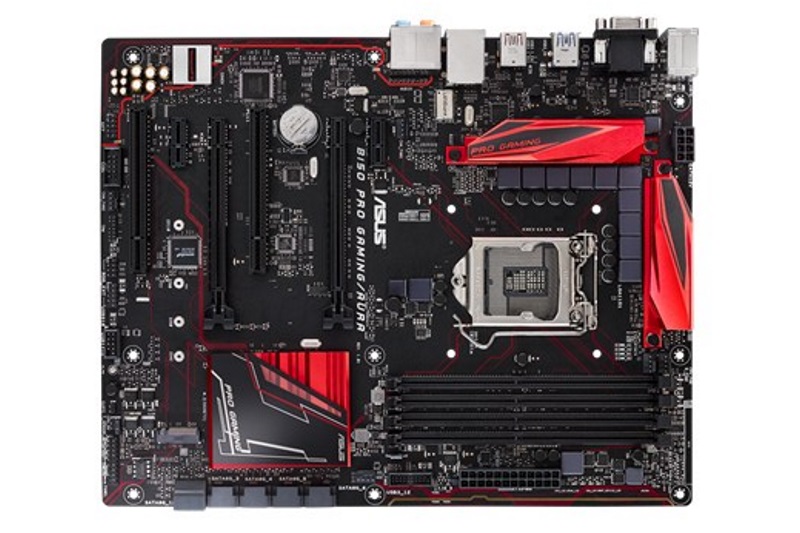 Design, layout and features
Black and red has become the standard colour scheme for gaming motherboards, and the B150 Pro Gaming/Aura looks pretty standard when you first take it out of its box - till you remember its low price. There are large (mostly decorative) heatsinks near the 10-phase VRMs on two sides of the CPU socket, and a matching one lower down over the B150 platform controller, better known as the "chipset". There are matching red flourishes printed across the surface of the board which look nice but will mostly be hidden when components are plugged in.
There's adequate distance for a normal-sized cooler between the CPU socket and first RAM slot, though Asus assumes you'll be using a small waterblock with a separate radiator. You'll find a separate power connector labelled W_PUMP for that purpose right next to the usual CPU fan header.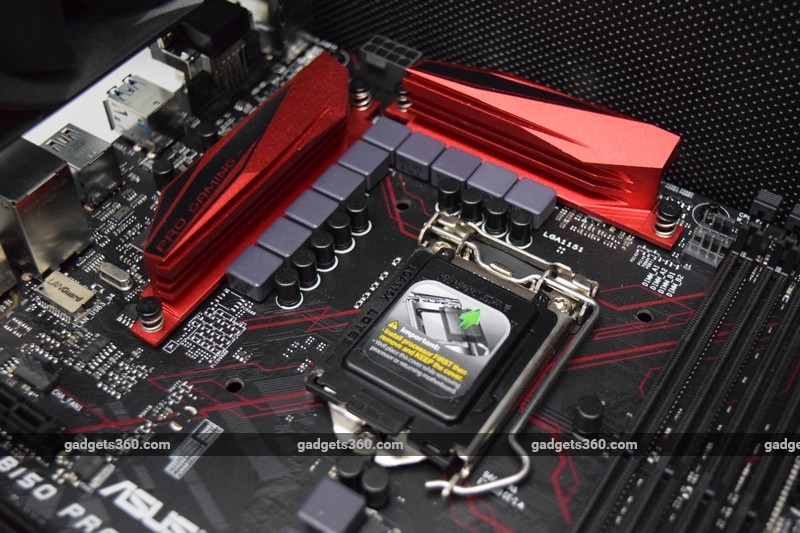 The rear port cluster is quite well populated. There's one legacy PS/2 port for a keyboard or a mouse, which some gamers value. There's an HDMI output as well as a VGA port which is quite curious, since Intel dropped support for VGA with its Skylake-generation 100-series PCHs. Asus has gone to the trouble and expense of using a bridge - maybe this is a nod to business B150 customers, but it's still odd, and comes at the cost of a far more relevant DisplayPort output.
There are two USB 2.0 ports and two USB 3.0 ports on the rear, powered by the Intel B150. A separate ASMedia controller enables two USB 3.1 ports for 10Gbps transfers - one uses the standard Type-A port but the other is a very welcome Type-C port. You can wire up two more USB 3.0 and four more USB 2.0 ports to the front or back panels of your case using internal headers. You get a single Gigabit Ethernet port running off an Intel i219 controller, with what Asus calls LANGuard - protection from power surges and electromagnetic interference. The audio block includes a S/PDIF output.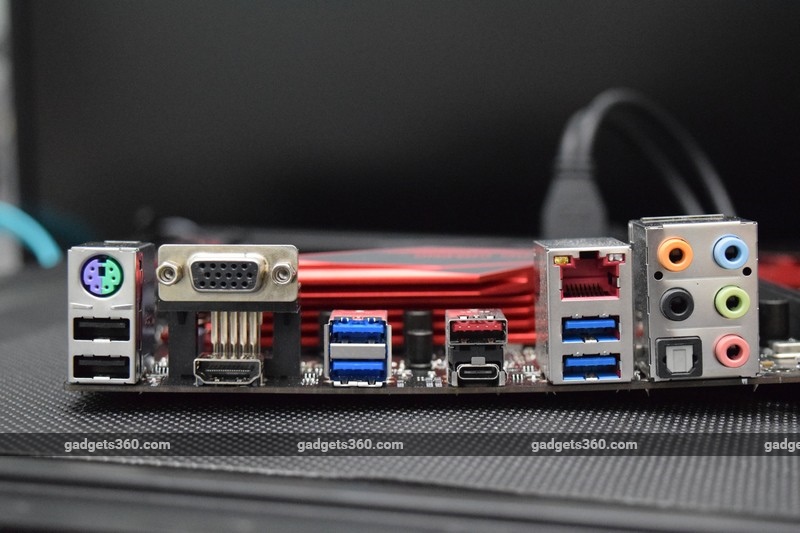 This is a full-sized ATX motherboard, and you get two x16 PCIe slots. However, you cannot link two graphics cards in SLI or Crossfire. The first slot is fed by the CPU and actually has 16 lanes of PCIe bandwidth, but the second can provide only four lanes. That's because the B150 PCH is limited to eight lanes in total - one of the biggest differences between B150 and Z170, which has 20 lanes to distribute between subsystems and peripherals. Running an x4 card will also cut off the two PCIe x1 slots.
For some reason, Asus has also tossed in two legacy PCI slots. Just like the VGA port, Asus had to have gone out of its way to provide them, since PCI is not officially supported anymore. If you're one of the few people out there with a PCI dial-up modem, you're in luck.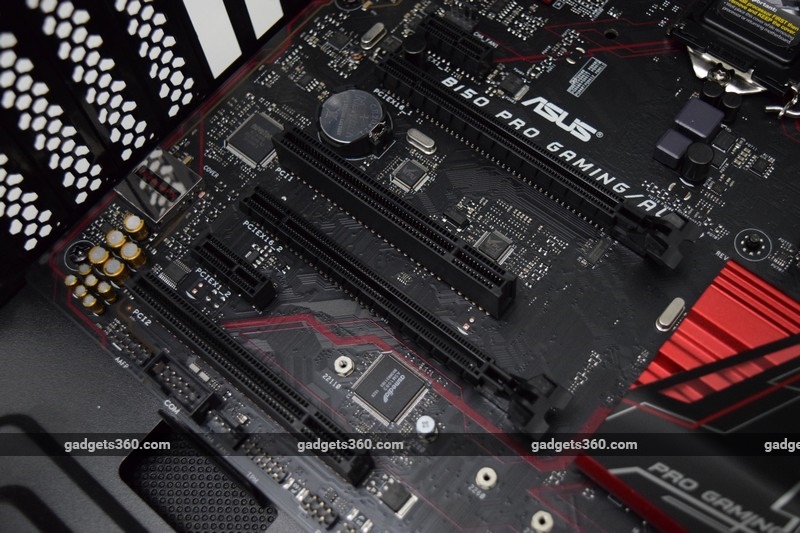 There are six front-facing SATA ports along the front edge of the board, and an M.2 slot just behind them. Again, bandwidth is shared, so you lose one SATA port if you use a SATA SSD in the M.2 slot. NVMe PCIe SSDs are also supported in the M.2 slot, but only two lanes have been allocated here rather than the four you get with higher-end motherboards. PCIe SSDs will still be much faster than SATA, but won't live up to their full potential.
Right at the back, one corner of the board is dedicated to audio circuitry and is physically isolated with its own voltage-regulated power supply to improve signal quality. Asus has used the premium Realtek ALC1150 audio codec and Nichicon capacitors, which are in keeping with most premium motherboards.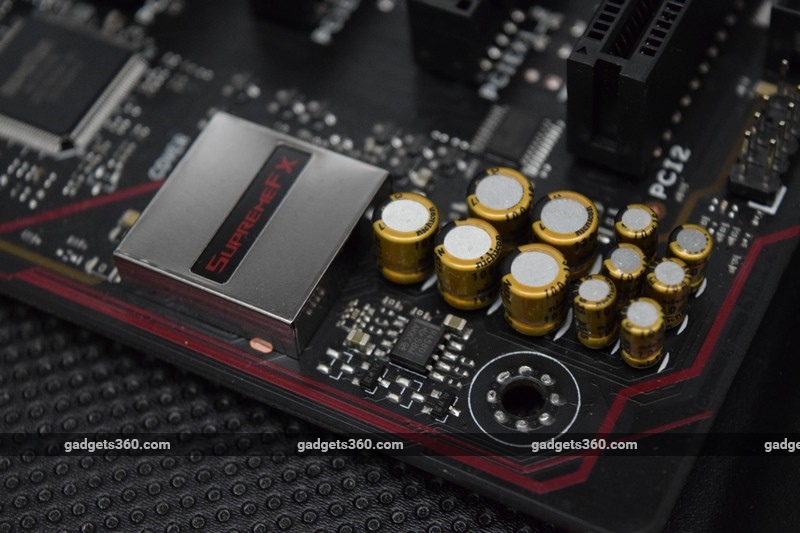 There are thoughtful little touches all around. The padded "Q-shield" rear plate is much less likely to cut you than the usual sheet metal plates; there are diagnostic LEDs to show you what might be causing problems; most of the ports on the rear have their own electrostatic discharge protection; and of course Asus promises that all components are high-end and long-lasting.
However, what most potential buyers will care about is the Aura lighting feature. There are two sets of RGB lights on the board, one running most of the way along the front, and the other beneath the PCH heatsink. A third set illuminates the crack separating the audio subsection from the rest of the board, but this only lights up in red.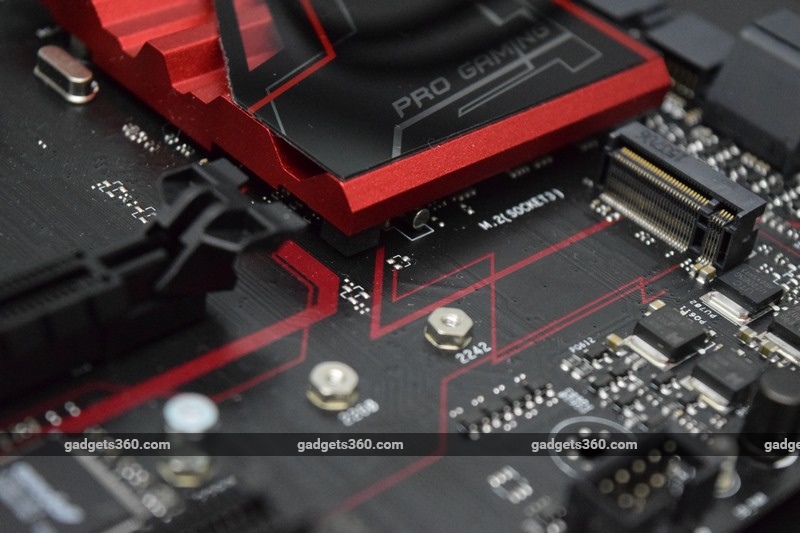 The two RGB sections are controlled together through the Asus Lighting Control desktop program. You can choose a static colour or have the lights pulsate, flow, or cycle through all the colours of the rainbow. You can also have the LEDs react to CPU temperatures or flash along with your music. The red strip has its own controls. We would have liked to have seen more fine-grained control, for example the ability to set custom lighting schemes, trigger different colours for specific games and programs, or at least set the speed of the colour cycle.
It should go without saying that you'll need a case with a large side window to really enjoy any of the lighting effects. The strip on the front of the motherboard reflected nicely off the black powder-coated surfaces of our Corsair Carbide 100R, and the effect is sure to be more pronounced in larger cases. We wound up turning off the red strip around the audio components which clashed with the rest of the system. We would also have liked a quick shortcut to turn the lights off entirely, for times when we didn't want the distraction.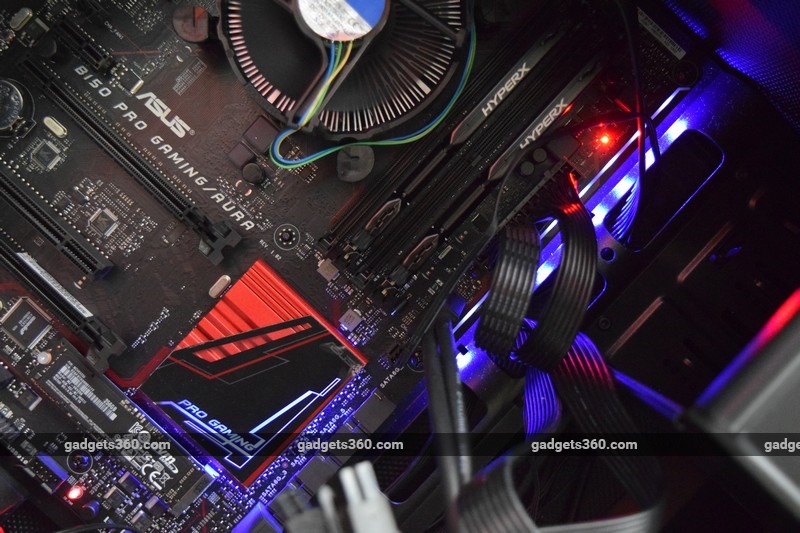 Asus's EFI BIOS has matured over the years, and is not only functional but easy to use. You shouldn't need to visit it often, but you can choose between "EZ" and advanced modes if or when you do. Updates can be performed from within the EFI interface, and you can recover your last working settings if anything goes wrong. The graphical fan speed adjustment tool is one of our favourite touches, but things like this can also be set through Windows if you prefer.
Performance
We tested the Asus B150 Pro Gaming/Aura with the following components. We used Windows 10, and all the latest drivers from Asus's website.
Intel Core i7-6700K CPU
2x8 GB Kingston HyperX DDR4-2666 RAM
256GB Samsung SSD 950 Pro

Corsair RM650 power supply
Dell U2711 monitor
Installation was relatively smooth, and we had no trouble with the board's layout. The M.2 slot is not going to be blocked by large graphics cards, and you don't have to use the RAM slot closest to the CPU socket unless you're filling all four of them. Asus includes plenty of accessories in the box, including the padded Q-shield, adhesive cable tags, a bag full of zip ties, and four SATA cables, of which two have right-angled plugs on one end.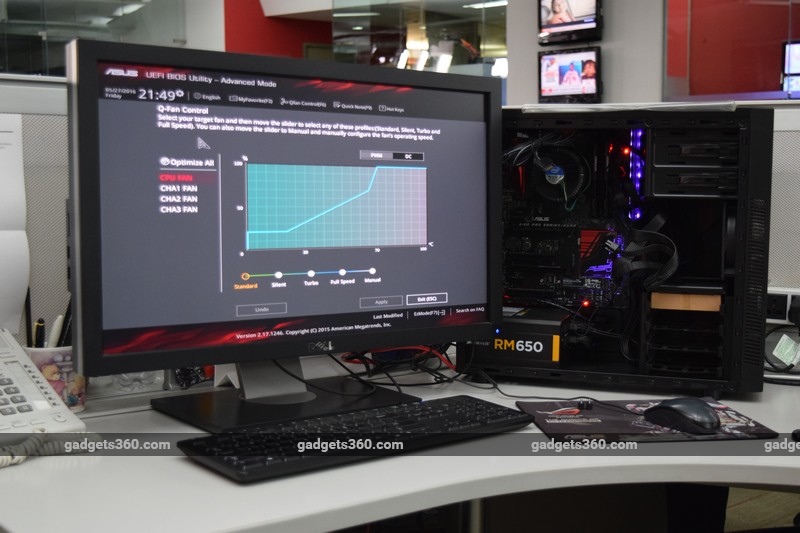 We started testing with PCMark 8 and managed to achieve scores of 3,773, 4,410, and 3,798 in the Home, Creative, and Work tests respectively. POVRay completed its benchmark run in 2 minutes, 17 seconds, and Cinebench delivered 884 points in its CPU test. We checked various subsystems with SiSoft Sandra, and dug deeper into the M.2 slot's bandwidth with CrystalDiskMark. Both confirmed a significant drop in speeds for our NVMe SSD: 1.6GBps in sequential reads, down from 2.2GBps with the same drive plugged into a Z170 motherboard. This was to be expected thanks to the reduction in available PCIe lanes.
The B150 has no overclocking capabilities whatsoever, and so you won't find any EFI or software features to help you along. Overclocking might be fun, but it isn't the sort of feature that a lot of people demand. For those who do, a wide variety of Z170 boards are available.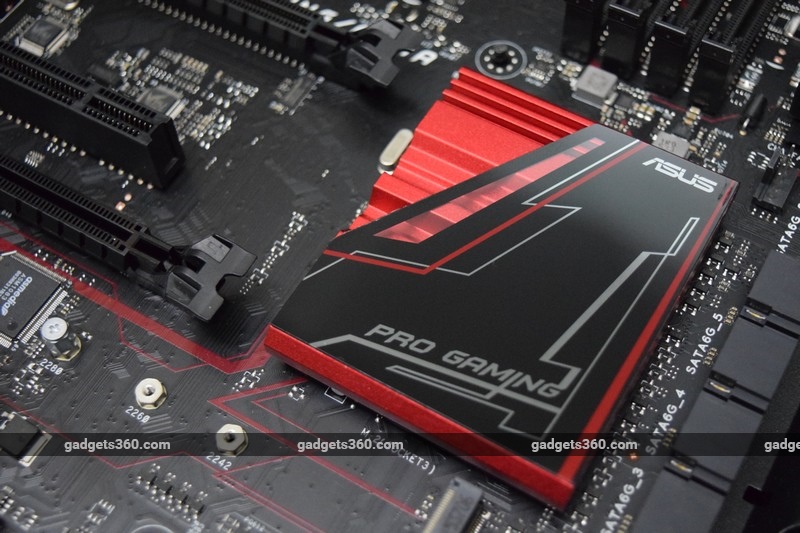 All this goes to show that the B150 is not a serious impediment to performance, unless you're going to be using a lot of high-end components which will compete for resources. In that case, you're more likely to be spending a lot of money, and so you shouldn't even be considering this motherboard. On the other hand, budget gamers who might aspire to have a SATA SSD and a single mid-range graphics card will find that there's more than enough to go around.
Verdict
Desktop PCs are full of potential that almost no one uses. There aren't that many ways to fill expansion slots anymore, and many people could most likely make do with much smaller devices. Gaming is one of the few exceptional use cases in which bigger is better, and showing off is encouraged. Asus is not the only manufacturer to have realised that gamers will buy bigger and better components if the price and features are right.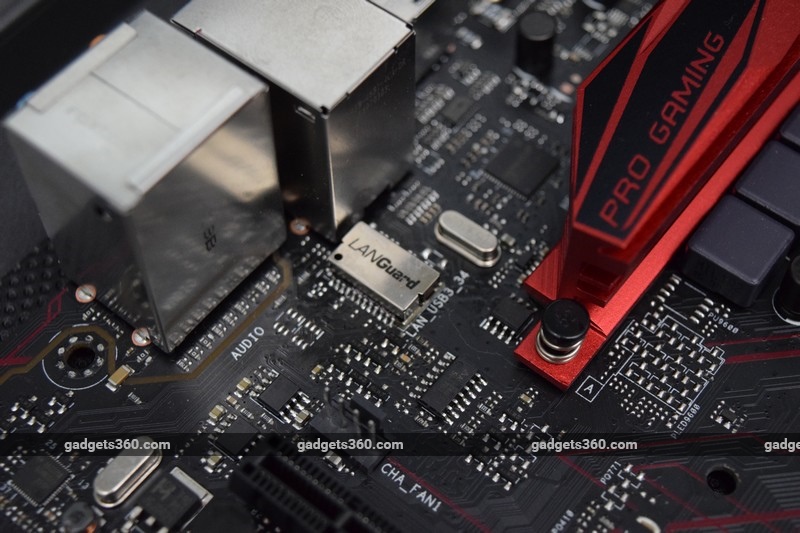 The B150 was never intended to be used for high-end motherboard, but it allows buyers to limit their budgets and still get a lot of features that are important. By sacrificing the headroom and flexibility to use and abuse top-end components, we can get a perfectly functional PC with features that are more relevant to those with modest bank balances. You get USB 3.1 with Type-C, high-end integrated audio, M.2, the promise of reliability, and of course the RGB lighting for fun. If the lighting doesn't appeal to you but the rest does, you can save even more by going with the non-Aura B150 Pro Gaming.
The alternative at this price level is a bare-bones Z170 board, which will allow for overclocking but won't have all the bells and whistles of a high-end motherboard. Clearly, each option will appeal to a different type of buyer, and we're happy to have that choice. The Asus B150 Pro Gaming/Aura is a neat, sensible board with a lot more going for it than just fancy flashing lights.
Price:
Rs. 11,550
Pros
LED light effects look good

Lots of IO including USB 3.1 Type-C
High-end onboard audio and networking

Good performance

Cons

Limited support for high-end components

No potential for overclocking
Ratings (Out of 5)
Features: 4.5

Performance: 4.5
Value for Money: 4
Overall: 4.5