Nvidia has formally announced its next-generation GeForce GTX 1080 and GeForce GTX 1070 GPUs, ahead of competitor AMD. The two are the first consumer products to use Nvidia's new Pascal architecture, and promise giant leaps of performance and power efficiency compared to previous-generation GeForce GTX 9xx series cards and even the $1000 Titan X GPU.
Graphics cards based on the GTX 1080 will be available worldwide on May 27, with an official starting price of $599 (approximately Rs. 39,900) while GTX 1070 cards will go on sale June 10 starting at $379 (approximately Rs. 25,250). There will also be "founders' editions" of both cards, promising extreme overclocking, for $699 and $449 respectively.
Nvidia founder and CEO Jen-Hsun Huang introduced the two at a speech kicking off the Dreamhack festival in Austin, Texas. Huang jokingly described them as having "irresponsible amounts of performance", promising that the GTX 1080 is twice as powerful and thrice as power efficient as the previous flagship GeForce GTX Titan X, and is way faster than two GeForce GTX 980 cards in SLI. The GTX 1070 is also purportedly faster than the Titan X, but Huang did not indicate by how much.
The GTX 1080 can push out 9 Teraflops of single-precision graphics compute power and has 8GB of VRAM, which is incidentally Micron's new, faster GDDR5X RAM running at 10Gbps for a total bandwidth of 320GBps. Power requirement is pegged at 180W, and Nvidia lists a 500W power supply as adequate for a PC with a single one of these cards. The GTX 1070 is rated for 6.5 Teraflops and also has 8GB of VRAM, but of the ordinary GDDR5 variety. Further details of the GTX 1070 are not available yet, but it should share several capabilities with its bigger sibling, including support for DirectX 12_1, OpenGL 4.5, Vulkan, and Nvidia's own G-Sync, Gamestream, and GPU Boost.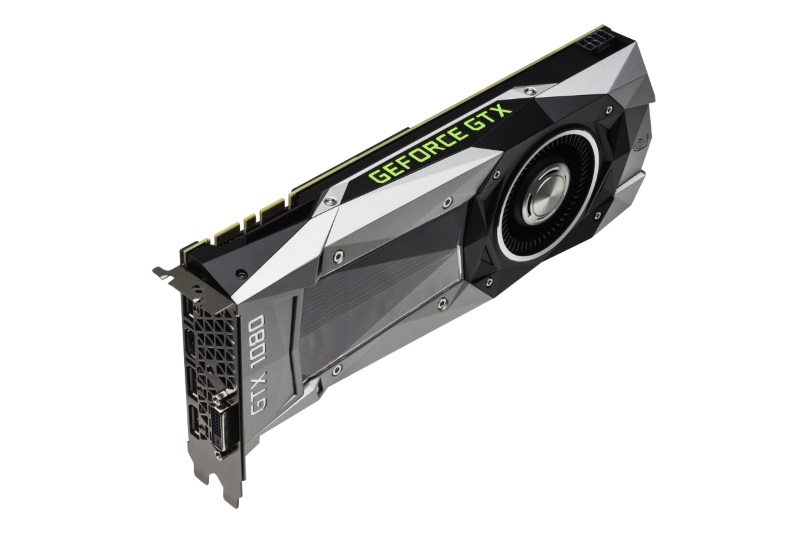 The reference card shown on stage uses a shroud similar to the one that has been a mainstay of Nvidia's designs since the GTX 7xx series, but with aggressive new angular touches. The card appears to require a single 8-pin PCIe power connector, and offer one DVI-I, one HDMI, and three DisplayPort outputs.
Demos of the GTX 1080 on stage indicated that it can run comfortably at 2.1GHz on air cooling without getting hotter than 67 degrees Celsius. Huang indicated this is the highest speed that any previous GPU has ever achieved with even liquid cooling. Third-party graphics card vendors will likely ship dramatically overclocked versions of both GPUs using custom coolers.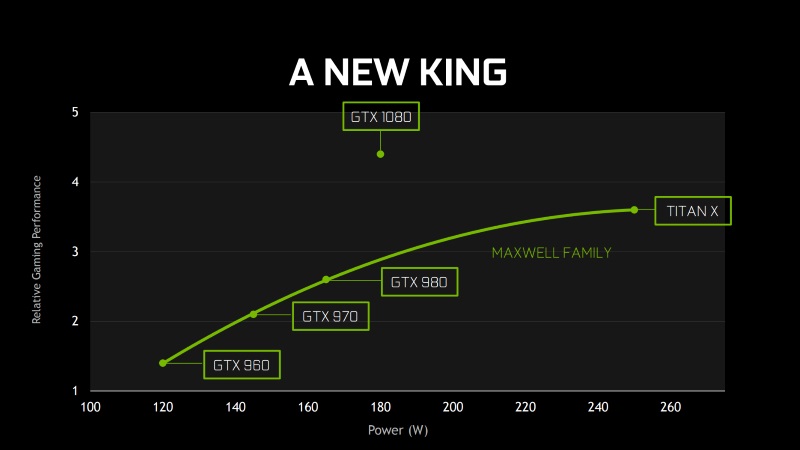 Huang said several thousand people have worked on the Pascal GPU project for two years, and it is the largest microchip endeavor in the history of humanity. Its R&D budget was several billion dollars, which he speculated would have been enough to get to Mars. Pascal is described as the most efficient architecture that Nvidia has ever created. In a clear dig at competitor AMD, which is also expected to announce its next-generation architecture this month, Huang emphasized that the GTX 1080 is the world's first 16nm FinFET GPU in production, and the first to use Micron's new GDDR5X memory.
Huang also introduced new things the company has been working on, for example a new power supply for the new GPUs, which he described as the "most complicated, artful switching power supply that humanity does today". Ripples only as small as 100 millivolts are allowed in the power output, allowing a GPU to adjust its speed and output in a fraction of a second depending on demand, without compromising power efficiency.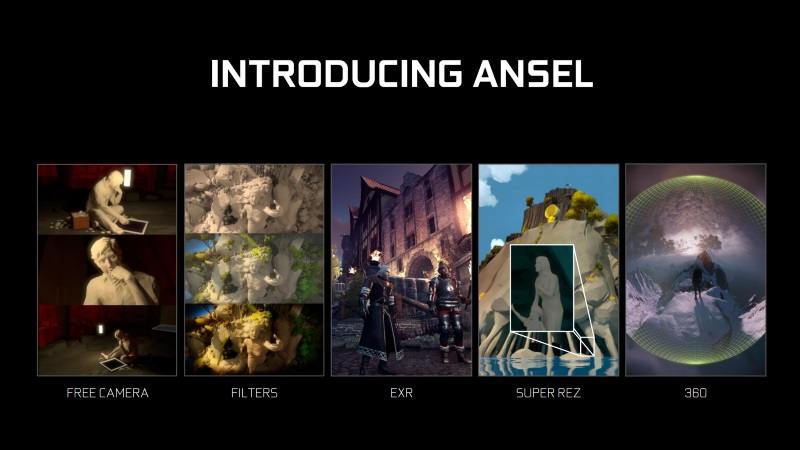 For those who enjoy the incredible production value and artwork of recent games, he also announced Nvidia Ansel, the world's first in-game 3D camera system. This allows gamers to independently adjust camera positioning and angles to capture scenes within open game worlds. It is built into Nvidia's drivers and requires an SDK to be integrated into games. A user can capture frames which are otherwise not easily composed, by moving into areas which game characters ordinarily wouldn't be able to reach. Images are exported at way higher resolution than the output to the monitor, making the technique superior to ordinary screenshots. They can be adjusted for colourisation, tonality, vignetting, and other effects, and exported to photo editing software as raw data. Full 360-degree stereo is also supported, and with one click, users can export images which can be experienced with any head-mounted display like an HTC Vive or on an Android phone using Google Cardboard. A few titles which will support Ansel are The Division, The Witness, Lawbreakers, The Witcher 3 Wild Hunt, Paragon, No Man's Sky, and Unreal Tournament.
Nvidia will also roll out a major upgrade to VRWorks, its VR content authoring toolkit, including the addition of PhysX simulations and VRWorks Audio. Physical modeling allows objects to behave like their real-world equivalents, for example liquids can flow, flames can burn, and balls can bounce realistically. VRWorks Audio is described as the world's first real-time physically modeled acoustic simulation engine. Geometrically accurate acoustic models allow for audio to interact with the environment you're in as you move through it - sound can be bounced and occluded in real time, using techniques similar to graphical ray tracing.
The last major feature presented was simultaneous multiprojection for independent viewports. This allows users to use multiple flat monitors, but instead of having one large frame on a single frame chopped into pieces, each monitor can receive its own feed with the viewport and perspective adjusted to its angle relative to the other monitors. Users who have three monitors, for example, no longer have to keep all three flat in one plane or deal with perspective distortion when angling the two on either side. This used to require three independent graphics cards, but can now be achieved with a single GTX 1080, which can output three different projections in a single pass. The technique can also be applied to create independent projections for each eye in VR applications without unnecessary overheads, rather than just physically offsetting the same one.