Intel continued its rollout of the 5th Generation Core processor family, formerly codenamed Broadwell, at CES today with the launch of 28 new low-voltage processors aimed at thin and light notebooks including 2-in-1 hybrid tablet products and Chromebooks. Several devices from all major manufacturers based on the new processors are expected to launch in the coming days and weeks.
The processors, which span
Intel's
Core i7, Core i5, Core i3, Pentium and Celeron brand categories, are all manufactured using the company's current 14nm fabrication process, which shrinks transistor sizes in order to provide better battery life and improve performance in low thermal profiles. The lineup includes variants supporting the company's vPro business features.
Most of the new launches have 15W TDP ratings. The new Core i7-5650U and i7-5550U use the new Intel HD Graphics 6000 GPU and support 1866MHz LPDDR3 RAM, while the i7-5600U and i7-5500U use the slightly lower power HD Graphics 5500 and support only 1600MHz LPDDR3. Similarly, the Core i5-5350U and 5250U also use the HD 6000 GPU while the 5300U and 5200U use the HD 5500. The new Pentium 3805U, Celeron 3755U and Celeron 3205U step down even further to plain Intel HD Graphics.
Manufacturers can also choose any of four new 28W processor SKUs: the Core i7-5557U, the i5-5287U, i5-5257U or i3-5157U which use the more powerful Intel Iris Graphics 6100 GPU. These will be found in products which do not need to be as thin or light.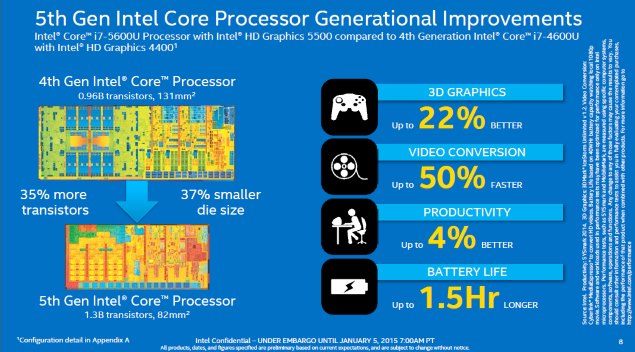 Intel claims up to 22 percent better 3D graphics, 50 percent faster video conversion and 1.5 hours more battery life with a 5th Generation Core i7-5600U as compared to a 4th Generation Core i7-4600U.
When compared to a four-year-old PC, Intel claims up to 2.5x productivity, 2x battery life, 9x faster waking from sleep, 12x better 3D graphics and 8x faster video conversion. The company hopes a wave of upgrades will replace PCs and notebooks of similar age which are currently in use around the world.
Intel is especially bullish about its new processors' integrated GPUs and the combined effects of all its new technology on notebook battery life. Devices based on 5th Gen Core processors will also support natural interactions such as voice commands and 3D gestures.
Intel will continue rolling out processors including higher-TDP SKUs for desktop users and high-performance enthusiasts over the course of 2015.