At Microsoft's annual developer's conference Build, which kicked off on Wednesday in San Francisco, the company made a series of announcements that show the new direction that it is headed in. The overall theme of the conference seemed to be - if you have it, we want to be on it. There was a lot to take in yesterday and if you were worried that you missed something important, we rounded up the most interesting announcements from Microsoft. Here were the 10 biggest announcements from Build 2015.
1. Your Windows phone is a Windows 10 PC
Among the different things Microsoft showcased is a feature it calls Windows 10 Continuum, wherein you can plug an HDMI display to your phone, and even connect a mouse and keyboard and use it like a normal computer. "Hold on a second," you'll say, because obviously, this is something that you can do with all phones. The difference lies in Windows 10's universal apps - they can detect the screen size, and change the interface to allow you to work as per the device you are using.
The "classic" Windows desktop programs can't be installed on a phone though, so don't expect your office's proprietary tools to run on a phone just yet.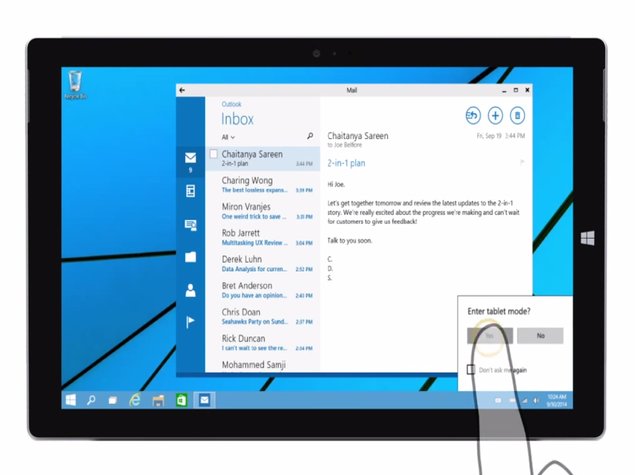 2. Get Android and iOS apps on Windows 10
Even before Build, there was talk of Windows supporting Android apps, with people thinking it would work the way you could simply download Android APK files onto a BlackBerry 10 device. The end result is a little different but Windows 10 will also make it easier for Android and iOS developers to repackage their apps to run on Windows, with a simple tool. Microsoft says it will include an Android subsystem, and it will have APIs for iOS apps.
Microsoft also says that it will release a tool to allow developers to automatically convert their apps written in Objective-C for iOS, allowing them to make Windows 10 apps with minimal effort. The easy porting tool will of course be best meant for touchscreen Windows 10 devices, whether phones or tablets, to truly enjoy the benefits of Android and iOS apps and games.
3. Integrations, integrations, integrations
For Microsoft, integrations are the new developers, and a common theme we noted running through the Build presentation was how the company is opening its Office and Outlook software up to third party add-ins. What does that mean? Well, using the Outlook API, developers can build "contextual experiences" for Outlook. So, while working on your PC, you could schedule a reminder to take an Uber for a meeting, and when the reminder pops up on your phone, it launches the app to book a cab. The destination address would already be there thanks to the calendar entry. LinkedIn could be an add-in to Outlook as well, so you get details about the people you are mailing.
The third-party add-ins won't be limited to just apps running on Windows 10 either - according to Microsoft, Office for iPhone and iPad will also support cross-platform add-ins.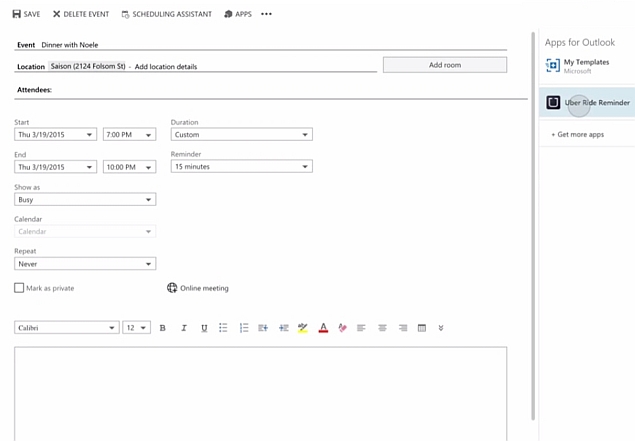 4. HoloLens is real, and runs Unity
Ever since the HoloLens was first shown by Microsoft in January, it's been taken back under wraps again. At Build however, Microsoft unveiled more details of how what it is calling 'holographic computing' will work, and says that HoloLens will run Windows 10 apps.
Universal Windows 10 apps will recognise HoloLens, and reconfigure the UI appropriately to support the device. They will "float" in your vision and can be moved to different positions - you can pin them to a surface or they can float around and follow you at a fixed point relative to you.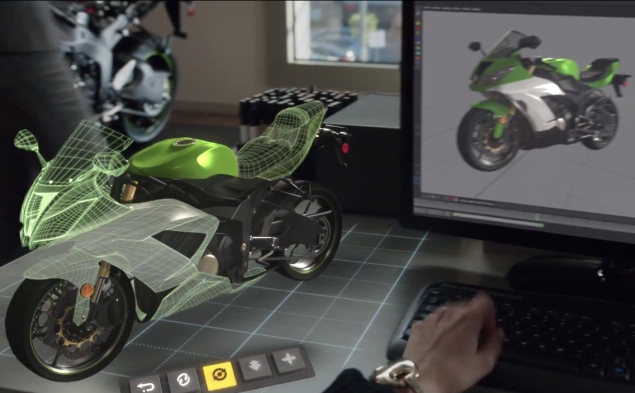 Even cooler, Hololens will support Unity, one of the better known game engines available today. In January, Microsoft had talked about Minecraft in augmented reality, but this announcement shows that the gaming possibilities for the device are going to be widespread and easily accessible to developers.
5. Internet Explorer makes way for Microsoft Edge
We have all known about Internet Explorer's eventual successor - Project Spartan - but the new browser now has a name. Internet Explorer is getting replaced by Microsoft Edge as Windows 10 default browser, and comes with some new features such as showing a site preview simply by hovering over its tab. Microsoft says it will also make it easy for developers to port extensions across from Chrome over to Edge.
The browser will feature Cortana integration, and a built in reading list, and it will be the default browser for Windows 10.
6. Carrier billing - on all devices
For people in countries like India where most people don't have credit cards, it's extremely important for companies to come up with alternative systems of payment. So Microsoft's announcement that all Windows devices will now support carrier billing is a pretty big deal. Windows Phone users already have this option but now you'll be able to buy apps and games from the Windows Store without a credit or debit card, if your carrier allows it of course. In India, Windows Phone users already had this option via Idea, and Nokia has partnered with Vodafone, Airtel and Reliance in the past.
7. Windows Store apps are seeing big changes - for the better
The Windows Store was an interesting concept but it wasn't really useful if you were a PC user. That's because the Modern-UI apps on the Store weren't really well suited for multitasking on a full computer like a desktop PC or a laptop. The Store is going through some big changes now however.
Microsoft says that now any website can be listed inside the Windows Store, as part of the Windows 10 universal framework. This would mean that the same app could be loaded on different devices from a phone to a PC to HoloLens, and would also be able to add support for in-app purchases, and Cortana notifications.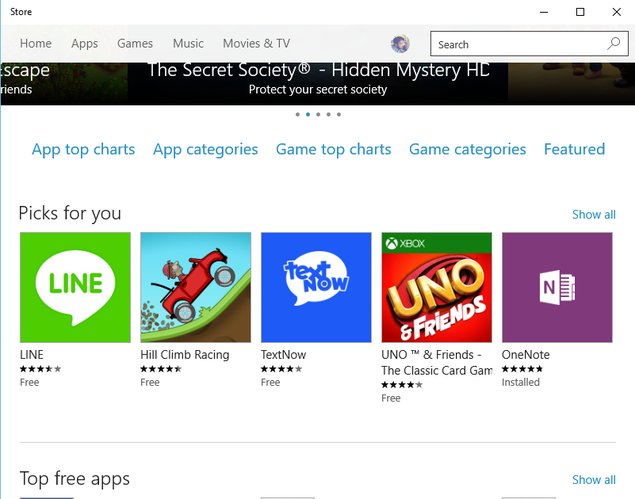 The other big change is that Desktop apps are coming to the Windows Store - this means that you could get all the programs you actually need from one place for a change. This will also be useful for developers who want to enable software features through in-app purchases, and for ensuring the users can easily download updates to apps.
8. Aero Glass and an upgraded Cortana for the latest Windows Preview
Microsoft also kicked off a new stage in the preview process for Windows 10. The newest preview is called the Insider Preview, and includes many new features including an upgraded version of Cortana. The UI also gets an overhaul, and features Windows 7's Aero Glass design. This design will be shared with half the users of the Insider Preview, to test and identify what users really prefer.
Cortana will also be activated every time you start typing in the Start menu, and can now answer more questions, powered by Bing.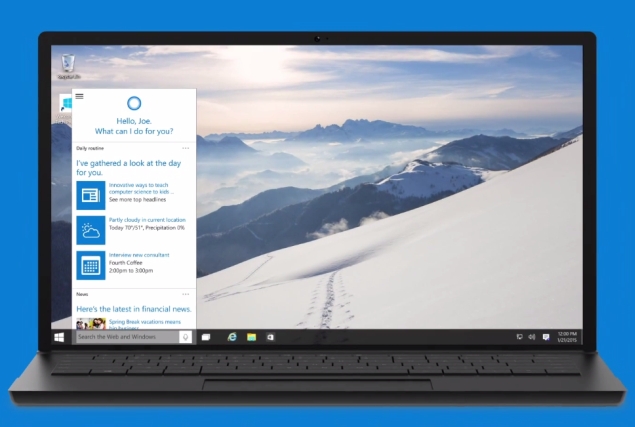 9. Visual Studio, now on Mac and Linux
At Build, Microsoft also unveiled the first version of Visual Studio for Mac and Linux. Called Visual Studio Code, it is available from Wednesday and will allow developers to make .NET code on these platforms as well. This is the first time that Microsoft has released versions of the development software for any other platform, and shows how the company is working hard to be as inclusive as possible. The company has also released the .NET Core for Mac and Linux.
10. Ad supported Windows?
Microsoft is also promising a new - optional - lock screen for Windows 10 that will change over time to show you the information that you need at a glance. It sounds like a smarter version of the Start screen we have with Windows 8, and will also include links for apps you should download. This could eventually be used for ads - Mircrosoft already does that in the Xbox One interface - though for now at least it looks like the company is simply looking for ways to push people towards the Windows Store.
These were the 10 biggest announcements we thought Microsoft made at Build 2015. What did you think was the most important announcement yet at the conference? Tell us via the comments.