After acquiring Divide, a startup that helps companies manage the mobile devices, Google is now said to have closed the deal on another startup dubbed Baarzo.
Baarzo is understood to be a 'true video search' service, as it describes itself on its page. It lets users find specific moments inside a video with the help of an auto detect feature for people, objects and actions. Baarzo's acquisition by Google is said to help the company improve its YouTube search feature.
While both the firms declined to comment on this matter when contacted by Techcrunch, a Facebook post in the group "IIT Guwahati Alumni Association" apparently confirmed the acquisition.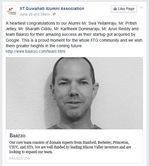 "A heartiest congratulations to our Alumni Mr. Siva Yellamraju, Mr. Pritish Jetley, Mr. Sharath Ciddu, Mr. Kartheek Dommaraju, Mr. Arun Reddy and team Baarzo for their amazing success as their startup got acquired by Google. This is a proud moment for the whole IITG community and we wish them greater heights in the coming future," stated the post.
If true, the buyout is a part of Google's recent acquisition spree, with the firm's Nest Labs last week confirmed to have bought home-monitoring camera startup Dropcam, which was reportedly bought for $555 million in cash. Nest and Dropcam confirmed the acquisition in separate blog posts but did not specify the price tag. Google declined to comment.
Google last month also acquired Divide, a startup that helps companies manage the mobile devices that employees are increasingly relying upon to get their work done. Financial terms of the acquisition were not disclosed. The deal is part of Google's effort to widen corporate usage of smartphones and tablets running on its mobile operating system, Android.
For the latest tech news and reviews, follow Gadgets 360 on Twitter, Facebook, and Google News. For the latest videos on gadgets and tech, subscribe to our YouTube channel.