On Monday, the Telecom Regulatory Authority of India (Trai) ruled against differential pricing - a concept the regulator described as "discriminatory" pricing. This regulation comes as a blow to Facebook's Free Basics program, something that the social network reportedly spent Rs. 300 crores to promote. While Twitter users in India by and large celebrated the ruling, many in Silicon Valley don't seem to be thrilled, if the tweets we're seeing on the subject are any indicator.
Perhaps most notable is Marc Andreessen, the American entrepreneur and Netscape co-founder, who's also the co-founder of Silicon Valley venture capital firm Andreessen Horowitz. Andreessen is also an investor in Facebook, and a member of the social network's Board of Directors. On Tuesday, Andreessen started sharing tweets by people complaining about the regulation - these generally stuck to one point, that people who can afford to pay for full Internet in India decided those who can't afford to be online at all should not be able to get free limited Internet.
There were other tweets - since deleted - which stressed this point, and suggested that some free Internet would be better than no Internet at all. Andreessen then tweeted "Leap of net neutrality from 'carriers shall not charge some content more' to 'poor people shall not get free partial Internet' = astounding." When someone replied to this to say that the way Facebook pushed Free Basics in India was in a 'colonial' fashion, he replied, "Another in a long line of economically suicidal decisions made by the Indian government against its own citizens." He also described this regulation as "morally wrong".
In a since deleted tweet [pictured below] Andreessen then said "Anti-colonialism has been economically catastrophic for the Indian people for decades. Why stop now?" Later though, he posted "And for the record, I am opposed to colonialism, in any country."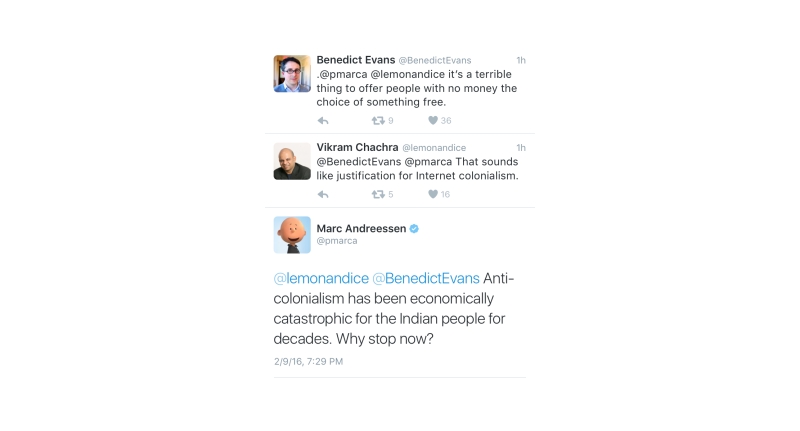 But Andreessen is not the only Silicon Valley luminary who has been tweeting against the Trai regulation. Mobile analyst Benedict Evans, who also works for Andreesen Horowitz, was quick to double down on this train of thought. He tweeted "Indian economic growth after independence was very slow, due to socialist & autarkic [sic] policies that partly reacted v colonialism".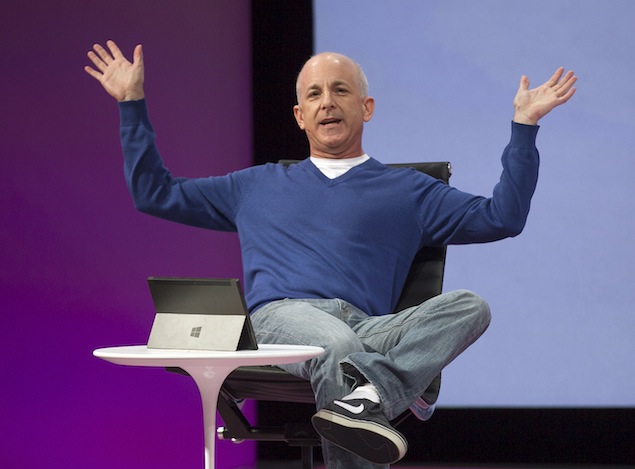 He also argued that there is "no such thing as a 'neutral' network". His Andreeseen Horowitz colleague Steven Sinofsky, who was formerly the President of the Windows Division at Microsoft, went a step further and wrote a long post on Medium, arguing that some free Internet is better than no Internet. In his post, Sinofsky writes:
I have often wondered what would have happened had Indian entrepreneurs thought of this model first and offered it -- subsidizing connectivity for food delivery, job searches, or sharing biodatas. I think we'd have a very different discussion today. We would be celebrating the creativity and entrepreneurial spirit in India.
This of course misses the controversy around Airtel Zero though it's not fair to hold that against him. It does highlight one important issue though; that many of the commentators in the Valley are speaking from a position of relative ignorance about the events on the ground.
(Also see: 'Just Say No' to Internet.org: Tim Berners-Lee)
On the other side of the debate though, you have people like Tim Berners-Lee, the inventor of the World Wide Web, who tweeted "Well done India! passes strong #netneutrality rules, stands up for open Web." GigaOm founder Om Malik also wrote a post titled Nothing Is Free, Not Even Facebook Free Basics. There, he contextualises Free Basics against the backdrop of the British Raj, and talks about the concerns that they have
Co-founder and CEO Mark Zuckerberg or other senior executives have never discussed with me the responsibility and transparency of their algorithms from a social and cultural standpoint. What are the things he and Facebook won't do? Will they open up access to everyone, including rivals, to offer services on their platform, and will they offer an equal, bidirectional exchange of data to one and all under the mandates of open source? Can they promise that they won't use the information for targeting and advertising purposes?
These are actual questions that go beyond arguments of elitism, or statements that the loudest mob won. We're not arguing for or against zero rating here; merely that there is a distinct lack of information about the issues, and yet, hugely influential people with enormous followings are not hesitating to take a stand and make public statements.