Online store ThinkGeek is one of the best places to shop online when you're looking for things that are a little out of the ordinary. Want a tie that mimics the 8-bit look of classic video games or a remote controlled helium filled shark? It is the place to go to. And every year, it also has a tradition of making up hilarious products that are listed on the site on April 1, presented with a straight face as the real deal. What's truly amazing is that some of the best ideas have become real products over time.
Take for instance the Tauntaun sleeping bag, which is designed to look like you're sleeping inside an animal from Star Wars: The Empire Strikes Back - much like what happened in the movie. There's also the iCade - an arcade cabinet style iPad cover, with a real joystick and buttons, to turn an iPad into a retro-gaming machine. Both these ideas were popular enough that they became actual products that are now sold on the site.
(Also see: Samsung and HTC both show off smart-gloves on April Fools' Day)
This year also has a number of really cool products, including a few that we'd really enjoy seeing in the real world.
Consider the NERF nuke! Described on the site as the NERF weapon to end all NERF wars, it's impossible not to see the appeal of what looks at first glance like a plastic porcupine. At the press of a button, the NERF nuke will fire off 80 foam darts in all directions, ensuring total domination! Or, you know, a couple of hours of cleaning up and tracking down the missing darts. Either way though, it sounds like it's too much fun to be true, and that's because it is.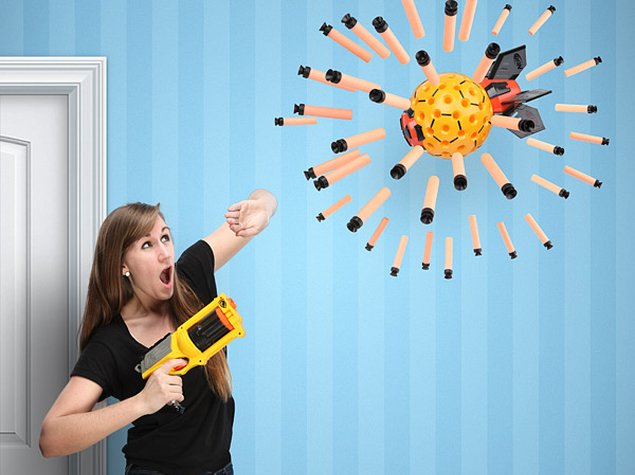 (Also see: Nokia 3310 given 41-megapixel camera upgrade on April Fools' Day)
The laser guided tactical necktie is another cool idea - if you've ever worn a tie and wondered what this useless piece of cloth was good for, then this is the tie for you. With a segmented MOLLE system design like an army backpack, you can easily carry stuff like mints or your keys in the hidden pouch behind the tie, while the tip of the tie includes a laser pointer - so you never have trouble with a presentation.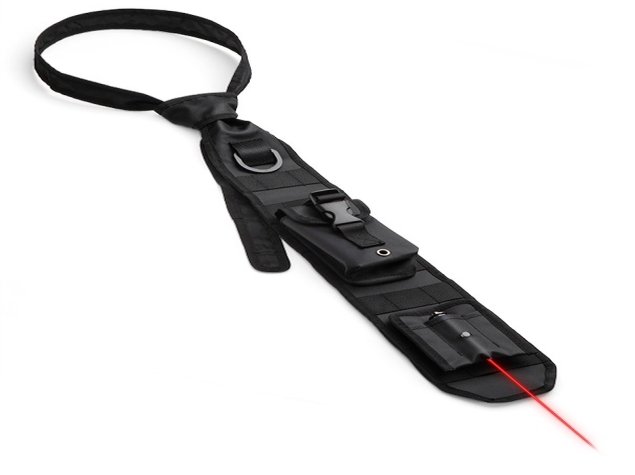 (Also see: Google's April Fools' Day pranks: From Gmail Shelfies to Pokemon Maps and more)
Meanwhile, the Das Can-in-Stein is simply pure genius. It's a simple scaffolding to slip a beer can into, with a steel lid on top, turning any beer can (or Pepsi if you prefer) into a stein with a hinged lid! Does that sound silly? Yes! Does it make you feel awesome? Definitely!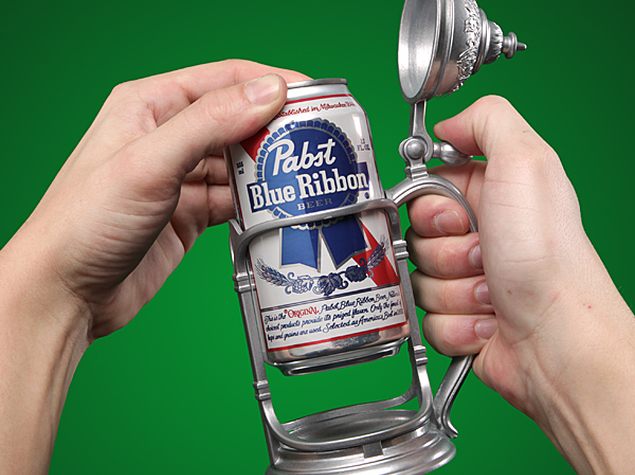 Some of the other cool products "released" by Thinkgeek on April Fools' Day include a LED spellcasting staff, which lights up and plays audio depending on how you're holding it, a frisbee shaped like the Starship Enterprise, and our favourite, the Mr. Beard beard machine.
That last one lets you use k-cup style pods, and all you need to do is put your face in a mask, and come out with an instant, sprayed on beard in the style that you chose, such as the Fu Manchu, Green Arrow, Freddie Mercury, Handlebar and Thinkgeek Founder.
It's a really funny idea, but the first three we mentioned have a real chance of becoming things we can all buy if enough people say so on the site, so everyone should visit ThinkGeek and vote for the NERF nuke today!