When you think about online education, you probably think of government schemes to bring education to people in remote villages, or you think of international sites like
Khan Academy
and
Coursera
, which are used for continuing or supplementing education. However, these international sites aren't very relevant when you're looking for tools that will help your kids with her school exams. There are however, several Indian sites which cater specifically to this need, with coursework and questions tailored around the Indian curriculum.
These sites - designed to be used by schoolchildren, their parents and teachers - offer everything from coursework to testing and virtual classrooms. Perhaps the most visible name in the category is Meritnation, thanks to its television ad campaign. Formed in 2009, the company now advertises a total of 6.7 million and growing list of registered students on its website and reported an operating revenue of Rs. 20.28 crores in 2013-2014. Having raised Rs. 71.5 crores from Info Edge (which owns 55.81 percent of the stake in the company) in multiple rounds, it now plans to expand even more into the smaller cities in India.
Pavan Chauhan, MD and co-founder of Meritnation says that over the last few years, there has been a rise in the student populace flocking to them. And why wouldn't they? A wide variety of choices, better connect with teachers and other students, and even getting tailor-made coaching all for a low price - or at times even free - have started to draw audiences towards them. This, combined with the ease of accessibility via mobile devices helps sweeten the deal further for students.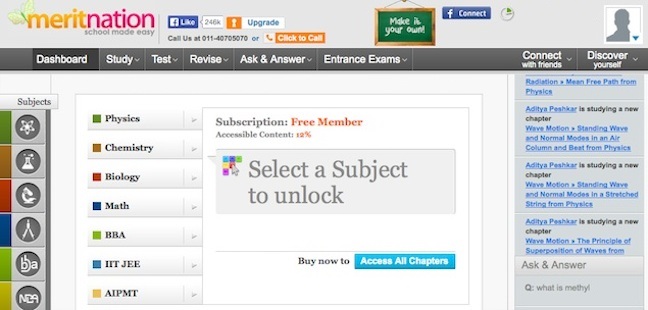 Not everyone agrees. Take the case of 44-year-old Neelima Sengupta who is mother to a 13-year-old girl studying in Delhi. Sengupta's daughter [name withheld on request], is now in the eighth standard and has been attending private tuition classes for the last two years. After seeing the ads on television, she decided to sign up on Meritnation as a free member, to see if it can be useful for her child.
(Also see: How One App Enabled Entrepreneurship in a Gujarat School)
"The site is initially very confusing," Sengupta says. "There's a lot of different sections and the first time I logged in, there was so much in front of me that I just closed the site," she admits. But after that, she went back to the site, and discovered that it's possible to find a lot of content such as lessons, model tests and videos.
"Most of it is locked for paid members, and after spending some time on the site I realised it wasn't for us," she adds, saying, "because my daughter doesn't have the discipline that's required for something like this. You have to be motivated to make use of this site, and she's always trying to avoid her classes. [With private tuition classes] at least she has to go and sit in a room, and so she ends up having to learn things."
But Sengupta's experience isn't typical - one of her daughter's friends, Amrita is a paid user. Her mother, Ranjani [last name withheld on request], says, "These days, you don't want to send off your child to a stranger's place for tuitions, and if you call a teacher over, you have to be home all the time. For us, Meritnation was very convenient, because Amrita can log in every day from home by herself, and we can monitor her progress at night. There are safeguards on the computer which let her visit only sites from an approved list, which is much better than having to take her to tuitions every day. And my husband and I also are more involved in her studies this way, which is important to us."
Meritnation, of course, is just one of the players in this increasingly crowded market, which includes players like like Testbook, Gradestack and even companies with a physical presence, like the Aakash Institute have entered the space.
This year, a total of over 10.2 lakh students took the class XII CBSE exams in India. Another 1.5 lakh students took the ICSE exam in the country and abroad, and over 66,000 students took the ICE examination in India and abroad. And these numbers do not include the state boards. According to Global Information Inc., the Global Market for eLearning is set to reach $169 billion by 2018.

What's on offer?
To say that online education sites will remove the interpersonal relationship between students and teachers is a gross mistake. Because for most of the online education portals the idea is to take coaching to the masses. This combined with facilities like online testing, real time results, providing counselling specific to the students problems and also giving animated as well as interactive lectures in the form of videos are just some of the things that sites are doing now in India.
Take the case of the recently started online portal, Testbook. Started six months back by six IIT graduates, the website offers students wanting to appear for exams like the GATE, SBI PO, and the SBI Clerk exams a chance to take mock tests. Not only that, but it provides analysis of the students' exam results, giving them part by part feedback about weaknesses and strengths. The best part is it is free - the founders say that they are building a subscriber base for now, and will bring in paid premium features over time.
"We wanted to help students preparing for these exams," says Ashutosh Kumar, one of the founders of Testbook. "A lot of them do not have access to give the mock tests online, or even if they do there is no way to compare and check the same against a very wide population base. That is what we wanted to change."
Six months after the beta version of Testbook went live, the service now has over 28,000 registered users, who have solved a total of over nine lakh questions.
"There is a difference between a traditional coaching class, which conducts test series and an online portal," says Kumar. "For one, not all students are the same and neither is their ability to grasp the concepts. An online portal allows for a tailor made solution, unique to each student. We analyse the student's responses, [and] if a student cannot answer a difficult question the following questions are easier so that he or she can first work on the basic concepts. The results can then be analysed after the test is over."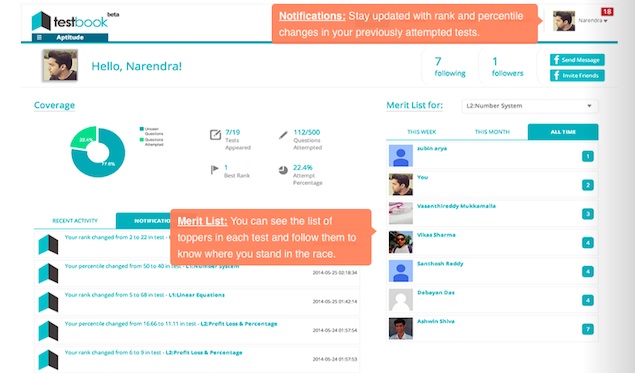 A relatively new player in the market is Gradestack, which allows users to choose from a wide variety of courses beginning from class 11 and 12 exams to higher education.
(Also see: Empowering rural India, 160 characters at a time)
Explaining how online education portals have evolved in the last five years, Meritnation's Chauhan says that there was a definite market as well as need to reach out to students and provide them with that extra edge for their academic life.
"One of the most important question that we wanted to address was, can we take coaching to a student's desktop or laptop or mobile device and provide them the ease of learning with a tailor-made solution for their needs. Meritnation began with the idea of bringing a more interactive education format that could be easily assimilated by the students," he says. "Along with the mock tests also came online tutorial, videos, animations and a lot more that helped in making the learning more interactive. Besides all the various boards, the state boards, central board and the ICSE board have different syllabi and accordingly need to be prepared for in an interactive manner so that the students can benefit from it."
Taking coaching online isn't restricted to the digital startups either. Aakash Educational Services Limited is better known for its brick and mortar coaching centres, but the company recently launched a service called iConnect. Barely 20-days after launch, it had already seen over 3000 students sign up.

Aakash Chaudhry, founder, Aakash Educational Services Ltd, says, "We really wanted to move on from the actual classrooms to the virtual ones. There was a solid reason behind it too. We wanted to connect to children studying in remote areas, who were talented but did not have access to quality education for these exams. Also we wanted to give the students both in the urban areas as well as the remote ones the freedom to choose what subjects or what sections of the subjects were their main problem areas so that they could just concentrate on those sections."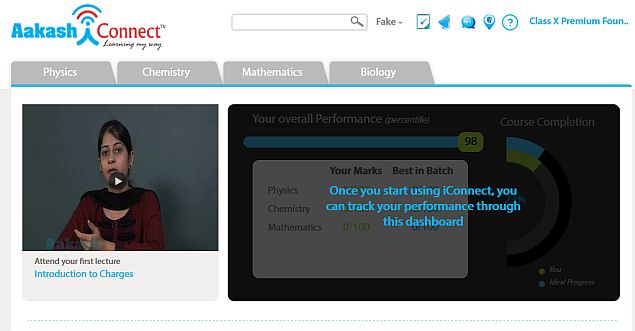 A complete coaching package is available for Rs. 10,999 for entrance exams - that is a pretty high price, but if a student is weak in just a few modules in certain subjects, they have the option of getting individual modules instead. A student can choose to study just one particular topic for only Rs. 99. The packages not only include the online study materials but also have full tutorial videos, which have a teacher explaining the entire chapter. After that there is the assessment section where the student is tested and results calibrated on a national level with others who have taken the same exam.
"Students can also avail for help from experts via posting their queries online. They have the option to like a video or dislike it too if they do not find it easy enough to understand," Chaudhry says. Also on offer is a 14-day free trial period where the students can register and see whether the services are good for them. "If they like it they can pay for the syllabi coaching they want, " he adds.
The fact that offline coaching centres are making a move online shows that the category is going to be very important in the future of education. As the number of Internet users in India continues to grow, this market will only grow bigger.