The average attention span of a user is now less than 8 seconds, according to research carried out by Microsoft in May 2015. Social networks like Twitter and Vine cater to our diminished attention spans by offering snack sized text and or video. Now there's a startup from India that's looking to do the same for music. It's pretty easy to share your favourite songs, thanks to a number of platforms such as SoundCloud, Saavn, or even YouTube - but people don't usually have the time to listen to a full song. That's where Trbble - which lets you share short snippets of music - comes in.
Trbble has three three ex-ZipDial employees in its team of four (Praveen Chandran, Saket Vangara, Gaurav Sharma, and Vinay Mimani), who quit their day jobs in 2015 to work fulltime on a portal where you can discover new songs by listening to their best parts. In a conversation with Gadgets 360, Saket Vangara shared the story of how the website came together, and future plans for the service.
"Few people have the time and energy to patiently sample hundreds of tracks to make a music playlist," Vangara says, explaining the core value proposition of the service. Trbble currently relies on SoundCloud's catalog, and provides a user-generated list of songs that can be sorted on recency, and popularity. The interface lets users quickly tap into a music lover's playlist, or listen to snippets based on genres like Rock, Pop, Electronic, Metal, Folk, and Bollywood.
The idea is simple - anyone can add snippets (or Trbbles) from SoundCloud to the network, which is shared for other users to discover new music from. In this way, Trbble becomes a way to showcase your taste in music and share it with friends; and to do so in bite-sized doses, so that people will be more willing to engage with the content.
The snippets can be between 30 to 42 seconds, and Trbble doesn't have to deal with any copyright issues since it hosts no content on its own servers, and streams it from SoundCloud instead. "We don't host anything, and just use the open APIs that SoundCloud gives us," says Vangara. Users can search and create Trbbles to these tracks, unless the artist has specified that the content not be played outside of SoundCloud. This gives them access to a huge library of music, across a wide variety of genres.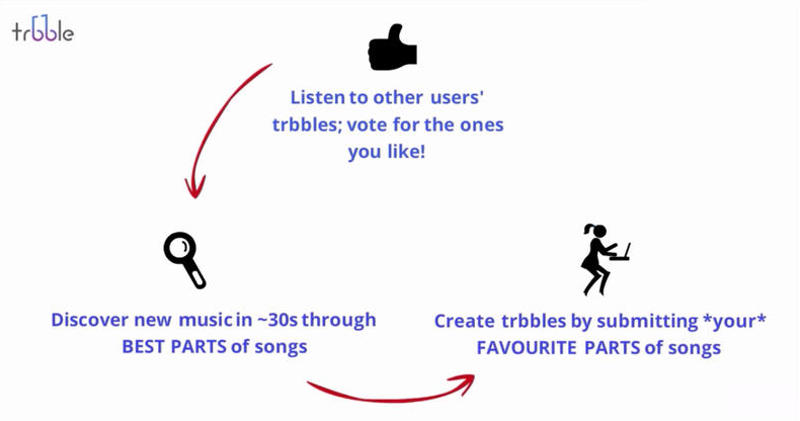 The most upvoted song on Trbble is The Sound of This Nation by Sapta, an Indian electro band from Chennai, recommended by co-founder Vinay Mimani, who goes by the handle Wiredmau5. It's a great example of how human curation can help in discovering an obscure track from bands and musicians that never got prime time airplay.
Users can also add their own Trbbles to their favourite tracks, as long as they're on Soundcloud, and they can also describe the track on the basis of around 40 moods, which adds a second data point apart from the genre. The idea behind the feature is to know a user's music tastes, so that the website can recommend tracks to the user in the future, Vangara explains.
Vinay Mimani, who was working as a product manager at ZipDial, and is a part-time musician, came up with the idea of the website when listening to an Aerosoul track. "It was the best part of the song -- the earworm, the hook, the essence! While humming this tune over and over again, he had an epiphany -- why not use the best part of his songs to attract people to listen to his compositions -- people would not mind investing 30 to 40 seconds, plus, if people like the best part, maybe they won't mind listening to the entire song?" Vangara asks.
People are more likely to try out different genres and new artists if they don't need to invest a lot of time into discovering new music. That ties in with the kind of content that's available on SoundCloud as well - it's got a lot of the songs from established artists to get you started, and a huge collection of indie content as well, to explore and discover new tracks.
Mimani managed to sell the idea to two of his co-workers at Zipdial - Praveen Chandran and Saket Vangara - sometime during May 2015, after roping in Gaurav Sharma, his college friend and batchmate from National Institute of Technology, Kurukshetra. After quitting their jobs in July 2015, the team mapped out deliverables and timelines, and shipped the first version of their product in November. The team was working right till the eve of the launch, to iron out all the bugs before being featured on Product Hunt, which exposed it a global audience of product geeks and music lovers. "We ended up being the third best product of the day with over 500 votes to our name," says Vangara.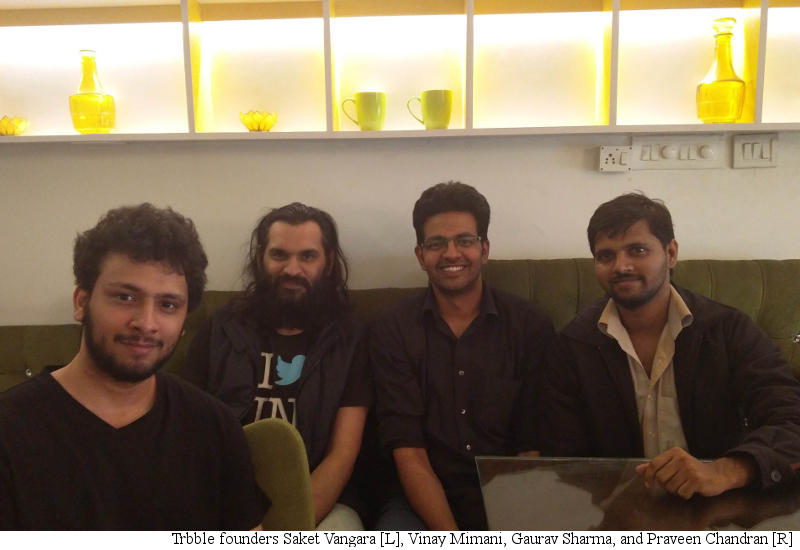 The startup plans to integrate other music streaming services, and is exploring how it can integrate songs on YouTube, much like lyrics annotation service Rap Genius. "The eventual vision is that we will be aggregating from a catalogue partner and we send users back to them. The entire backend is made such that we can plug and play different partners as and when they come," Vangara says.
"If you connect your SoundCloud account, we do that for songs in your SoundCloud favourites," Vangara says, adding that over 900 Trbbles on its network have been created by users so far. "This is the in thing in music - human curation is becoming really important," he adds.
All the music tracks listed on the home page are the product have been created by humans, while Trbble is able to automatically recommend the best part using its algorithms when users search for a track. As of now though, there's not much else to Trbble - it doesn't really have much by way of social functions or gamification; just the core of a good idea, about sharing song snippets. If it's going to grow, it's going to have to evolve too, but the little we've seen so far is interesting.