With wearables, tablets, and ultra-sleek laptops hogging the spotlight, it's easy to forget that Razer had its beginnings in gaming peripherals, most notably the Boomslang mouse when the company launched back in 1998.
Razer might have diversified into several product lines, but it hasn't forgotten its roots in computer peripherals. It recently launched the BlackWidow Chroma, DeathAdder Chroma and Kraken 7.1 Chroma. Aside from being a mouthful to pronounce, these are a keyboard, mouse, and headset respectively. There's also a 19-button MMO mouse, the Naga Epic Chroma, if that suits your gaming better.
The lineup is so named due to the multicolour LEDs used in each product. In conjunction with Razer's Synapse software you can customise your gaming experience with a wide gamut of colours - there are 16.8 million possible colour values to choose from. Aside from the all-but-obvious benefits of letting you distinguish between keys and illuminate relevant hotkeys in a pinch, this functionality lets you customise your gear as per your play style and personality. This can set your gear apart from the rest without laser etching, stickers,and decals.
We managed to take the BlackWidow, DeathAdder and Kraken 7.1 for a spin and the results were...intriguing.
Razer Kraken 7.1 Chroma
The Kraken 7.1 Chroma sports faux leather pads and circumaural cups that do a good job of preventing any leakage of sound. More importantly, they're extremely comfortable for extended gaming sessions.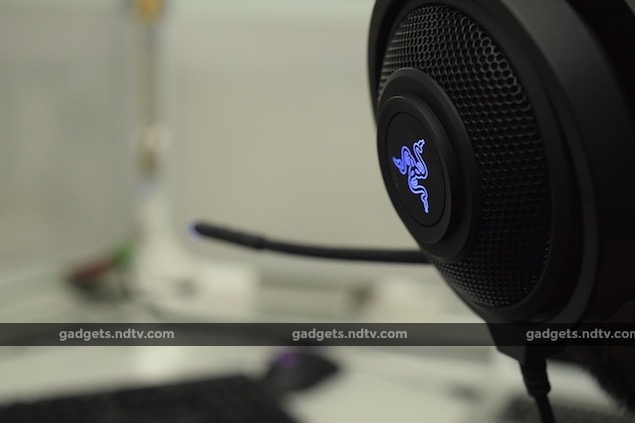 The mic filters out background noise reasonably well. It can also be pointed in any direction and detached if need be. The latter is a welcome feature since this pair of headphones works with Android devices and the PlayStation 4 as well.
However using it with either robs you of the surround sound feature. This is because the Razer Synapse software to configure and use it is limited to PCs and Macs. Synapse itself is easy to use; configuring each virtual channel is a cinch and there's extended functionality such as being able to normalise audio feeds and filter voice communications.
Though the Kraken 7.1 Chroma passes muster when used for music or podcasts, it comes into its own when used for games. Figuring out where bullets flying past us were coming from in first-person shooters such as Counter-Strike and Titanfall using sound alone led to a more natural, intuitive experience making the proceedings a lot more fun.
In terms of lighting however, there's very little use in-game as you might have guessed. It's purely for cosmetic purposes. There's static lighting that lets you choose one of the milliions of colours. Alternatively, you can go with the breathing mode which allows you to set a colour that surges every seven seconds, or simply cycle through every hue - spectrum cycling, as Razer calls it.
Razer DeathAdder Chroma
Much like the Kraken, the DeathAdder Chroma has the same number of lighting options. Well, at least for the logo on it. The mouse's click wheel can only be configured to spectrum cycling or a static colour.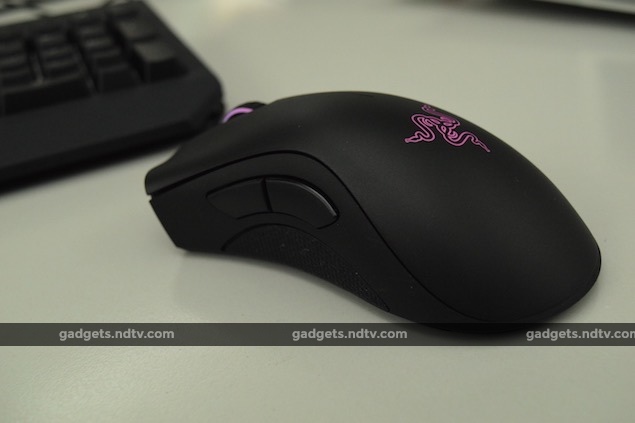 In terms of build quality, the DeathAdder Chroma is well constructed. There are rubber grips on the side that make it comfortable to hold, and the buttons make satisfying click sounds on contact. As for improvements, there's an increased level of sensitivity (10,000 DPI) versus older variants (6,400 DPI) that allows a greater degree of accuracy and speed in games. While the difference in sensitivity was only just about noticeable, it should give the twitch-shooter-aficionado enough to keep his or her mind at ease.
On the software side, in addition to the lighting customisation options mentioned above, there are a host of analytics as well. You can track which areas you've clicked the most in and visualise that information as heat maps, making it easy to pinpoint how to tweak the DeathAdder to your individual play style. It's a decent feature that works well with no glaring concerns.
Razer BlackWidow Chroma
The BlackWidow Chroma is a heavy, full-sized keyboard. It sports braided cables that don't tangle easily, as well as an audio jack for you to plug in a pair of headphones or speakers. It uses Razer's own custom mechanical switches rather than the Cherry MX Switches that many PC gamers swear by for their tactile feedback and the audible clicking that registers with every keystroke.
With travel distances, the speed of feedback and even the clicking being roughly the same, it's tough to tell the difference between the Razer BlackWidow Chroma and devices with Cherry MX Switches. For all practical purposes, the difference between this and rival keyboards sporting Cherry MX Switches such as the Corsair K70, is imperceptible.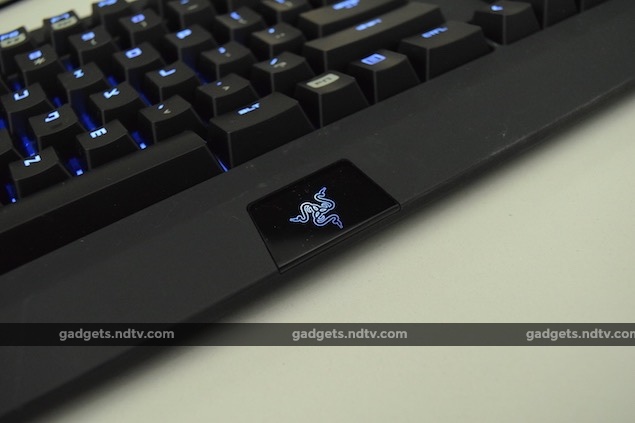 Due to its solid build quality, it's tough to find any fault with the BlackWidow's construction. It's well-built and made to last. On the software side however, things are a different matter. While Razer's Synapse software sports a neat interface and is easy to use, it lacks any kind of depth beyond customising the lights per key. If you expect to be able to chain together lighting states on each key after hitting a specific set of keystrokes, such as a calling down a hulking robot in Titanfall, and then having the button for your special moves light up, you won't be able to here. This is something the K70 manages to do well enough thanks to the software it comes with.
On the positive side, you still have all the lighting options present on the Kraken and the DeathAdder, along with a reactive option that lights up keys when pressed. Also, there's a wave lighting option that sweeps colours across the keyboard in the direction of your choice.
Being able to customise each key's lighting is handy if you're the sort who forgets the slew of hotkeys used in games such as World of WarCraft and DOTA 2, as you can light them up individually to give you an edge when you most need it. What would really make this keyboard shine, if you can excuse the pun, is wide developer adoption of Razer's open Chroma SDK. Canny game developers have the ability to create custom lighting effects for their titles. This would give the games and the hardware a little bit of an edge in cases where added illumination is welcome but not entirely necessary.
Verdict
The Chroma series represents an interesting evolution for a product category that's gone beyond backlights and single-colour LEDs to an abundance of colour.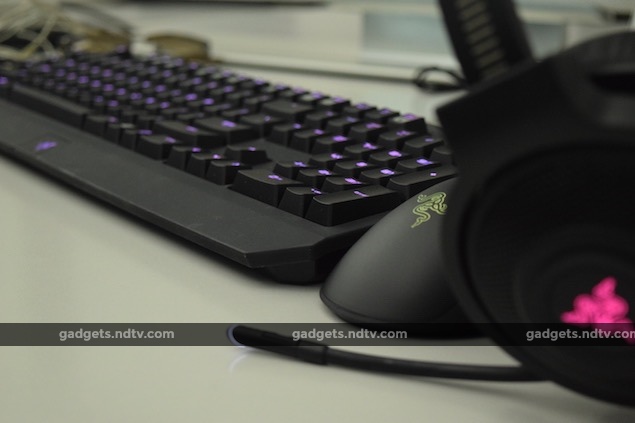 If you find yourself with more than one Razer Chroma device, you can sync your lighting preferences in moments. That is however, if you find their prices digestible enough to own one of them, let alone more than one. At Rs. 4,599 for the DeathAdder Chroma, Rs. 9,999 for the Kraken 7.1 Chroma and Rs. 13,999 for the BlackWidow Chroma, they aren't exactly cheap.
With the same amount of money, a solid state drive or graphics card upgrade would have a lot more impact on your gaming. But if you have it all and still want more, there's no reason you can't splurge on this trio of Razer's latest and greatest.