Space simulation games have been in the news of late, and not for good reasons either. Be it Star Citizen's long drawn and very public development controversy, or the underlying sigh that punctuates every display of No Man's Sky, the fact is that these are games of grand ambition and scale, that want to put you inside a vast galaxy to explore and immerse yourself in. The sheer scope and size is quite frankly why they have no firm release date.
And then there's Elite: Dangerous for the Xbox One. Much like the aforementioned games, it too, is a space simulator. There isn't much of an underlying narrative or sweeping story. You're thrown into a vast open galaxy with a small ship and very little money with the objective of surviving and perhaps even thriving in space. You can resort to piracy, assassinations, trading, and bounty hunting among other means to get by. And you won't be alone: depending on how you decide to play, you'll occupy the same space as other real players.
The game shows up on the Xbox One, one after Microsoft announced at E3 2015 that it would be coming to the console, via its newly instituted Xbox Game Preview Program (think Steam's Early Access model but for consoles). Prior to this it was exclusive to PC after a successful Kickstarter campaign. Is the game what you'd expect on console? The answer is both yes and no.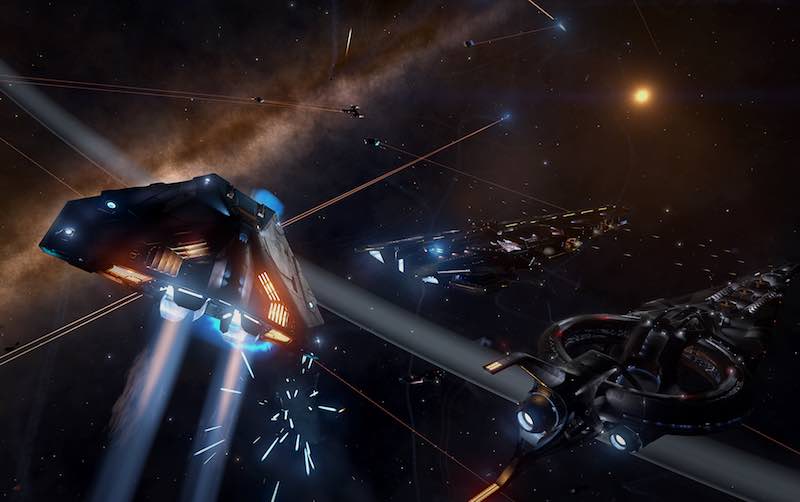 (Also see: PC Gaming Show at E3 2015: Gears of War Ultimate Edition, No Man's Sky, and More)
Your first few hours of Elite: Dangerous are an exercise in patience. You'll come to terms with the game's control scheme, learn the intricacies involved in landing and docking your ship, and experience dogfights in space. The game's tutorials are rather sparse. To learn basic concepts such as increasing and decreasing the speed of your ship, you need to watch videos on YouTube, prior to even taking on the first tutorial. It isn't the easiest game to get into.
Thankfully, the developers have included links to YouTube that open in Internet Explorer on the Xbox One to help you get by. Even then, if you were expecting a smooth, free flowing introduction to space, you might want to temper your expectations and prepare to be schooled. Once you're done grasping the basics, you're flung into space, randomly spawning on one of the many star systems in-game. Start by launching your ship out from a space station, or engaging enemy fighters, or plying a trade route, and you'll realise the sheer scale of the game.
Vast swathes of space occupy a large chunk of the proceedings. You'll spend at least 10 to 15 minutes getting to your destination, and when you do, you'll have to explore even further to find exactly what you're looking for, whether you're hunting pirates, or delivering materials. You really feel the sense of scale thanks to the distance. Elite: Dangerous is set in a near replica of the Milky Way with its 400 billion star systems complete with asteroids, planets, and procedurally generated events.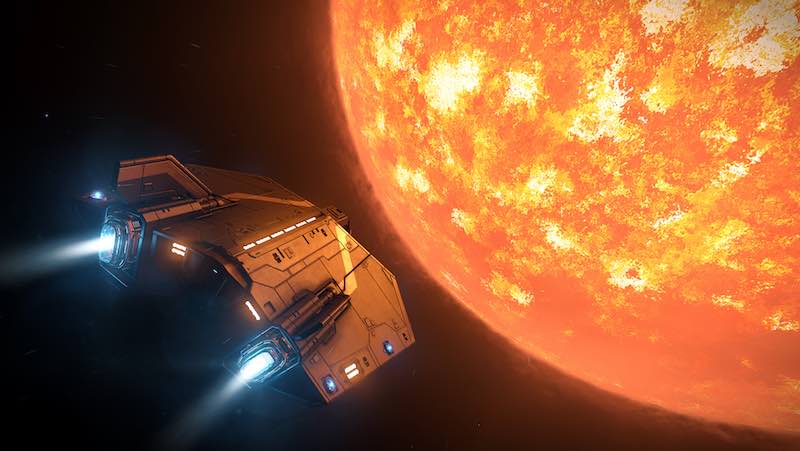 With the game giving you such a wide area to traverse, it's easy to get overwhelmed or lost. And you often will be lost. More often than not, the best way to play Elite: Dangerous is with a lot of caution. To begin with, taking on a bunch of small tasks and slowly acquiring better weapons and ship parts is a shrewd move. Combined with the slow pace of missions (thanks to the time it takes to travel from one part of the galaxy to another) the game quickly devolves into tedium.
However it's the kind of grinding gameplay that had us coming back for more. You see, Elite: Dangerous is steeped in detail. From the immense amount of information you can glean via the many menus on your ship, to the bulletin boards of its numerous space ports that keep you abreast of what's going on across star systems, you really feel like a speck in a grand, living, breathing cosmos.
At times you're a speck firing laser beams. While you can peacefully get by in Elite: Dangerous by plying as a space merchant, the combat is exhilarating. There's an emphasis on shifting power distribution at the right time. So if you find yourself at the back of an opposing vessel, diverting your power to weapons allows you to hit it with a fatal barrage of shots that would yield an easy victory. On the run from persistent space pirates? Divert power to your engines for a speedy escape.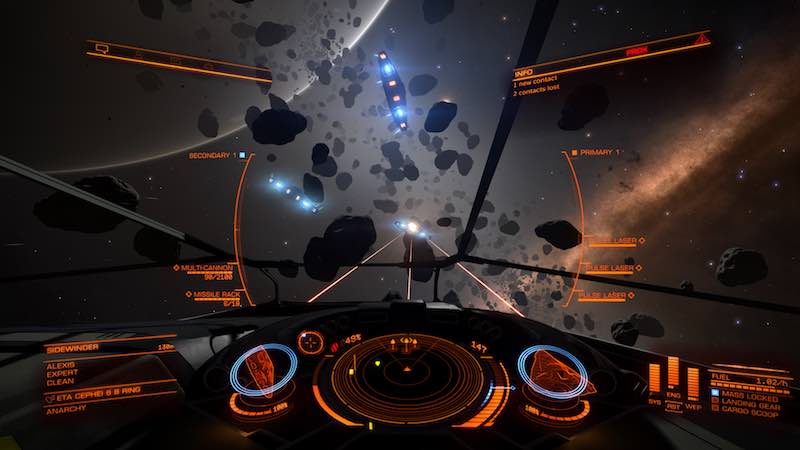 Combat is when Elite: Dangerous truly comes alive, and that's something creator Frontier Developments understands. So much so that it has included a multiplayer combat component for players to take part in. Dubbed the CQC Championship (CQC stands for Close Quarters Combat) this mode has you pilot ships in small confined zones, such as asteroid belts, looking to get the better of your opposition. Here everyone has similar ships with a few tweaks to account for different weaponry.
For most part it plays like a twitchy, fast-paced counterpart to the slow, deliberate combat of the main game. It's easy to get into and sports the usual multiplayer modes we know and love such as deathmatch, team deathmatch, and capture the flag. Our experience in CQC Championship has been smooth and if that changes drastically post-release we will update our review accordingly.
(Also see: Dreadnought Is Team Fortress 2 With Giant Spaceships)
Much like Diablo 3 on PC, Elite: Dangerous is always online. While this might be a deal breaker for some, especially in countries like India where Internet access isn't the greatest, it's a necessity to prevent players from cheating since they share the same game world. You might wonder how this would impact a closed system like the Xbox One, it's because the PC and Xbox One version will share the same narrative, economy, diplomacy and galactic power states, all of which can be affected and influenced by players on all platforms. Having one of them offline upsets the vision of a shared universe.
With a fantastic sense of scale, attention to detail, great combat, and an ambitious vision of a shared universe make Elite: Dangerous well worth checking out. But its let down by punishing opening hours and tedious pacing. If you can stomach these, you'll find an entire cosmos begging to be explored.
Pros

Epic sense of scale
Space combat is fun
Great attention to detail
Cons

Tough to get into
Missions feel dragged out
Slow pacing
Rating (out of 10): 7
We played a review copy of Elite: Dangerous on the Xbox One, it's available digitally on the Xbox Game Store at Rs. 1,540 and is a 5.32GB download.