Ashes of the Singularity, a new sci-fi real-time strategy (RTS) game, is set in the year 2178 wherein the human civilisation after having achieved technological singularity has moved out into the galaxy. Now called Post-Humans, they have settled themselves on other planets but face a new threat from within: their own AI gone rogue, leading a force called the Substrate. But why is it turning on them? That's where Ashes' problems originate. An unimaginative story based on a heavily overused trope (humans vs AI), led and narrated by characters who are never seen, communicate exclusively via text messages and have the personality of a toaster.
It's quite bland, and unfortunately this lack of imagination carries itself over into the single-player campaign. The missions - there are only a dozen- don't connect with each other and there is no central protagonist to follow. It all feels a little too detached, like engaging yourself in an extended tutorial, without ever exploring if there is even a plot at its core.
If you are able to ignore the absence of a well-thought story though, you will realise that the Ashes campaign is designed to ease you into the game mechanics. A single type of unit in any RTS - no matter how many - is no match for a group of units that fill in each other's weaknesses. That's true with Ashes too - instead of piling this all at the start, the game introduces units and scenarios as you go on.
By doing this, it allows you to grasp the fundamentals of Ashes and not only understand how each unit functions on its own, but also the best way to use and pair them in battle. Ashes isn't concerned with clever micro-management though. It's about forming huge armies while maintaining the right balance that lets you outnumber and outwit your enemy. Go soft on either size or strategy, and you'll find yourself wiped out from the battlefield. And the game wants you to do this on half a dozen fronts. The thing is, the game's units get slower as they get bigger and stronger. Add to that the humongous size of the maps, and you'll very quickly realise that if you aren't already present on one stage, you aren't going to get there in time to save the day.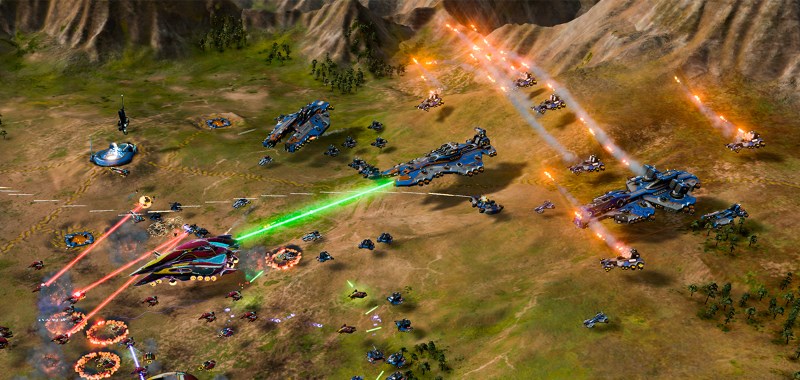 (Also see: XCOM 2 Review: Better than the original?)
The game was part of Steam Early Access, but it feels unfinished even now, after release. For example, though the maps possess considerable variety in terms of terrain, there is a consistent lack of detail to the textures and it all ends up looking rather dull.
The hovering space robots that are your units fare much better in comparison. Even from a full zoomed out perspective, the different types of units are distinguishable; and when you zoom in all the way, you can tell - more so on the highest detail setting - a lot of work has gone in to model the units.
All of this can't make up for the half-baked campaign though, and the best way to enjoy Ashes ought to be its skirmish or multiplayer game modes. There's a specially built tutorial for players who are only interested in these modes, and though the 45-minute mission won't delve into the intricacies, it should serve as a good enough starting point to jump into Post-Human versus Substrate battles.
The game' focus on military action is a good thing, and the only resource cultivation is akin to that of Relic's Company of Heroes (CoH). To control a region, you must capture its corresponding power generator, which gives you access to the resources in its vicinity. As with munitions and fuel in Company of Heroes, Ashes gives you metal and radioactives which are required for most units. You can even construct a small building to increase your output, just like CoH. You also need to make sure all the regions under your control are linked to each other, or they won't contribute to the economy. Things change a little beyond that, starting with off-the-map abilities.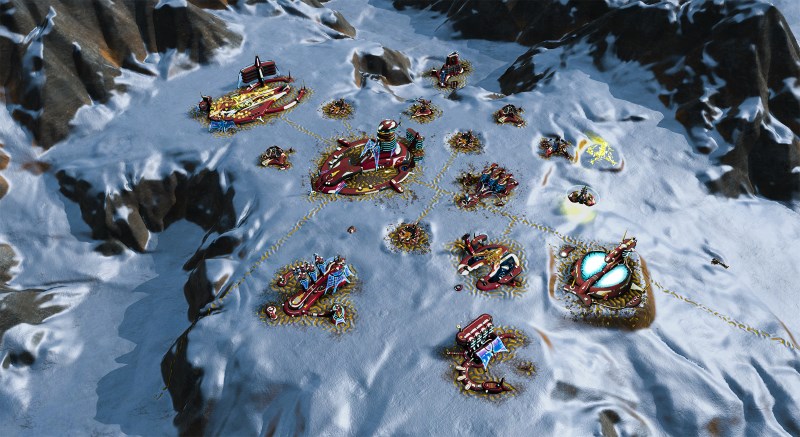 With CoH, war points earned through fighting give you access to higher powers, which then cut into your other resources upon activation. Ashes treats thing a little differently and linearly, putting the entire focus on a third variable termed "Quanta" - harvested by specialised towers that you can build anywhere - which can then be used to upgrade the size and capabilities of our army, or to call down actions from the sky.
But as is with CoH more or less, all these tasks are handled by the game's only civilian unit: the engineer. Where the game differentiates itself is how it asks players to handle the two main resources: metal and radioactives. Both have a forced cap, and instead of letting you collect as much of the two as you like, Ashes is designed to be a continuously moving economy wherein you are always thinking about how to best spend what you have to build up your army. Either that, or it all goes to waste after a point.
And to help you get better, the game will tell you via statistics at the end of a mission how well you managed to be consistently productive and not sit on your bottom, so to speak.
Good, but no game-changer
Ashes is evidently inspired by the likes of Supreme Commander, Total Annihilation, and Company of Heroes, but fails to match up to their greatness, let alone spearhead a new direction. It places more emphasis on the overall strategy rather than the individual on the battlefield - which for some is a good thing - and wants you to treat units as expendable forces. But for a game focusing on battles amongst huge armies, the limited number of units is startling.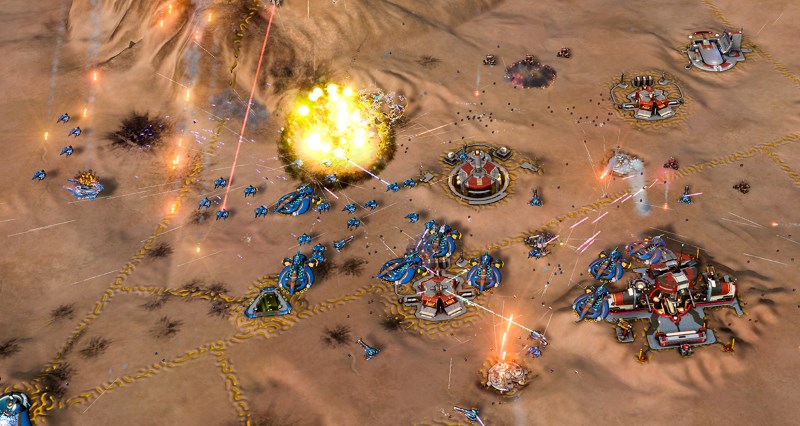 And while it's commendable that the team at Oxide Studios - with the help of DirectX 12 on Windows 10 - have engineered a RTS game that can manage thousands of units without bogging down the system (the one we used had a 4th-gen Core i7, Nvidia GTX 760 and 16GB RAM), technical achievements do not necessarily contribute to a greater gaming experience.
For what it's worth, the AI is designed intelligently and adapts quite well. It is good at identifying your weaknesses and responding with a force that stresses on those points. At the same time, it never makes you feel that you couldn't have averted the disaster and plugged in the holes, which is proof of a well-programmed difficulty curve. Outside of its lacklustre campaign, Ashes of the Singularity has the framework for thoroughly engaging matchups but the final product fails to land a convincing argument.
Pros:

Strategy over reaction
Intelligent AI
Cons:

Lacklustre campaign mode and story
Limited number of units
Drab environment design
Rating (out of 10): 6
We played a review copy of Ashes of the Singularity on the PC. The game is available on Steam at Rs. 989.
Affiliate links may be automatically generated - see our ethics statement for details.