Not content with unveiling the quirky L.Y.N.X. 9 at CES 2015, Mad Catz announced the S.U.R.F.R, a controller that manages to cram a full QWERTY keyboard, and mouse pointer input along with a smartphone clip for Android device.
Furthermore it includes palm grips for comfort, trigger buttons, and will be available in three colours when it retails in May for $79.99 (roughly Rs. 5,000). There are integrated media controls as well which makes the Mad Catz S.U.R.F.R extend its use beyond gaming, allowing you to surf, text or navigate media.
"Today's living room is rapidly evolving beyond proprietary cable boxes and gaming consoles. While consumers continue to gravitate towards connected devices as their preferred platform for streaming digital media content, gaming, surfing the web and social media, current controllers just don't deliver on the experience they desire. The S.U.R.F.R has been designed to get the most out of these different devices we are now accustomed to in our daily lives," said Darren Richardson, President and Chief Executive Officer of Mad Catz.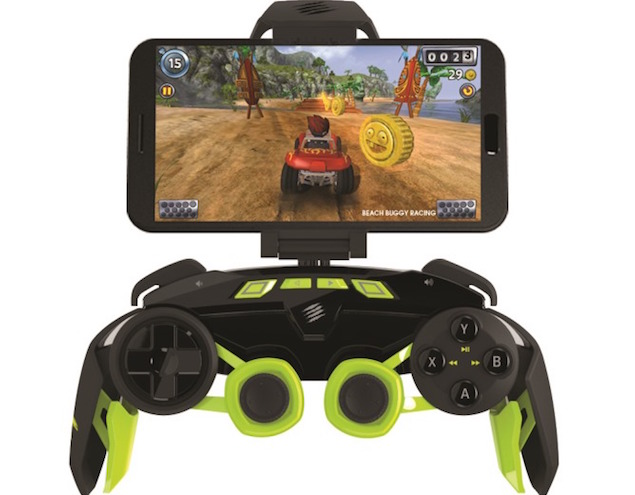 In addition to this, the company also announced the L.Y.N.X. 3 (pictured above). It's a smaller version of the Mad Catz L.Y.N.X. 9 shown off at CES 2015 sporting the same fold-out design. It retains the console controller layout and phone holder but forgoes the keyboard and tablet holder of its bigger brother. The L.Y.N.X. 3 will retail for $69.99 (roughly Rs. 4,300) and be available in May.

MWC 2015 in Pictures
For the latest tech news and reviews, follow Gadgets 360 on Twitter, Facebook, and Google News. For the latest videos on gadgets and tech, subscribe to our YouTube channel.
Further reading:
L.Y.N.X. 3
,
LYNX 3
,
MWC
,
MWC 2015
,
Mad Catz
,
Mad Catz L.Y.N.X. 3
,
Mad Catz SURFR
,
S.U.R.F.R
,
controller
,
game controller
,
gamepad
,
peripherals