Although the world might know Unravel from its rather emotional presentation at E3 2015, life for the Electronic Arts-published physics platformer began, of all places, at a wedding.
A friend of Martin Sahlin, creative director at indie developer Coldwood Interactive, was singing Björk's "Unravel". The song's opening lines: "While you are away, my heart comes undone / Slowly unravels, in a ball of yarn" got Sahlin to think about creating a video game where the bonds between people were real physical bonds.
"So that was the moment where it was all born," Sahlin tells Gadgets 360 over a Skype call. Meanwhile, the game's protagonist Yarny, an adorable made-of-yarn character the size of your phone, which along with his maker has been the recipient of much Internet love over the last year, came to life on a camping trip in Sweden.
"The character and the theme of the game were the first things created. And the gameplay sort of developed as I created this yarn doll, and started playing with it [on the trip]. That was basically when I figured out more about how the game would feel, what types of abilities he would have," adds Sahlin.
(Also see: Unravel to Launch for PS4, Xbox One, and PC on February 9)
In Unravel, the player controls Yarny, who loses yarn as he walks and must complete his journey without fully unravelling. Although the yarn will be a factor in some chapters and require you to take a strategic approach, Sahlin and his team have used it sparingly to avoid gamer frustration. Moreover, the yarn isn't merely a gameplay tool, as can be deduced from the game's origins.
"It is definitely a symbol, of course," he explains. The yarn represents love, and the puzzles and problems players will face in-game are a representation of the difficulties you must overcome to reach people in your life. As people grow older, they make less of an effort to stay in touch with their loved ones. With that, being all by yourself can easily be the other side of the coin. And that's something Sahlin wanted to explore with Unravel.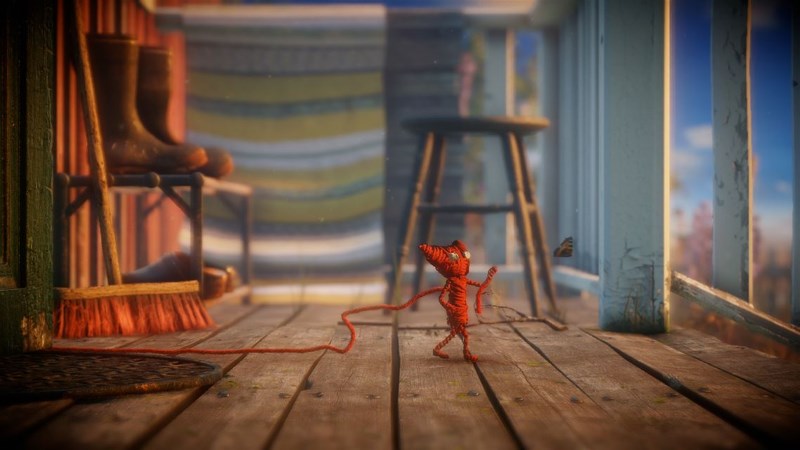 "Loneliness is definitely part of [Yarny's journey]. We didn't want it to be just cute and sweet, we wanted it to have a certain sadness as well because, you know, we have all longed for someone sometime. And that's I guess what the game symbolises to me in many ways - just longing for someone," says Sahlin. "I guess it's slightly related to" - he sighs deeply at this point, and then explains it in words - "the fear of ending up alone or something like that. And the realisation that these bonds can be very strong if we look after them, if we take care of them but it does take effort."
On the game design front, the team at Coldwood has worked hard to translate these emotions into challenging yet moving adventures. Sahlin talks about how they have tried to bring something unique to every level and assign a slightly different tone to each part of the journey while making do with the same core set of tools. One way this has been achieved is by introducing new mechanics and puzzle types. The other has been to run Yarny's story arc in parallel with seasons. Unravel starts off in summer, moving onto autumn and then winter. The tone of the levels has been coupled with the same flow, and hence the game gets "a bit darker and colder" as you progress.
At the same time, it's been a challenge for the makers to achieve gameplay balance. "Trying to make it difficult enough to be rewarding and satisfying but not so difficult that it becomes intimidating. We've done lots and lots of play-testing to make sure that the point we want to make come across to players. It shouldn't get lost in frustration or confusion," says Sahlin.
Sahlin has been at Coldwood Interactive for 15 years. He says he has worked with the same bunch of people, but concedes there has been definitely been change. What started as them just being content with developing anything and having a blast has evolved over time. They had bigger creative ambitions, wanted bigger challenges and to tell better stories. Considering the mild success Coldwood Interactive has seen over the years with the various sports games, it was all the more important for Sahlin and his team to give it their all with Unravel.
In Electronic Arts, Sahlin says, they got someone who gave them the right reasons to work together. "They were very honest about the fact that they don't really need a game like ours financially but they need a game like ours creatively. They really love what it's about, they love the theme. And that was what I wanted to hear from them. It's our little passion project, so it's kinda nice to know that it's their passion project as well," he adds.
(Also see: EA Ditches E3 for Its Own Fan-Focused Event)
And with the help of Henrik Oja and Frida Johansson, two local composers who have a studio right across the street from Coldwood's office in Umeå, Sweden, they were able to complement the country's dramatically beautiful landscapes found in Unravel with music that's inspired by the locale. "So we looked at a lot of old folk music melodies, traditional instruments and tried to bring that into the game. And it just clicked so very well," he says. Owing to the composers' close presence, Sahlin could just walk over there with game footage. "I could tell them this is the mood, this is the story, this is what happens and can you make it sound like that. And then we could just go back and forth, and iterate and try things," he adds.