Mobile game development in India often boils down to cloning popular genres like endless runners, re-skinning familiar games to act as film tie-ins, or some other form of unimaginative cash grab. There are a few exceptions that fit outside this mould, but you don't see too many companies trying to build something new from the ground up.
Mech Mocha's Puppet Punch is one such exception, and it is a refreshingly fresh take on the seemingly exhausted action genre. The game puts you in the shoes - or should we say gloves - of a boy called Pablo as he punches the living daylights out of an assortment of puppets and demons. For the most part you're just punching away, but there are power-ups you can use ranging from spider webs that hold enemies in place, to bombs you toss to cause major damage.
The gameplay may not be completely unique, but it's a fresh take and not a clone either. And unlike most other casual, free-to-play titles, Puppet Punch also deserves praise for its art style, which you'll be able to see in motion for yourself when the game officially launches on iOS on January 29.
We caught up with Arpita Kapoor, co-founder of Mech Mocha, to find out what it took to get its debut game out on the App Store.
Taking inspiration, but making it their own
Mech Mocha's journey began at IIIT-Gwalior, where Kapoor and Mohit Rangaraju (her co-founder) studied. The two were and still are avid gamers and they love mobile games.
"We were inspired by Jetpack Joyride and Fruit Ninja," says Kapoor. "The former had different control schemes for each vehicle. Here [in Puppet Punch] each piece of headgear which serves as a power-up needs different interactions on-screen. The idea was to create an action game with slick controls and no realistic violence."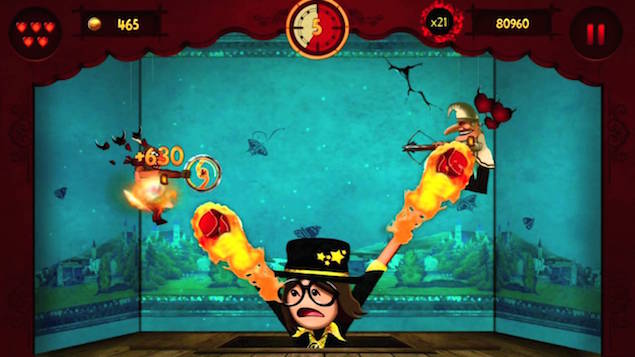 The art style is inspired from the representation of puppets from different cultures and regions across the world such Japan, China, India, and Europe. This is why the game really looks unique. Kapoor says the audience for action games is a niche because the games are usually violent, and the controls challenging. Puppet Punch doesn't need you to plan out the trajectory of your shots, the way other games in the genre like Defender II do - instead, you just tap the screen to punch. The cheerful art style further sets it apart.
"With Puppet Punch we wanted to make a game for people who don't play action games," says Kapoor. "Through the art style we want them to take notice and with the controls, give it a chance to be played. [This will help] the genre to expand on mobile devices."
Levelling up
Going from students at IIIT to running their own development studio did not happen overnight of course. While still students, Kapoor and Rangaraju interned at BlueGiant Interactive, a Hyderabad-based studio responsible for real-time strategy game APOX. While the game itself was subject to mediocre reviews, it was a good learning experience for the duo.
"APOX was not a clone and it showed that games from India can be [made to] a certain quality," says Kapoor. "The internship helped in understanding development and design. It was crucial since neither Mohit nor I come from a game design background but we wanted to learn how to make good games."
After that start, the two received the International Game Developers Association (IGDA) Scholarship in 2011, and got to attend the Game Developer's Conference (GDC) in San Francisco. Kapoor says the entire scholarship was a great learning opportunity, and that the GDC exposed the team to how game development took place abroad.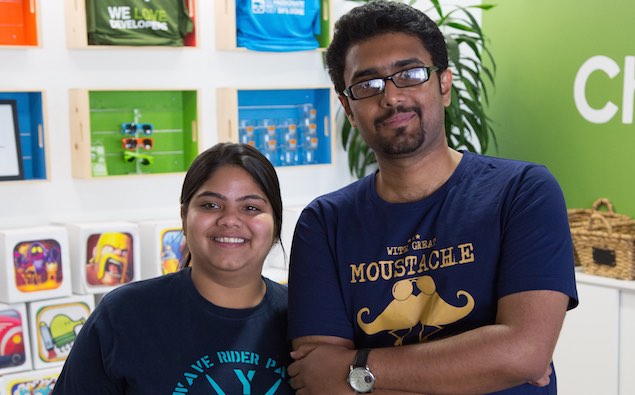 "We compared this to what people make in India and we felt the need to do better," she said.
In November 2012, the two were part of the IIIT's incubator, but the funds did not come in time. Rather than sacrifice on quality to bring a release, the two decided to look for investments instead. The problem was that investors would come for meetings because they liked what they saw of Puppet Punch, but weren't convinced that the company could grow beyond one game.
"We were extremely passionate about the game but we lacked the vision to start with," says Kapoor. "Investors did not see how it could scale. We had to show them the bigger picture and convince them there's more to [Mech Mocha] than just Puppet Punch."
Finally, they pitched the idea of Puppet Punch to iAccelerator, the tech accelerator of CIIE, IIM-A. This resulted in a three-month long incubation at the development stage of the game. "It was at this point that we were taught to think like a company instead of two people making a game," Kapoor says. "How to sustain and build a business were a huge part of it as well."

Mech Mocha's time at iAccelerator proved useful, as the company was able to raise funds from Sanjay Mehta, a member of both Indian Angel Network and Mumbai Angels; Devendra Parulekar, partner at Ernst & Young; and Ravi Trivedi, founder of Srijan Capital.
Getting published
Typically, a developer makes a game. A publisher handles everything else. While the process of publishing a game has gotten simpler with the advent of mobile app marketplaces, many developers still prefer to partner with a publisher. Mech Mocha was looking for one as well, but came up with a predictable problem - their game might stand out and look interesting, but that meant it wasn't familiar enough to be seen as a safe investment.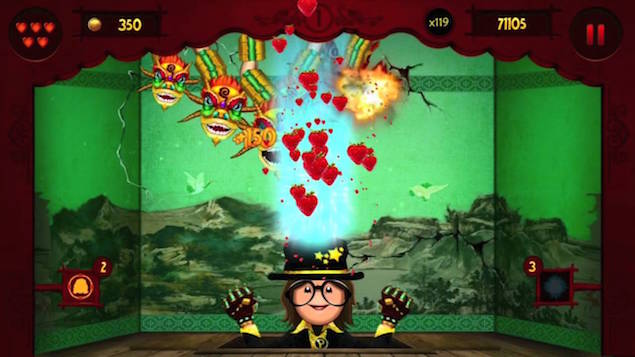 "Publishers think in terms of risk. If you give them something similar to Clash of Clans, they will publish it because that's still popular," says Kapoor. "If I was in their situation, I'd do just that. Give people what they want without risking new mechanics or presentation, it doesn't make sense for them."
"Most publishers viewed at the art direction to be culturally intrinsic and that it would limit the game's appeal," she adds, saying, "They felt that elements of the game such as octopus and hydra puppets were not something the west was keen on seeing."
Mobile development requires a constant stream of content and spending on user acquisition - essential for a free to play game to make money, and this would take a heavy investment. Eventually, Mech Mocha landed a deal with Kedoo Games, run by erstwhile Glu Mobile employees. It's a new Dubai-based company that has published a few Android games in the past. Puppet Punch will be its first foray into iOS territory.
"They think like a start-up and understand us," says Kapoor. "Their purview includes user acquisition, ad spends, and App Store-related requirements, allowing us to work on consumer facing marketing efforts and making a better game."
Soft launch learnings
Puppet Punch had a soft launch limited to India, Canada, New Zealand, Indonesia, and Sweden in order to iron out any possible concerns before its launch in bigger markets like the US. Along the way, they've made tweaks and solved issues with game balance that come only when players have played for an extended period of time. They also discovered something that surprised them.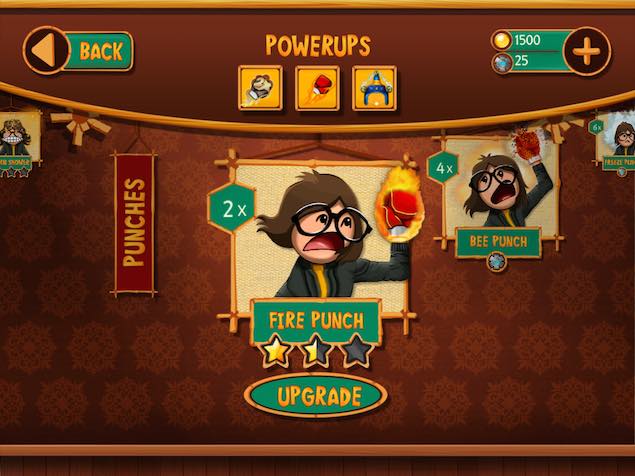 "Although we felt the game was casual enough, data revealed that we needed a tutorial and requisite handholding for players," says Kapoor. "[we need to ] explain what each new feature they unlock actually does. It was necessary to get players onboard and to keep them playing."
Between the small tweaks and the big challenges of getting funded and finding a publisher, Mech Mocha has finally gotten ready to officially launch its first iOS game. According to Kapoor, after a one month window, the team will move on to Android and Windows Phone, and if the game performs well, then hopefully, it can move to consoles using the Kinect and perhaps the Wii U too. If they can actually make the jump to consoles, then they'll have truly come a long way from playing Fruit Ninja endlessly in college.