Gunkatana is a upcoming indie game that wears its influences on its sleeve. There's a top-down view with a pixelated look similar to Hotline Miami, and a combat system influenced by The Matrix. Yet it manages to appear fresh despite its various inspirations. Gadgets 360 spoke to Gunkatana creator Geraldo Nascimento on what to expect from this cyberpunk-styled action game.
"I won't deny that the movie-term [Gunkata, from Equilibrium] was an influence when coming up with the game's name," says Nascimento. "Like The Matrix, Equilibrium's acrobatic gunplay is something we channel with Gunkatana."
"Gunkatana is a passion project. After years trying to develop a story based game from the blank void of my soul and failing miserably, I decided to explore game mechanics," Nascimento says, talking about the game's origins. "One of my big inspirations is indie dev Jason Rohrer [of Diamond Trust of London fame]. He finds ways of eliciting emotions purely through game mechanics, without any story," he adds. "With that in mind, I started creating what would become Gunkatana as a pure action game, with frenetic combat. And all of it on my free time."
(Also see: If You're a Matrix Nerd, You Need To Watch Jupiter Ascending)
The attention garnered at gaming events in and around London where Nascimento lives gave him the impetus to give up his day job in mobile development and work on Gunkatana full time. Since then, he's gotten willing collaborators together to help him bring the game to life.
"The excitement in players' faces made me realize we had a shot at crafting something people loved and so I quit my job and am now pursuing the game's development full time," he says.
Although it's very unique, Gunkatana is visually similar to Hotline Miami. While other developers would worry that it would make it tough for would be consumers to distinguish between the two and realise what makes it different, Nascimento is unconcerned.
"Hotline Miami is definitely one of the big inspirations for Gunkatana, though not the only one. Visually, we're strongly influenced by 90s classics like Dreamweb and the original Grand Theft Auto," says Nascimento. "We look to a variety of classic arcade titles when designing Gunkatana, and infuse them with our own ideas. We welcome the Hotline Miami comparison and hope players will see through it and find out Gunkatana is really its own unique game with strong gameplay mechanics that set it apart from the rest."
(Also see: GTA V Machinima Brings Vice City to Los Santos)
The gameplay mechanics are what help Gunkatana stand out. With an emphasis on fast-paced combat, Nascimento has peppered each level with speed rails to allow for rapid, brutal slaughter.
"You grind on these turbo rails, laid out across the scenery, allowing you to deliver really fast kills," he explains. It's a mechanic he developed by accident, chasing The Matrix's speedy choreographed fight scenes.
"I'm a big fan of the [Matrix] trilogy, and when I attempted to implement wall running in the very first Gunkatana build, I accidentally created the speed rails. Turns out they're much more fun than what I was trying to achieve in the first place," he says.
Although the fast paced action is a selling point, there's also a strong focus on narrative as well, with the inclusion of a single-player campaign, that adds the needed backstory and lore.
"We've got a writer in the team, Sarah Schemke. She's fleshing out the game's storytelling underpinnings. Gunkatana's lore is fully realized and the playable characters have their own motivations and goals," Nascimento reveals. "Sarah is writing short stories that we'll share going forward. They'll bring Gunkatana to you beyond the game experience, we want you to relate with these characters and their plights."
Nascimento claims that Gunkatana's single player mode will have different set of goals with the aim of getting players acquainted and skilled with Gunkatana's mechanics. Multiplayer too has its fair share of variety.
"One example is what we call Blood Credits, where you have to kill and steal other players' credit chips to attain victory. It's great fun to see everyone going after the player with the most credits," he says.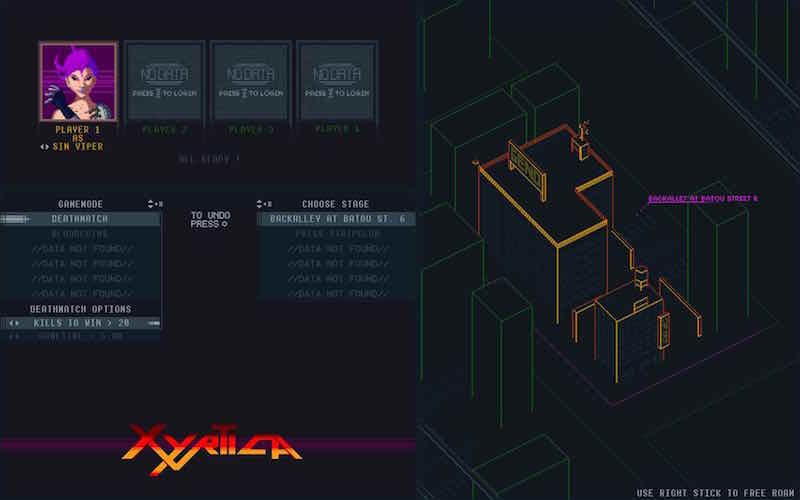 With a ton of influences and a mix of gameplay modes, we wondered where Nascimento and his team drew the line on what finally made the cut into Gunkatana's final design and what doesn't. Turns out it was more difficult than he originally imagined.
"After the initial phases of the game's development when we were sketching out more ideas and finding out what lies at the heart of Gunkatana, it became challenging to curb our desire to create more and more gameplay mechanics," he tells us. "You have to strive for balance and I always struggle between our game design and what makes the game so approachable and something you can master and become very skilled at."
"Feature creep can be a problem, especially once you feel more comfortable with your design, and want to expand on it," Nascimento adds. "That's where community feedback becomes so incredibly valuable. We have to strike a balance between enacting our design and discovering what will make Gunkatana appealing to the players."
And while Gunkatana is influenced by a host of movies, games, and other forms of media, it was the reaction from the community that drove Nascimento forward.
(Also see: Top 5 Indie Games You Should Play Right Now)
"The initial versions I built were played by people visiting multiplayer London Game Space events, and I'd gather their feedback and put that back into the game, if it made sense," he tells us. "I always enjoy coming back to an event after polishing a particular mechanic or issue and watching as people get more enjoyment out of the game. If someone's suggestion lights up my brain, I'm really happy to implement it."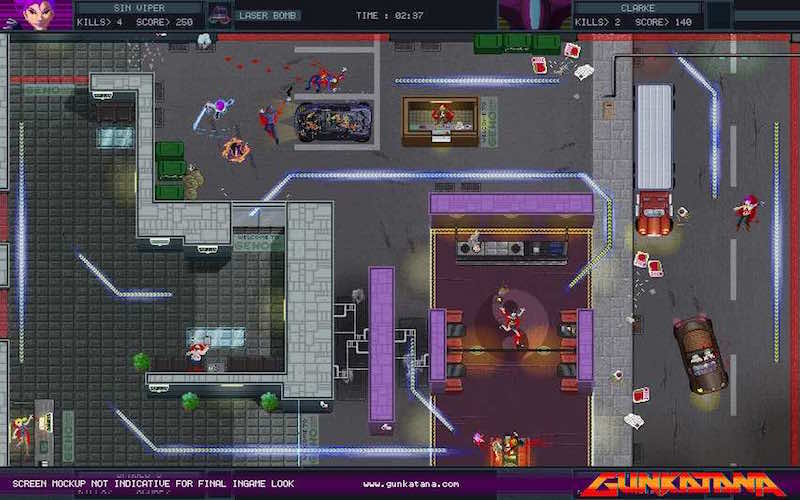 To Nascimento, the game "wouldn't exist as it is without that community feedback" making that a crucial component in the development process. So much so that going forward he wants to bring more players into the game's community and work with them to improve and polish Gunkatana.
Right now, the game is slated for release on Steam, but Nascimento is not ruling out the possibility of it hitting the PS4 and Xbox One.
"Technologically, there's nothing stopping us from delivering it to the console. Some steps have already been taken to ensure that a potential port would be quite smooth," he says. "This is one of the reasons we will be taking to Kickstarter during February, we'd love to take Gunkatana to consoles and bring its cyberpunk bloodshed gameplay to the living room."
With a Kickstarter launching this month, it will be interesting to see if Nascimento and his team will be able to make good on the game's 2016 release window. As it stands though, there appears to be more than enough to set it apart from the rest of the crowd.