Of the many games announced by Microsoft at E3 2015, one stood out for the sheer amount of humour it showcased. Zenith is an action role-playing game (RPG) developed in collaboration between Hamburg-based Infinigon and Bengaluru-based Holy Cow Productions. We spoke to Cristian Pastor and Goutham Dindukurthi, of Infinigon and Holy Cow respectively, to find out more about this collaboration.
The duo used to work together at Ubisoft Barcelona, on titles such as The Adventures of Tintin, ESPN Sports Connection, and The Crew. For Zenith, Infinigon worked on design, storyline, and art, while Holy Cow managed the programming, and a few character animations. The two tell NDTV Gadgets that the game has been in development for almost a year, and they proudly pointed out that the trailer showed in-game graphics, and not pre-rendered images.
(Also see: Lovely Planet Is the First Game Developed by an Indian for the Wii U and Xbox One)
"A beautiful CGI that can send the wrong message about Zenith. We showed them what we have and you can expect what you saw in the trailer: tons of humour, challenging puzzles and battles, and above all an epic story," says Dindukurthi. From subtle jabs at various role-playing game tropes, to over the top jokes, Zenith features more than enough to elicit a chuckle from even the most sombre gamer.
"Ours is not the "absurd" kind [of humour]. In our game you're not going to walk around throwing pies to your enemies, nor do we have evil dark lords wearing chicken hats or heart boxers (as enjoyable and legitimate as this style is!)," Pastor explains. "We follow a different path, with a solid story and a logical world. Humour is introduced in the game through many channels, which includes dialogues with secondary characters, remarks from Argus - the main character, when he witnesses certain situations or how certain events develop because of the unorthodox methods of the characters involved."
In addition to this, they count Final Fantasy, The Witcher, Baldur's Gate, and Fable as some of their inspirations. "When you look at these games with a logical eye, Zenith happens," Pastor says. "Because video game situations come out as really funny places when you bring common sense into the equation." That's why the world of Zenith is replete with fantasy sensibilities, along with a heady dose of steampunk. While purists might scoff at the mashing up of settings, the idea was to create something different, says Pastor.
"Zenith's world is our interpretation of a classic fantasy world like 'The Lord of the Rings 1000 years after the story', an epic world where the humans are using the magic powers and stones to do something more than killing orcs," Pastor says. "They learned how to use this power to create technology and improve life quality. In Zenith, the technology is based on magic but it`s mixed with advanced engineering or Mecano-Magicka. Of course, there are also some factions that are not feeling comfortable with this use of the magical powers. In essence, Zenith is a reflection of many other worlds that already do this, like Final Fantasy."
(Also see: Final Fantasy XV Episode Duscae Impressions: No Fun, No Fantasy)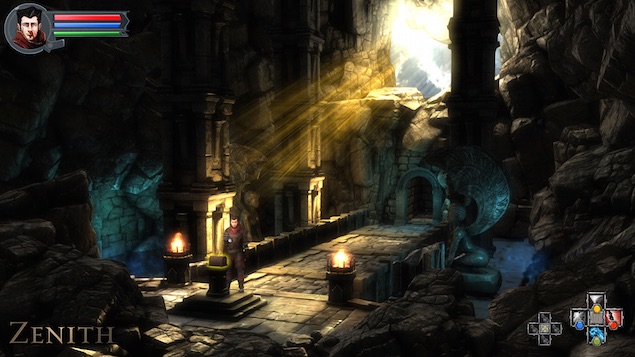 The game's description refers to the protagonist struggling with the "usual adventure... in an unusual way." It seems to imply that an element of choice exists in how the player approaches the game, similar to titles like Mass Effect or Deus Ex. Pastor clarifies however, that it's all about the humour.
"The game is more about the humour. It is based in the cynical point of view of our main character and the way he engages conflicting situations," he tells us. "We like to use this as an example: Imagine the Lord of the Rings but this time it's Dr. House, who needs to destroy the ring! What would happen then? How he is going to assume this terrible responsibility? How will he react in front of the classic situations of life or death? Argus is not quite like Dr. House but Dr. House is a fine example for this question since he has such a strong and bitter character that he redefines the whole story that happens around him by merely being there. And Zenith is the usual setting but full of very peculiar and strong-minded characters that live the story their own way."
It's an ambitious idea, as it the fact that the two teams together add up to a fraction of the manpower that is typically behind most RPGs of this scale. It's all the more interesting to see work for the game being done in India, considering that Dindukurthi admits that the genre isn't popular here.
"It is true that India isn't a big RPG market but I think we have been lucky at Holy Cow to find people passionate enough in the genre," he says. "We did take our time to hire as we were looking for that deep interest in video games in candidates as much as their talent in game development itself. Maybe the Indian gamers don't like or just don't have time to play RPGs but the people who have been studying for a long time to work in the video games industry because of their love for the trade, usually love the RPG genre."
(Also see: Make in India, Not (Only) for India, Says Lakshya Digital)
Dindukurthi also singled out Microsoft's commitment towards indie developers.
"Our experience with Microsoft has been quite good so far and they have been really helpful. From the beginning, they gave us all that we needed to publish our game for the Xbox without any hassle. In fact, Microsoft announced our game on the YouTube channel during E3 2015. We are very pleased that a lot of people now know about Zenith, thanks to Microsoft's promotions," he says.
But if you're not an Xbox One owner, fret not. Zenith will be making it to PC and PS4 as well though they could not commit as to when exactly except stating it would be out "soon". The pricing for the game hasn't been decided at this juncture either.
With RPGs being a dime a dozen these days, it's refreshing to see some developers taking an alternate portrayal on the genre. It's even nicer to know that part of the work has been happening right here in India.