One of the best things about Android devices is the ease with which you can add a new keyboard application, replacing the ones that your phone or tablet come with. This can range from the truly weird, such as a rotary keyboard where you dial in the characters you want to type, to fairly standard keyboards with a few useful tweaks.
The Adaptxt Keyboard (now at version 3.0) falls into the latter category, and it's a paid app, costing Rs. 99 to buy. What do you get for your money?
A feature that the makers are keen to highlight is that the keyboard uses location data to know where in the world you are, and then populates your autocorrect dictionary with local landmarks. The keyboard can then quickly predict street names and landmarks - the problem is that you have to enter the names manually for the first time but if you find yourself frequently having to type your address in mails and messages, for example, then this can be a very handy feature.
A cool feature on the list is application-based suggestions, where the keyboard stores different profiles for different apps, to make suggestions suited to your style when using a particular app. This assumes that you are more casual when using apps like Facebook and Twitter, for example, and more formal in email. It's a good idea in general, but it was hard to see the impact without resorting to "txt-spk". Adaptxt can also pick up the names of your contacts from the different apps that you're connected to.
The keyboard also has a Swype-style swipe to type option, called Glide, so you can type by swiping your finger across the keyboard. It's reasonably fast and accurate as well, but it seemed to be a little less accurate than Swype in informal testing of "The quick brown fox jumps over the lazy dog." It's not a major difference though, and if you prefer Adaptxt overall and want the swipe to type function, then you won't have any problems with it, as such.
Another cool function is the availability of multiple keyboard layouts - the app has the standard Qwerty layout as the default, but you can choose a 12-key layout, which is essentially your standard grid of 1-9, with a bottom row of *, 0 and #. With this, you can type the way you used to on feature phones, so if you're comfortable with that method, then you don't need to learn a new keyboard layout. Glide does not work in 12-key mode, of course.
There are various themes, including light and dark modes, to choose from and the shift key gives you quick access to numbers, punctuations marks, and even a smile emoticon. Yes, it sounds stupid, but a lot of people (including this reporter, admittedly) do send smileys when texting, really often.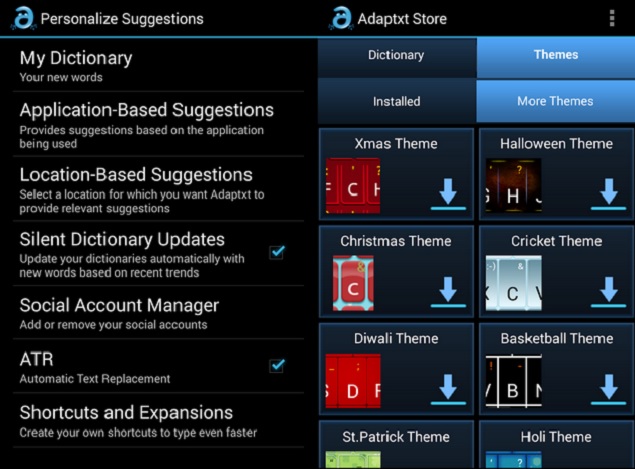 We tested this app on a slightly older phone - the Sony Xperia Z - and found that it was a little slow at times, but overall, the performance difference from another custom keyboard like Swype was really minimal, so that shouldn't be a major issue. The Xperia Z was a really powerful phone at launch though, and if you're using something that isn't a fast performer to begin with, then you might want to rethink this app. To see how the keyboard performs on your phone, try the trial version first - it is a 30 day trial but that's also long enough to see whether the location based features and app specific suggestions are useful enough to you personally.
For this reporter, Adaptxt was nice to try, but if you've already paid for another premium keyboard like Swype, then there's little cause to buy Adaptxt as well. If you're buying a keyboard for the first time, then Adaptxt is a pretty good option because it's reasonably priced, and performs fairly well too.