SuperSike Games is an oddity in the game development community in India. Amidst a slew of cookie cutter clones of popular titles and Bollywood labelled cash-ins, SuperSike has managed to carve a niche for itself with some unique games. Its debut effort, Yet Another Bird Game, was released when the Angry Birds craze was at its peak, and it was a funny take on the genre Rovio built. This was followed up by Go Kane, a game about trading drugs that got banned on iOS but made its way to Android.
Now the company is back with its third game, One More Run. It's a cricket game for iOS and Android where all you control is the running between wickets. We spoke to SuperSike co-founder Amit Goyal to find out more about this latest effort.
(Also see: Play Your Own Way Through the 2015 Cricket World Cup With These Great Games)
It's really unusual to see a cricket game with no batting or bowling. Instead, you're caught in a hypnotic loop, running between wickets to try and meet a score requirement with just one wicket, and one over remaining. Meet your target and you're placed in the same situation in the next match. Backed up by gorgeous retro artwork, it's a far cry from the usual 3D realistic cricket games that make up most of the cricketing fare on the Android and iOS. For Goyal, it was an experiment to try and tackle a sport that's so popular, in a different manner from the market.
"We wanted to do a cricket game simply because we wanted to see how the Indian market works," he says. "Till now whatever we've done has not really been very Indian. Cricket is something that works India. But we don't want to do it the way everyone else does it." For Goyal, Stick Cricket is perhaps the best cricket game available, thanks to its accessibility and speed of play. To him, it's the virtual anti-thesis of a sport that's seen as slow and dull for many.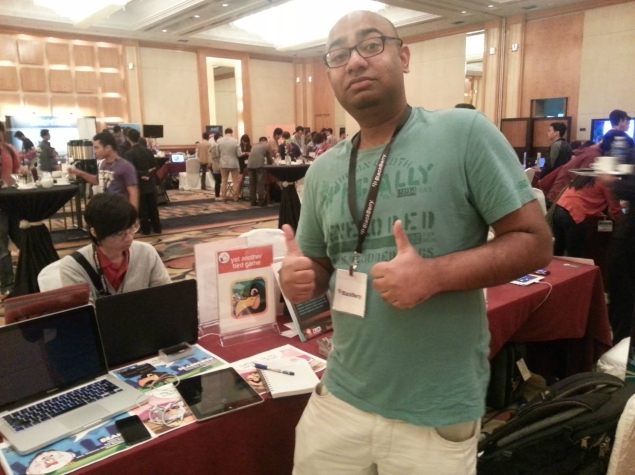 "I wanted to something with merging cricket and arcade gameplay since the latter is very fast. So we were wondering how we'd mash up these genres and find a way that would be cool," he says. "What we realised was that the most exciting moment of cricket was that one over when the team batting needs eight runs to win in six balls. Those are the most interesting times in a match and the plan was to recreate that. That is where the idea came from."
It's a train of thought that resulted in doing away with batting and bowling. Keeping quickfire gameplay mechanics and ease of progression, the team felt that giving users micro-targets of a few runs to score within a fixed number of deliveries would be a fun way to approach this. These themes led to the inception of the game's title as well.
"The idea is to let players score those targets as quickly as possible and keep escalating it into an arcade game where you score as much as you can," says Goyal. "And because it's about running and you needed more and more runs it became One More Run."
(Also see: Real Cricket 14 Studio Chief on Cricket World Cup 2015 Update and More)
The game is built on a platform of simplicity, but SuperSike has been toying with the idea of adding more features that enhance its core gameplay, such as a multiplayer and a tournament mode. But before doing that, Goyal stresses on the importance of the smaller things that will keep players coming back.
"There are some obvious additions like a tournament mode but maybe there are four or five smaller things to do before getting there," says Goyal. "For example we spent a lot of time post-release refining the tutorial of the game. We felt it wasn't working perfectly until we had made a couple of iterations and it worked very well. We saw our retention numbers jump up at that point of time."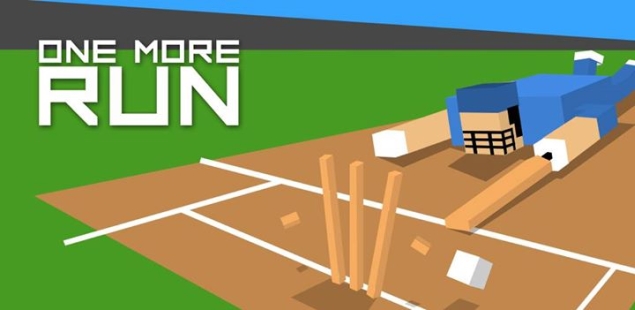 We're told that One More Run was developed from concept to app stores in three months. It's a highly polished affair, partly thanks to the team's experience on its previous games and partly due to a ready frame of reference, Crossy Road. Unlike most developers, Goyal is not one to shy away from his source of inspiration.
"A lot of other elements of the game are picked from Crossy Road, not just the aesthetic," he reveals. He further explained that SuperSike wanted the game out in time for the cricket season. Nailing down the core gameplay was not the only concern. The user interface (which he admits the studio needs to work on) and monetisation model were two pressing issues as well. There too, the firm decided to take inspiration from Hipster Whale's smash hit Crossy Road, even if it meant making less money.
"It [Crossy Road] doesn't force you to buy anything and it lets you enjoy the game on its own. People who really get into the game spend money and that kind of works out," Goyal observes. "And I know that kind of thought usually ends up with lesser money than what you want but then somewhere the objective with One More Run was not money but make a game that people love."
(Also see: Tracing the Journey From Flappy Bird to Crossy Road)
So far, One More Run has managed to get a great reception, and been featured by Apple on the App Store for three weeks. Bigger game studios in the country baulk at being featured, believing that money can only be made if the game is heavily pushed through marketing dollars, Goyal is of the opinion that being featured lends a sense of credibility to users.
"Smaller studios like ours have to rely on features to get users and I think no matter how much money you spend on ads, features are the best way to get users," Goyal explains. "It's probably the nicest way simply because there's a mark of credibility to it. An ad is an ad. And when Apple or Google features your game from the store front you get a whole bunch of people who are willing to invest more time in the game because its been featured."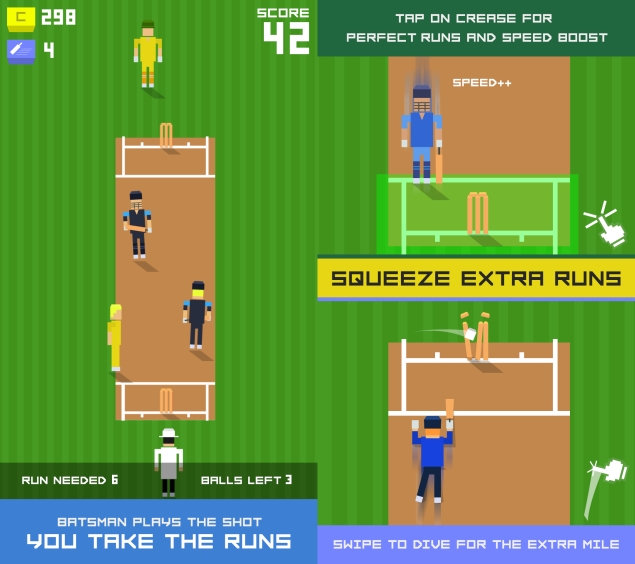 Interestingly, for SuperSike, Apple has been a success, something not many Indian developers would say. "We got featured on Mobango [a third party Android app store and content marketplace] for a couple of days but beyond those two days we did not see any traction so we haven't really bothered," he says. "And I think it has to do with One More Run not being a typical cricket game. The reason why you see more offbeat content being featured on Apple is because you see a lot more Apple users enjoying offbeat content. You see bigger games being pushed on Google, because that's what their audience wants."
"Some sort of segmentation exists with regards to audiences on these stores and I think a lot of the smaller stores do not really appreciate a game that's trying to do so many new things at a time, maybe if we were a little more conservative we might have got a better response," he adds.
With Apple now allowing app developers to reduce prices to Rs. 10 in India (and Google following suit), we wondered if One More Run would find that beneficial to its bottom line. Not really, says Goyal. "We reduced prices on IAPs for a couple of days on Apple and saw no impact," he says. "We intend to try this a couple of times again because I think there is real potential over here." As of now, most of One More Run's revenue comes from ads with 90 percent of its user base on iOS, he adds.
Nonetheless, its early days for SuperSike. With three games under its belt and an eye for breaking convention it will be interesting to see what the studio comes up with next. Compared to his contemporaries, Goyal remains surprisingly upbeat. "I think it's about having fun. At the end of the day you should really like what you make," he says. "If you're not really loving it, what's the point?"