We've been using the Samsung Gear VR for a while, and it's clear it is the best mobile VR headset available right now. But the question that everyone always asks is, what can I use this thing for?
The obvious answer is gaming - games like Temple Run have become hackneyed and boring on our phones, but in virtual reality they are stunningly compelling now. Playing Bandit Six was exhilarating and frustrating at the same time, and made us really feel like the tail gunner in a World War II airplane. And the Jurassic World experience made us involuntarily duck when a dinosaur's tail swept out towards our head.
The Gear VR also enables other experiences such as watching a movie on a movie screen set up on the surface of the moon, or sitting in a rollercoaster while it shakes and rumbles along. VR is excellently suited to delivering these 'experiences', and the wireless nature of the Gear VR, combined with relatively high quality experiences compared to Google Cardboard make it extremely immersive.
(Also see: This Mumbai-Based Arcade Is Building Fun VR Experiences for Everyone)
And of course, VR has been used for porn, as most technologies are. Users who wear the VR headset have a first-person point of view, replacing one of the actors in the porn scene. For the purposes of the demo, the "participants" remained seated while other actors moved around and interacted with them.
But VR can be used for more than just these experiences, and we tried to take in some unique experiences that would only be possible in virtual reality. Here are the five free experiences available on the Oculus Store that we found the most interesting.
1. Oculus Arcade
One of the experiences that requires a gamepad, the Oculus Arcade is exactly what it sounds like, a virtual reality video game arcade. The room in front of you has a row of arcade cabinets, with classics from Sega and Midway. Look at the machine you want to go up to and play, and you can start gaming. It's a little weird that you're using so much processing power to run a virtual arcade where you look at a fake screen with low-quality graphics of the type you'd really see on these classic machines, but it's also incredibly immersive.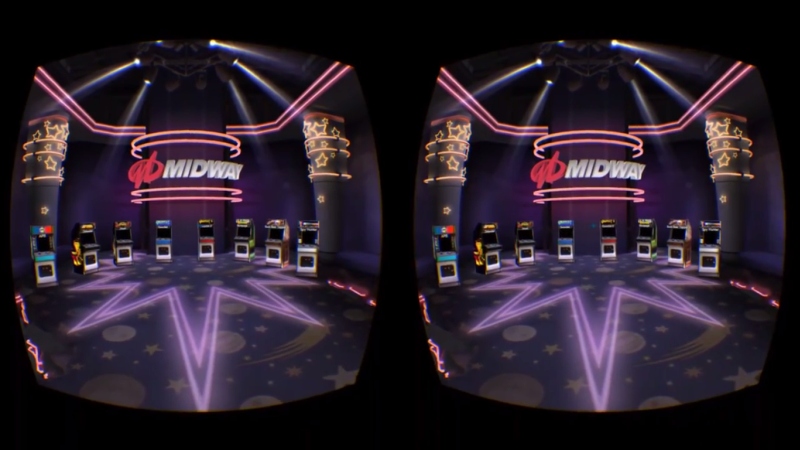 The sticks and buttons on the cabinet move when you're pressing the respective buttons on your gamepad, and the screen itself looks really believable. It's a retro trip with excellent audio as well as visuals, and we were instantly hooked with rounds of Pac-Man and Joust.
2. Cyber Cook Taster
Want to learn how to cook and want to try your own hand with different ingredients and recipes? That's the idea behind Cyber Cook, but the version we got to try is an early free concept demo, which is much more limited and only meant to give you a taste of the app. Still, it's an interesting idea - instead of watching a video about how to make a certain dish, the idea goes, that if you practice making it in virtual reality, then you'll find it easier to cook in real life too.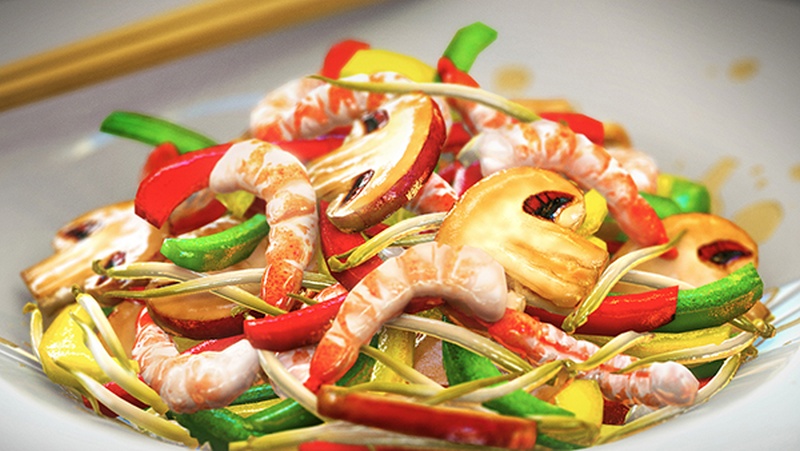 It's an attractive idea, but if you're a home cook then you probably know that it involves a lot of messy improvisation and creative substitution, instead of sticking to your plans. Despite this, fiddling around with the one recipe available in Cyber Cook Taster was an enjoyable experience.
In the app, the hob with a wok is in front of you; ingredients are prepped and ready, so you really only need to add them in the right order, stir, and then plate up. The full experience will have you selecting ingredients, prepping them yourself on the cutting board behind you, and using the oven and other appliances to the side as well. There will be multiple recipes to choose from as well, but on the Gear VR at least, there's one shortcoming that can't really be addressed - the various things you do are accomplished by looking at dishes and tapping at the touchscreen; obviously, this kind of experience will be much better if you can integrate some kind of motion controller to you can slice, dice, and stir fry with your own hands.
3. Chimera Reader
Have you ever thought about strapping on a headset to sit and read a book? It sounds absurd, but that's exactly the concept behind the Chimera reader. You can import your own books, or download them from Project Gutenberg using the app. Next, you can create 'rooms' in different settings, such as a library, or a study room, where you will sit and read.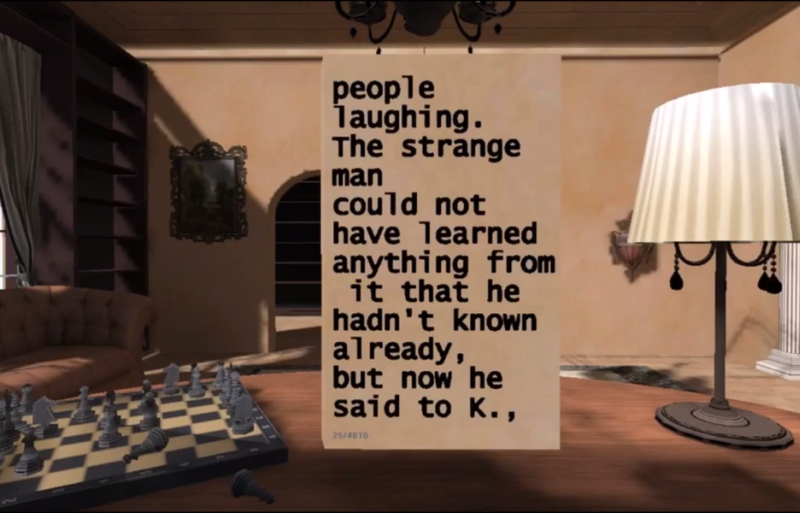 Pick up a book, choose a (virtual) seat, and you're ready to start reading. The simulation shows the environment around you if you ever want to look up and look around, but when you're reading, the page that's open floats up and hovers in front of your eyes. It's actually quite comfortable and we read a fair bit of Frankenstein in Chimera.
The downside is of course that there is a little bit of pixellation on the Note 5 screen at such close range; ideally, you're probably better off reading on your phone instead of wearing the headset. But if you're keen for a change of scene while reading, then Chimera is a really fun option.
4. Public Speaking Simulator
The idea of a virtual public speaking simulator sounds ridiculous, but we thought that the app was surprisingly well made. The idea is simple - many people have a fear of public speaking, and this app can help them to work through it in a safe space, and even help you with some simple visualisation techniques. There's not much else to the app, and this simplicity is part of the reason why we found it so successful.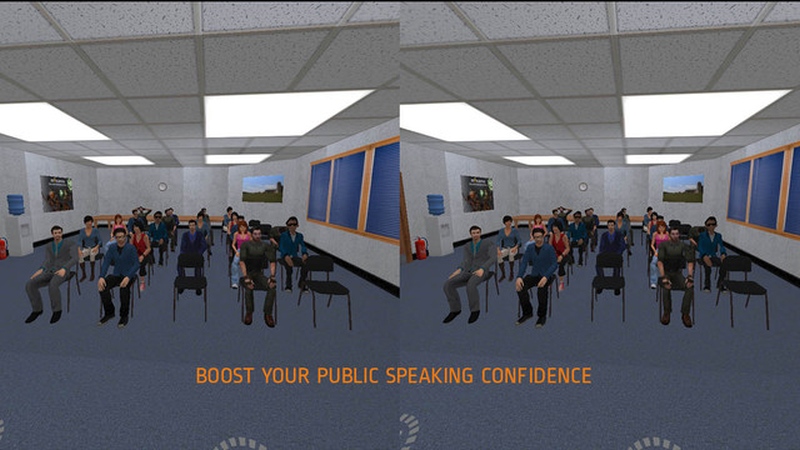 The other is that there is a real sense of presence, in the different materials being used, the lighting, and even the soft murmur of conversation from the "people" in front of you. It's all very basic, but also effective, and the use of graphics to aid in visualisation - for example showing you what a hostile room can look like, or teaching you techniques such as visualising yourself as a giant towering over the audience felt well thought out and relatable.
It might sound stupid, but delivering a speech to an audience of computer pixelated people actually served as a confidence booster. It would be amazing to see how some more polished educational apps make use of VR as the technology becomes more widespread.
5. Altspace VR
We mentioned this in our review of the Gear VR as well, but Altspace VR is possibly our favourite Gear VR app. Think of it as a virtual space where people can congregate and you have an idea of what this app is. You can visit different 'rooms', where events take place, games, and so on, where you can play, chat, or just walk around. With the Oculus Rift, there is support for waving your hands and other things like that; the Gear VR is simpler - you move around by looking at a spot you want to stand on and then tapping the button on the trackpad, and you can look around simply by moving your head.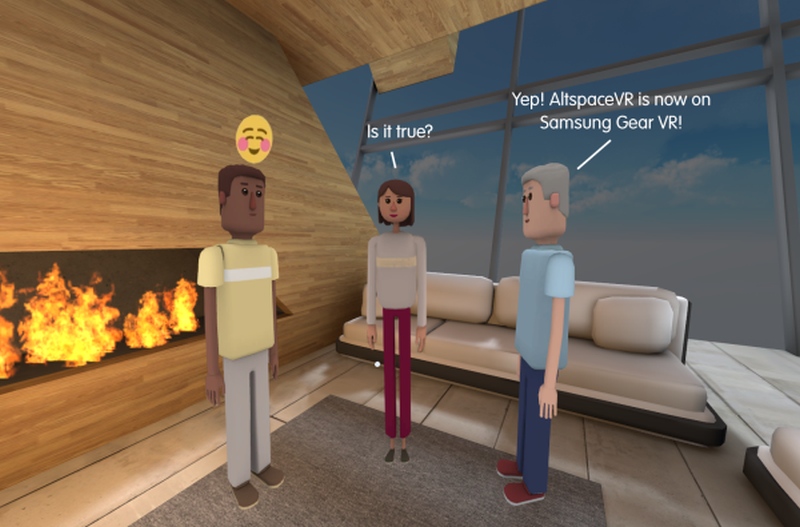 In Altspace, you can watch videos in a social setting - it uses the mic on the phone so you can chat with people in real time - or participate in events like quizzes, developer meetups, Dungeons and Dragons games, or visit a room to practice your Spanish with native speakers.
There are storytelling events, stand up comedy rooms, and other similar gatherings. For everyone who has ever complained that VR sounds isolating and cut off from other people, Altspace is the answer - it's easy to just walk around and start chatting to other enthusiasts, and the people we ran into at least, were genuinely friendly and helpful.
These five experiences really convinced us that there is so much more to VR than just gaming; if you've had any doubts about VR, then you could try and experience a sliver of it using a cheap Google Cardboard headset like the Homido Mini, though the Gear VR opens up many new experiences. For now, PC level VR - such as the Oculus Rift or the HTC Vive - is far better than mobile headsets, but also much more expensive, but as the technology catches on, it's likely going to get cheaper and better too, and as these apps prove, it's not going to be just gaming (or porn) that drives adoption either.