As the quality and accessibility of air travel has improved over the years, so too has been the rise and impact of technology both in-flight as well as on the ground. Today, people can walk in to the airports with the tickets flashing on a cellphone or a tablet and use that to check-in.
Indigo Airlines took its first step by bringing a mobile site live over a year ago, but it launched its first app for Apple's App Store, Windows Phone and Google Play only this January. Using the app, you can book your ticket, check the status of flights, get the PNR for your journey, and the airline is also giving some exclusive deals for people using the mobile app.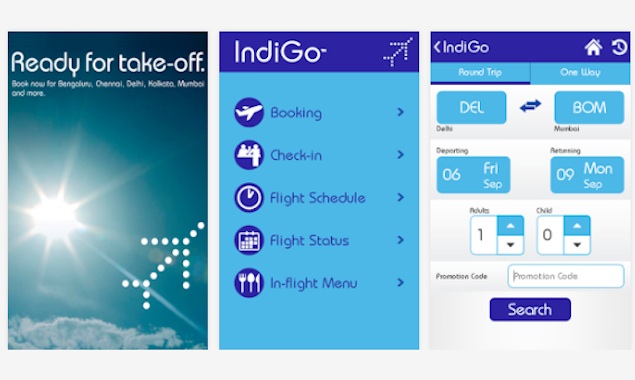 "We took the decision to launch the mobile app somewhere in September last year and it went live in January," says Sanjay Kumar, Chief Commercial Officer, Indigo Airlines. "Over the [last] six months bookings [through the app] have increased from 50-70 per day [in January] to over 800 per day now. It goes to show how important it is to tap into the mobile app segment." However, even counting only the daily flights, Indigo has over 500 flights with a capacity of 180 passengers every day so this still represents a tiny portion of the people traveling by the airline.
In order to encourage customers to use the app, Indigo is also giving a flat Rs. 200 discount on all tickets booked using the app. According to Kumar, the mobile apps combined across platforms have been downloaded over five lakh times, and iPhone and iPad owners make up the majority of users, followed by Android and then Windows Phone.
Jet and Spicejet have similar apps available, with similar features. Spicejet has an app only for Windows Phone, while Jet Airways is available on the App Store, Google Play, the Windows Phone Store, BlackBerry World and includes live updates, notifications for deals and discounts, special offers and bookings. The Spicejet app also gives you these features, and includes travelogues with entries for all destinations where the airline flies.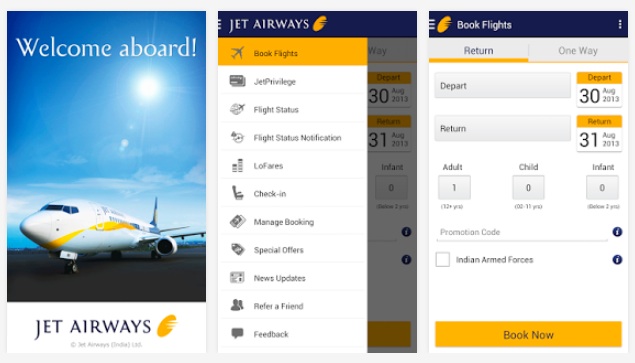 There's even more than can be done, such as boarding passes on your mobile app, and integration with services like Apple's Passbook app. The airlines are working on that, but the biggest stumbling blocks right now are the Indian government's rules and regulations around security, which obviously fall outside the airlines' hands, which prevent things like paperless boarding and security checks from becoming a reality in India.
Kumar says that Indigo is building new features one at a time into the app.
"Right now the focus is on making the app as good as the website. Once that is done, we will start working on features to improve the app further. [The ability to order] meal combos, extra luggage booking, buying travel insurance are some of the features we will work on, in the future," he says. "As far as the mobile boarding pass is concerned, right now it is a nascent technology in India. There are rules and regulations too which will all play an important role in developing it. Not the immediate future but it is definitely there in the future."
Once the regulations issue is resolved, flying could become even easier.
Take the case of Etihad Airways, the national carrier for the UAE. It has introduced mobile boarding passes on select routes for the mobile online check-in facility. This means that you can check into the flight on your way to the airport, and then just show your phone when it's time to board the flight.
The digital boarding passes contain the same information as physical passes including guest name, seat number, flight number, gate number and a barcode which is scanned by an electronic reader at the departure gate. There is an option to save the boarding pass to email as well. This feature isn't available in all destinations yet though - it is only available if you're travelling from Abu Dhabi to London Heathrow, Manchester, Doha, Colombo, Dammam, Dusseldorf, Frankfurt, Sao Paulo, Istanbul, Minsk, Munich, and Tokyo Narita, Etihand says.
Air France allows you to purchase the ticket, and manage reservations and boarding passes, and if you have an iPhone, you can receive the boarding passes through Apple's Passbook app. KLM lets you do basic things like booking, viewing and changing your flight options, and you can also select your seat, book extra baggage, arrange for an ala carte meal and you also get dedicated customer support through the app.
Indian airlines are also bringing in these changes, which will make it easier to get onto your flight with a minimum waste of time, but for the maximum impact, airports and local authorities need to adapt to make use of technology in similar ways.
Airports in Northern Europe like Brussels, Cophenhagen, Frankfurt and almost all the major airports in the UK make use Bluetooth technology to measure passenger waiting times. Receivers detect Bluetooth signals from electronic devices as passengers enter and exit security lines. This information is used to calculate the average waiting time and then enables the authorities to deploy security staff at the right place or even make announcements about how long it would take passengers to clear checkpoints.
Small steps, on the part of both airlines and airports, can have an incredibly big impact on the experience of catching a flight. And given how tedious that experience can be for most of us, every little step helps.