The selfie is a word in the dictionary and the viral event of the year and all you need to take one is your phone or even your laptop's built in webcam. But if you want to really stand out from all the other people taking pictures these days then there are some amazing apps that are now available. Here are our five favourites, and the best part is that they're all free, so you can experiment with all of them to find the one you love.
CamMe - Best App for Taking Selfies
This app (pictured above) is compatible with both the iPhone and iPad, and has the power to turn even a tablet into a selfie machine. That's because you don't need to be anywhere near the device to actually take the picture.
The app can recognise gestures, so it's great for taking a group photo or a full length selfie for that matter. All you have to do is set up your device on a stand and then back away. Raise your hand and close your fist to activate the countdown and you can take a picture from several feet away!
The app is good at recognising the gesture, which makes taking group photos really simple. A new update has added cutouts to put your face in "funny" backgrounds, and there's also a photobooth mode now, so you can take multiple pictures and stitch them together.
Selfie Cam: Take PERFECT selfies every time!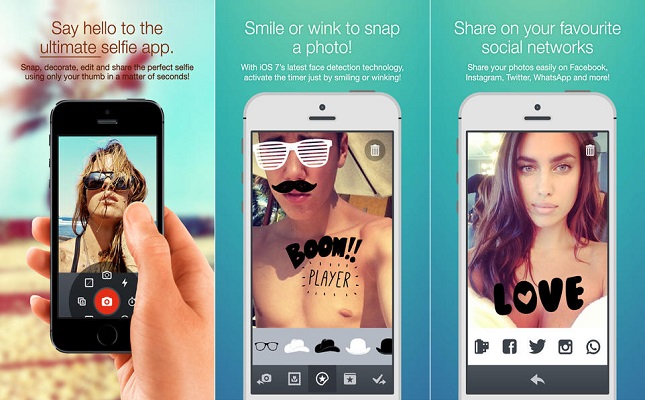 Selfie Cam uses smile detection so you can automate taking pictures like in CamMe, but it's really meant to be used when you're holding the phone.
All the controls are neatly organised on a wheel at the bottom which can be easily worked with your thumb, letting you quickly take pictures, and also add stickers like a fake mustache or hats, add text, and share on social networks easily. The app can share pictures to most major social networks, and while there are some stickers that come with the app, you can also buy packs of stickers as in-app purchases if you want. The app is very user friendly, and probably the most "fun" one on the list.
Picr - Everday photo reminder - selfie journal / diary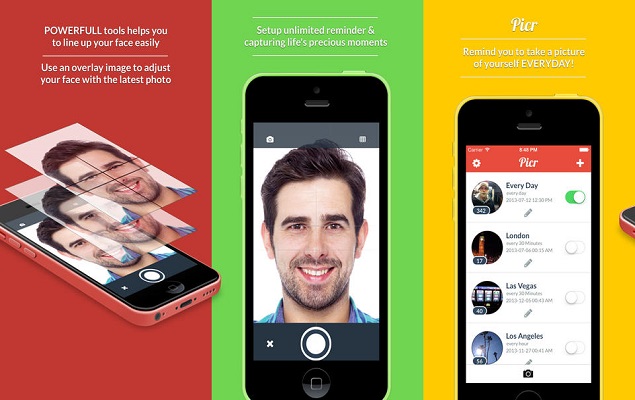 If you want to see the effects of everyday life, then there's nothing better than this app. Picr reminds you to take a picture every day, and shows a grid on the screen or an overlay of the last picture you took, so you can line up each shot perfectly.
The next step is making videos of the pictures you've been taking - Picr can make a video from the photos you've been taking and it can also add text and music to the videos. You can share individual pictures, or videos.
The app allows you to create multiple galleries of pictures, each with their own reminders. So you could have a gallery of pictures taken every thirty minutes in a single day, and another gallery of one picture a month, if you want. Browsing through the pictures is simple, and the effect is quite powerful.
Close-up, daily selfies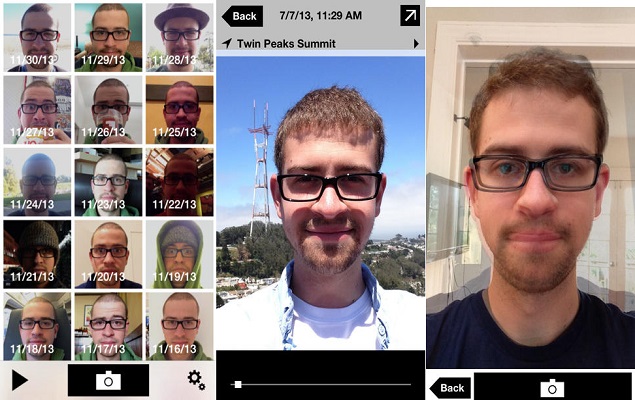 In case Picr sounds a little complicated, Close-up has you covered. This is a very simple app that reminds you every day to take a photo and then you can use it later to make a time lapse video or even an animated image for sharing. Close-up also has Dropbox and Foursquare support, to let you back up the pictures automatically and geotag them as well.
Otherwise, the apps are pretty similar - Close-up also lets you use an overlay when taking a picture, and the gallery itself is tagged by date, and you can browse between pictures and videos. When generating a video, you can also set how fast it moves, which is a nice touch.
Perfect365 - Face Makeup Editor, Beauty Enhancer & Fashion Artist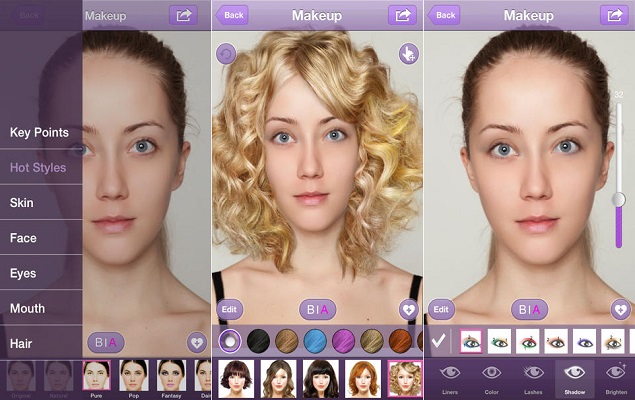 Once you get past the extended name, Perfect365 is actually a pretty cool app for photo touch-ups. You can give yourself a digital makeover using the app which is available on both iOS and Android, though you'll probably want to hide from people in the real world afterwards.
The app uses face recognition to automatically make edits, and comes with pre-set styles so you can quickly make changes. But aside from that, you can take manual control, apply make-up, remove blemishes, whiten teeth, and even replace your hair with templates.
The app works remarkably well, though there's no denying that it's a little strange to tweak and tweak at your face just to share a picture on Facebook. If that's what you want though, then this app certainly delivers.