I often wonder why so many people complain about missing shows or episodes when new seasons begin each year. Sure, there's a lot to watch, particularly if you're using services like VPNs and Netflix (or other methods) to watch shows as they air around the world. But there are lots of apps on both Android and iOS that have been made for this very purpose.
The apps featured here will make sure you're on top of the TV shows you watch and even notify you for new episodes in most cases. This will let you set aside time to stream or watch the TV shows you love each week. Please note that none of these apps will let you actually watch TV shows. They are useful if you already have some method for watching your favourite shows, and just wanted a reminder to stay on top of the release schedule.
1) Next Episode
Next Episode has a nice clean interface across both platforms and has a lovely looking widget. Top charts are visible and you even get personalised recommendations for new shows to follow, based on what you're watching.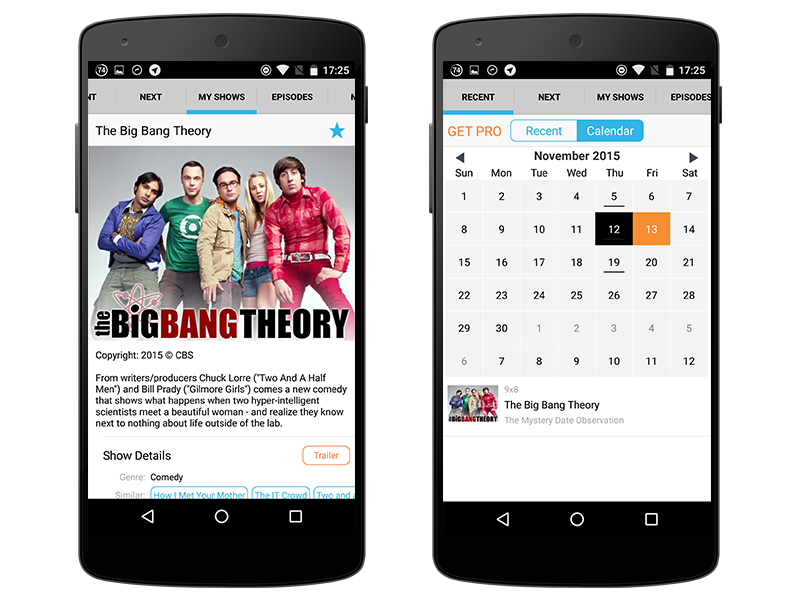 I like the option to see other shows from people whose shows I watch as well. You can even customise the push notifications to notify you when a premier is announced or when a show gets cancelled.
Download Next Episode for iOS | Next Episode for Android (Free)
2) TVShow Time
TVShow Time is a simple app on iOS and Android that adds some interesting social elements to tracking TV shows. It has a very light weight interface and allows you to comment on shows with a community of other users of the app. TVShow Time also lets you play episodes for shows that are web series - shows that are legally available on the Web don't require you to find another way to watch.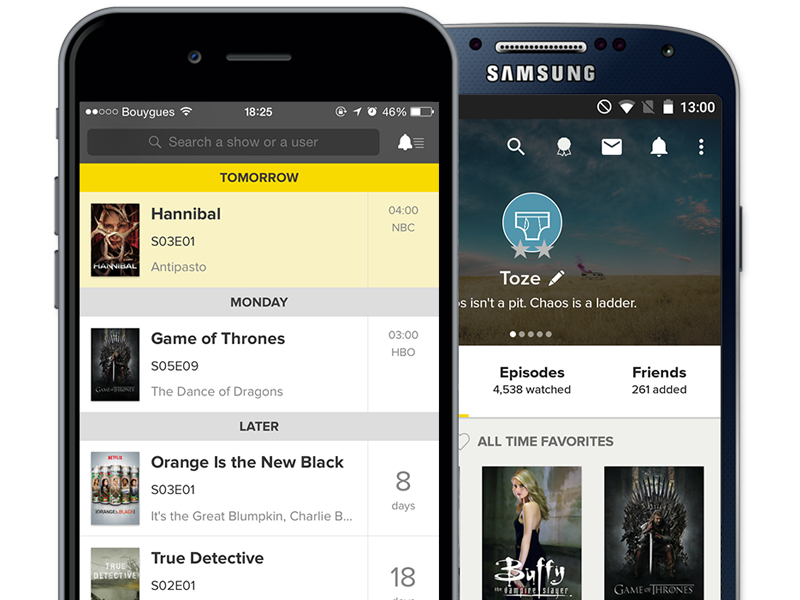 Download TVShow Time for iOS | TVShow Time for Android (Free)
3) iTV Shows 3
iTV Shows is one of the oldest apps on iOS that lets you track TV shows. It has cross device sync with iCloud or trakt.tv and has a plethora of features. It supports custom notifications, time zone override - which is useful when you want to watch a show online on a streaming service - and a lovely widget. iTV Shows 3's only downside is it is a little buggy about syncing.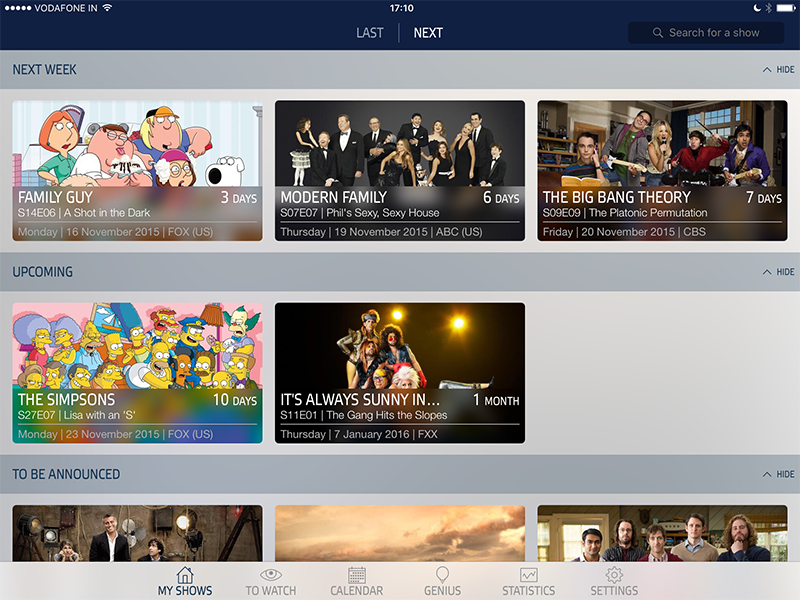 Download iTV Shows 3 for iOS (Rs. 190)
4) TV Series
TV Series by FEMA lets you customise every aspect of the app interface. There are also some really good themes and widget options available. I love how it lets you select what logo to use for a particular show if you aren't happy with the default one. You get notifications, information about episodes, and strong social features.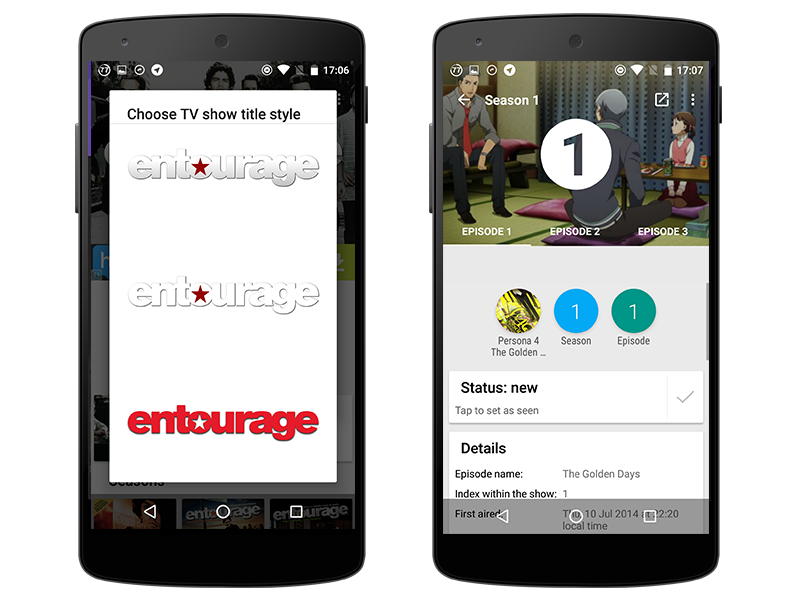 My only complaint with this app is the lack of a trakt.tv sync that will allow for cross app and cross platform sync. TV Series is a great app to see how tons of information can be presented to you in a beautiful interface.
Download TV Series for Android (Free)
5) TeeVee 3
TeeVee is one of the best looking apps to track shows. The main interface looks gorgeous and you're encouraged to add more shows just because of how good it looks. TeeVee also lets you export your upcoming episodes into the Calendar and has the ability to hide spoilers in upcoming episode descriptions. These unique features make it worth checking out.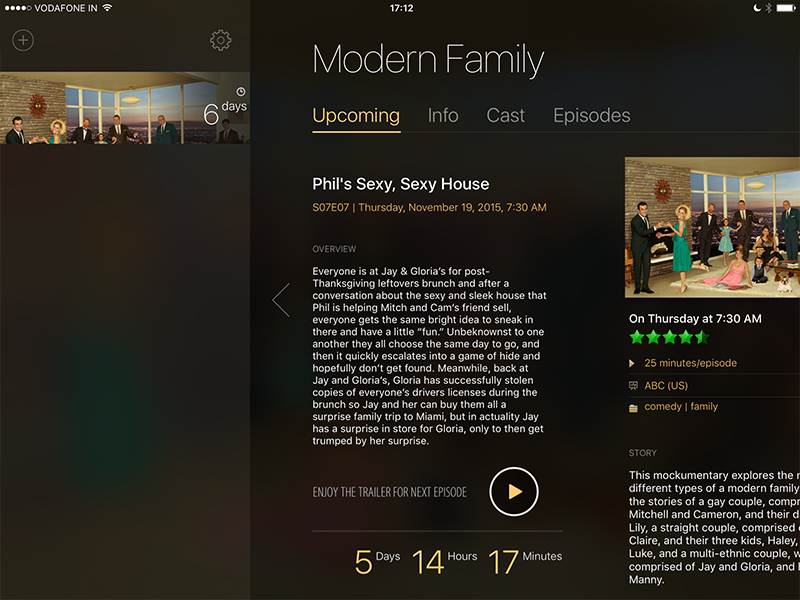 Download TeeVee 3 for iOS (Rs. 190)
6) SeriesGuide
SeriesGuide is one of the best looking apps on Android. It lets you track episodes, check in, and comment along with ratings through trakt.tv. Trakt.tv sync is also available and the app works great offline which is something many apps neglect these days.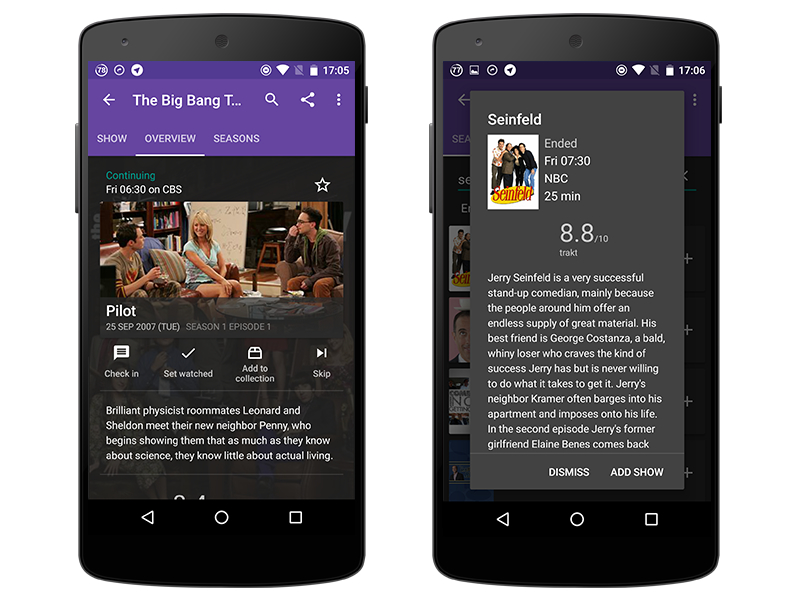 For those of you who enjoy the DashClock widget, SeriesGuide has a built in widget for that. If you have an Android device, you definitely need to get SeriesGuide.
Download SeriesGuide for Android (Free)
7) iShows 2
iShows 2 consistently works and looks amazing. It has a stunning dark theme and multiple customisation options for displaying your shows. I'm not a fan of the widget compared to iTV Shows 3 but the rest of the app gets the job done well. You can even buy TV Show styled themes for use within the app.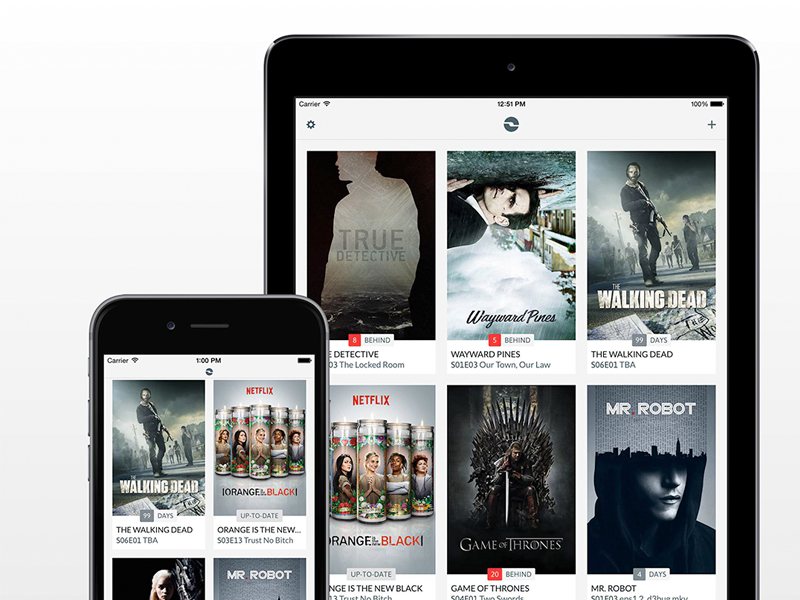 Download iShows 2 for iOS (Free)
8) Series Addict
Series Addict is another great looking app that sports a modern Android look. It manages to conform to the Android design guidelines and yet set itself apart from the rest unlike most Android apps using Material Design guidelines.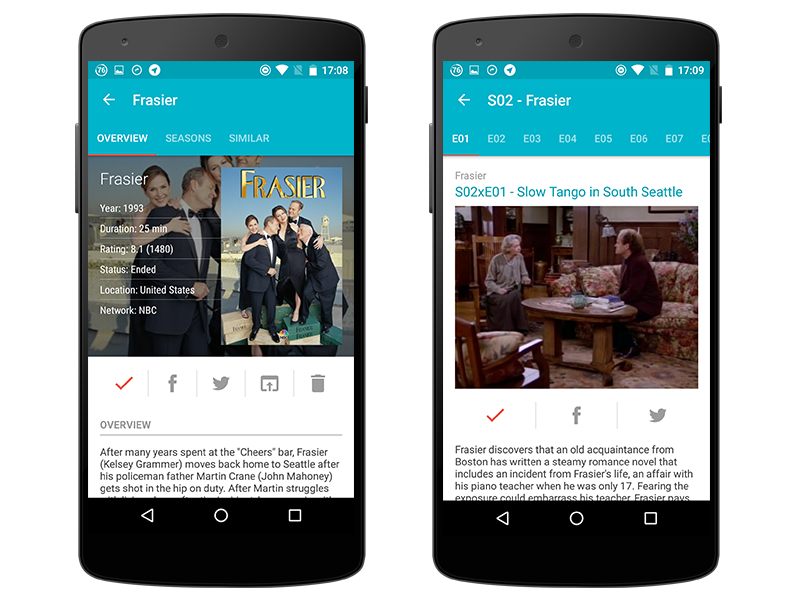 Series Addict also lets you view your TV schedule in a nice calendar interface that's useful. I only wish the widget looked a little better.
Download Series Addict for Android (Free)
9) SeenIt
SeenIt for iOS is a fully featured trakt.tv app with support for trending shows, notifications, and a custom watchlist. This watchlist is basically a todo list for TV shows. The only drawback with SeenIt is the lack of an iPad app or a universal app.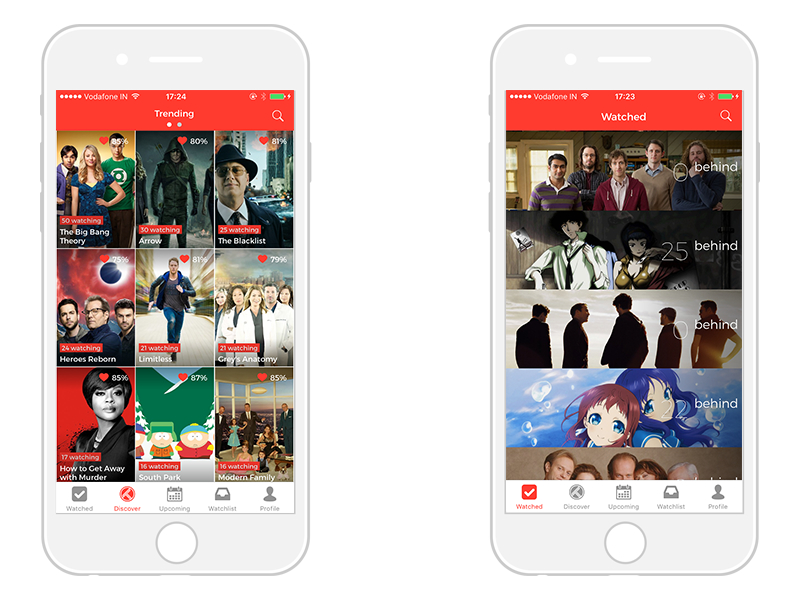 Download SeenIt for iOS (Free)
10) Anime Trakr
While most TV show apps support anime thanks to their database sources, Anime Trakr is a dedicated app that syncs with the most popular anime database, MyAnimeList.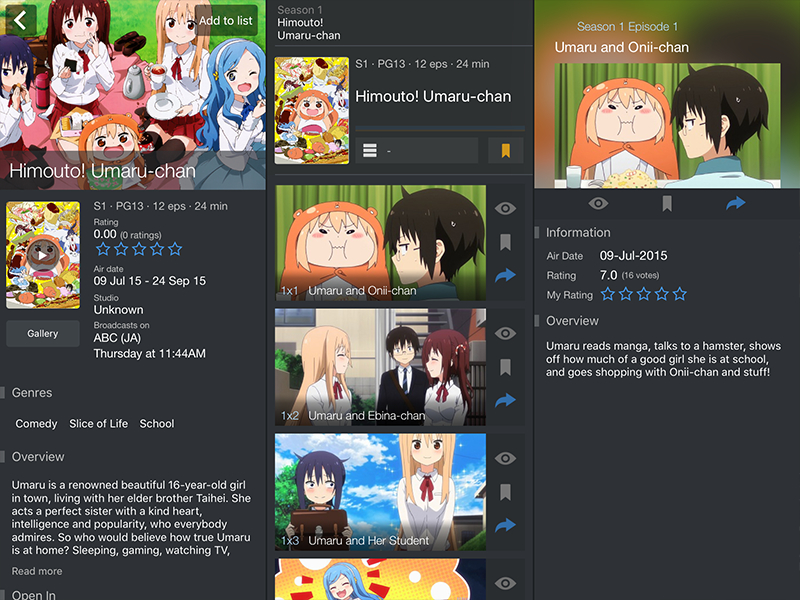 The interface is great across iPhone and iPad and lets you view trailers, rate shows, schedule reminders and more. There's even a nice widget available.
Download Anime Trakr for iOS (Free)
These were our top 10 picks - which apps do you use? Let us know via the comments.